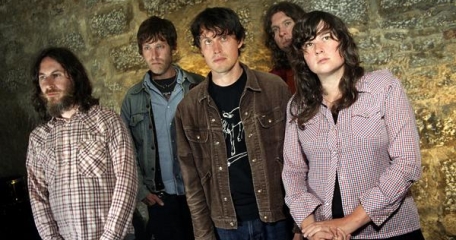 by Jay Mattson
Canada has been a venerable bastion of good music for the past decade.  The New Pornographers, Broken Social Scene, Wolf Parade and Death From Above 1979, just to name a few, have all hailed from our neighbor to the north.  Vancouver's Black Mountain joined the fray with a 2005 self-titled debut that was heavy on classic, stoner-rock machismo.  The album was gritty, catchy and mellow.  They successfully followed up their initial hype with 2008's In the Future, a heavier, deeper album that experimented with grandiose and spectacle.  And intertwined through all of this, band leader Stephen McBean (along with the other members) made time to pump out albums from their side project, the more psychedelic-leaning act Pink Mountaintops, who released their third album, Outside Love, last year to critical praise.  The Black Mountain Army (a moniker for the various people associated with Black Mountain) has been working consistently since 2004, releasing new material almost every year.  This year brings us the third proper Black Mountain album, Wilderness Heart.
From earlier interviews, McBean stated that this was the first album that was not self-produced by the band and was not recorded in their studio in Vancouver. Wilderness Heart was recorded in Los Angeles, a decidedly different environment from the band's home. The production comes courtesy of D.Sardy (Nine Inch Nails, LCD Soundsystem) and Randall Dunn (Boris).  Both of these elements are foreign to a band who self-recorded their debut album and most of their sophomore.  But as McBean stated in an interview with Pitchfork a few months back, "…We wanted a bit of a surprise for ourselves, to take a bit of a chance."  That chance has paid off in big ways. Not only is Wilderness Heart the most cohesive Black Mountain album to date, it is also the most accessible without straying too far from the attitude that has brought McBean and company such critical acclaim in the past.
"The Hair Song" opens the album with the most prolific duet McBean and female vocalist, Amber Webber, have ever produced.  The song's general upbeat tempo has more of a mid-70s city park-performance vibe than an early 2000s sound.  It's layered with excellent guitar work, mesmerizing lyrics and an overall fun feeling.  All of this leads perfectly into the more somber "Old Fangs", which retains the near-same level of musical energy whilst tempering the vocal aspect and raising the instrumental grandeur.  "Radiant Heart" moves into acoustic territory with another excellent duet between McBean and Webber, sounding like it could have been a Zeppelin outtake from their later years.  This track takes a deeper lyrical turn as McBean muses "Heaven's a place where you're no longer waiting" and "Roses won't make her feel better tonight, now look what you've done to the sky."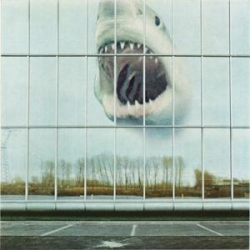 The second act rips right in with the riff-heavy "Roller Coaster", a track reminiscent of "Tyrants" from In the Future, as its first 30 seconds swell before the eventual fall into psychedelic meandering. This is prior to Webber's emergence on lead vocals over McBean, while a a roaring guitar  and Matt Camirand's infectious bass back up one of the best female vocalists today.  "The Hair Song" seems to have set the bar for the entire album, as McBean and Webber share more vocal time than on any past Black Mountain album, and it works.  It really works.  One of the only tracks that doesn't seem to sit right with the rest of the album is "Let Spirits Ride", a fast-paced Sabbath-esque rock anthem that feels a little forced and over-the-top considering Black Mountain's affinity for undertone and weight over speed and explosiveness. Luckily, the energy is brought down to a less-intensive level with the mellow, swaying "Buried by the Blues" which starts out with a single tambourine jangle that soon becomes a nigh-romantic ballad (with yet another excellent McBean/Webber duet.)
Black Mountain would have been right at home performing at Woodstock (69, not 99) with "The Way to Gone", a song heavily influenced by late-60s psychedelic instrumentation, complete with lighter acoustic work in the background.  Of course, a ferocious guitar eventually rears its head and brings the whole thing together along with haunting chants scattered throughout.  The album's namesake, "Wilderness Heart", might be the one track that is most similar to Black Mountain's earlier work in its sonic synth work, which supports a raucous, jangling guitar that pushes McBean and Webber's separate vocal sections forward, hinting at a longing heard more prominently in older songs like "Stormy High" and "Lucy Brown."  The prolific organ around the 02:57 mark builds up to a classic Black Mountain crescendo that explodes into Webber's warbling vocal style that fits exceedingly well with the music.
Leading to the end of the album is "The Space of your Mind", a simple, melancholy jaunt with more pronounced melody than any of the other tracks on the album.  Though a bit on the boring side, it is perfect for those nights after a long day of work when all you want to do is sit down, drink a cold beer, and listen to a relaxing song.  And it acts as a good segway into "Sadie", the album closer and most chilled-out song yet.  The strength of "Sadie" is its lyrical prowess with lines like "Things became vulgar when we became silent", which comments on a world affected by those who don't speak up, and "Please, Sadie, oh won't you come down, it's time to go home" possibly hinting at either childish play or a drug-induced state of mind.
Wilderness Heart is excellent.  It is full of everything that makes Black Mountain good: incredibly poignant lyrics and vocals, resoundingly strong instrumentation, and a feeling of passion behind each and every song.  Besides a few hiccups along the way, this album has successfully achieved the high expectations that fans of Black Mountain have come to enjoy, as well as making itself prominent enough to be picked up by an audience who may have never heard a song by this amazing Vancouver act in the past.
9.0/10.0
Wilderness Heart is in stores 9/14 on Jagjaguwar Records.
Black Mountain will be touring this fall with the Black Angels, who recently recorded a cover of "No Satisfaction" from Black Mountain's debut album.  Check it out below.
RIYL: Pink Mountaintops, Dead Meadow, The Black Angels, Comets on Fire, The Brian Jonestown Massacre, Howlin Rain, Dungen, Tame Impala, Brightblack Morning Light, Blue Cheer, The Besnard Lakes, Nebula, Black Rebel Motorcycle Club, Oneida
——————————————————————————————
Black Mountain – The Hair Song

——————————————————————————————
——————————————————————————————
The Black Angels – No Satisfaction (Black Mountain cover)

——————————————————————————————