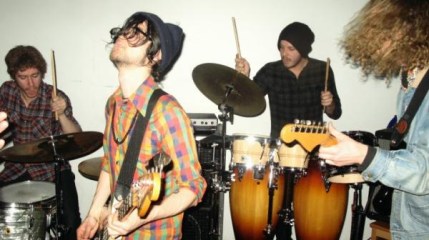 Billowing clouds of smoke, a neon-lit cast of tie-dye colors, and various voodoo references help define The Great Society Mind Destroyers. Chaos is an all-encompassing description once the opening track on the Chicago-based quartet's new album, Spirit Smoke, gets underway. "Temple Lurker" sounds nearly half-ironic in its title; its whirlwind of heavily distorted psych-rock is bizarre and wonderfully convoluted enough to deserve the mythological enigma of a temple, but the song does the opposite of "lurk". It thunderously clamors instead, like rain on a straw roof during a storm that Poseidon deems worthy. Reflective of the band's aggressively ambitious style, this in-your-face album is one of relentlessness and drug-fueled mysticism. Lost behind the rumbling distortion, gauzy rhythmic swipes, and fiercely energetic drumming there are some phenomenal pieces of songwriting to be found. With Spirit Smoke, The Great Society Mind Destroyers join a short list of contemporary psych/noise-rock artists that are too talented of songwriters to become examples of audible over-indulgence.
As one of two tracks on Spirit Smoke not in the 7+ minute range, "Samsara Drag" is the best entry point for listeners. Explosions in the Sky, Godspeed You! Black Emperor, and Mogwai are all great acts that help defined modern conventions for (semi)-instrumental post-rock, and this track does justice in showing The Great Society Mind Destroyers' stylistic separation from such artists. This is a band that could easily pursue full-on instrumentals and still leave many tracks feeling over-stuffed. The instrumentation alone is well beyond most contemporary post-rockers today, but TGSMD's addition of vocals lends an ambitious acid-rock feel reminiscent of late '60s/early '70s acts like The Jimi Hendrix Experience, Jefferson Airplane, and The Great Society (the latter a mid-'60s San Fran rock collective whose name similarity points to a very probable influence). Add to such influences a more forward-leaning percussive method, more akin to the thrashing of metal and grunge with heavy uses of hi-hat and cymbals, and you have The Great Society Mind Destroyers, a band combining the best aspects of psych-rock's past and present.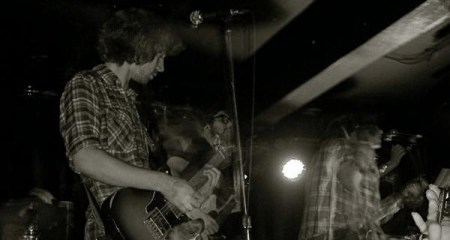 Fortunately for descriptive purposes, there has been a recent insurgence the past few years in psych-rock acts cross-breeding into both throwback and contemporary styles of post-rock, grunge, and acid-rock. Dungen has been doing it for some time and has touched on each of these styles with separate interpretations at some point. Names like Tame Impala, Dead Meadow, and The Warlocks are also noteworthy for their smart and generally infectious acknowledgement of such sounds. Unlike some work – like The Brian Jonestown Massacre's most recent offerings – that rely wholly on their influences to produce anything worthwhile, TGSMD's creativity arises from original songwriting simply designed for remnants of nostalgia; the anachronistic elements do not serve as the plot, but merely the setting. The production of artists like Dungen, Tame Impala, and The Great Society Mind Destroyers may intentionally invoke something from the past, but its reliance on it is minimal at best. There are no gimmicks or shticks at hand to disguise a lack of innovation.
Back to "Samsara Drag", it is exemplary of such feats. A sliding bass and restrained percussion helm the first moments, followed then by an extended bass line with subtle electric guitar harmonics panned to the left. The vocals enter in an unenthusiastic drawl, the lyrics indistinguishable but the melody itself asserting a dominance that needs no words. Once it is revealed that the verse's intentions were to set up an explosive raucous of guitars, the song's structure begins to take shape. A yelp at 01:26 signals the shift; the dynamic that takes here is astonishing, as flexible guitar and bass lines collide into one another with a seamless whimsy reminiscent of only the best psych-rockers. This is a remarkably brief track by The Great Society Mind Destroyers' standards, but they do not waste a moment. The other shorter effort, "Equation of Time", is in somewhat of a contrast. The feel there is certainly more spaced-out, with the guitars focusing on droning solos and repeating rhythms. The LSD-inspired vein of acid-rock is more prevalent here, from the subdued collective chants (which resemble a cross between a somber funeral and over-drugged concert in the woods) in the intro to the roaring assortment of guitars throughout the conclusion.
When tackling TGSMD's lengthier and often more experimental efforts, like "Higher Bodies" and "Divinorum", listeners should ready themselves for movement. These are predictably developmental, which for the band's consistently nostalgic sound can be a risky venture. "Higher Bodies" does an extraordinary job of maintaining the listener's interest though; the vocal involvement here is the most melodic and diverse on the album, while the relationship between twangy guitar solos and a deafening rhythm section is unpredictably defiant. They alternate leads while furthering the same initial melody, never letting dull improvisation take control of a surprisingly focused track. During the final three minutes, the band implements several scratching/production techniques to diversify the guitars' tonal frequencies. You can even hear a touch of keys toward the conclusion. The fascinating versatility helps keep "Higher Bodies" afloat for its ten-minute duration, both for fans accustomed to post-rock and those who consider a track over four minutes to be "too long". Spirit Smoke should be a widely appealing album in that sense though; any fan of post-rock, grunge, OR any variant of psych-rock (from acid-rock to space-rock and even stoner-rock) will enjoy it. A job well done.
RIYL: Explosions in the Sky, Godspeed You! Black Emperor, Mogwai, The Jimi Hendrix Experience, Jefferson Airplane, The Great Society, Dungen, Tame Impala, Dead Meadow, The Warlocks, Bob Hund, Black Mountain
The Great Society Mind Destroyers – Samsara Drag
The Great Society Mind Destroyers – Equation of Time
The Great Society Mind Destroyers – Divinorum