Posted
May 31, 2011 by Stephanie Maida
in Features
Emanuel and the Fear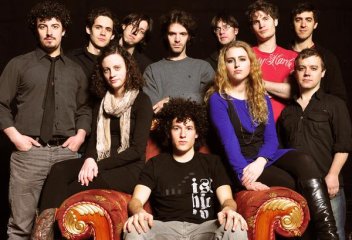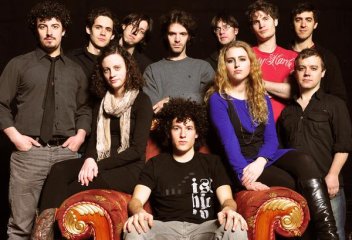 One cold New York City night in January 2009, I found myself in the back room of the Bowery Poetry Club, encircled by the typical PBR-wielding twenty-somethings and some of the most magical music I've ever encountered. By wandering in to find shelter from the shivering chill, I had unknowingly stumbled upon the EP release party for the 11-piece superband Emanuel and the Fear.
Indeed, while the atmosphere was almost obnoxiously similar to most downtown shows, the featured band was anything but cliché. With lead singer Emanuel Ayvas's velvety vocals backed by a subtly commanding orchestral coalescence including piano, violin, cello, trumpet, and trombone, this Brooklyn-based band produced a soaring sound quite unfamiliar amidst the Bowery's usually gritty ambiance. The band's upbeat, poppy melodies combined with their Bright Eyes-esque lyrical poetry allow an air of hauntingly harmonious irony that permeates the audience like a sharp January shiver. After hearing their chilling rendition of Radiohead's "National Anthem," I knew this was a band I had to keep my ear on.
Sure enough, a few months later, I spotted the distinctively big-haired Emanuel on the cover of L Magazine, listed as one of the "8 NYC Bands You Need to Hear". Since then, these pioneers of orchestral pop/rock have been gaining recognition throughout the East Coast and Europe (believe it or not, they've been much buzzed-about in Germany) while remaining loyal to their Brooklyn indie-rock roots. Emanuel and the Fear's newest EP, Hands, was set to be self-released this July but has recently been pre-released on the band's BandCamp page. Don't let the title of their first single, "Vampires," fool you; its cacophonous playfulness is certainly a refreshing departure from today's sultry obsession with the mythical bloodsuckers, proving once again that Emanuel and his band are indeed fearless when it comes to their music.
RIYL: Electric Light Orchestra, Matthew Good, Beulah, Bright Eyes, The Beatles, Field Music, The Alan Parsons Project, The Moody Blues, 10cc, Sweet, Jens Lekman, The Besnard Lakes, Super Furry Animals, The Leisure Society
Emanuel and the Fear – Dear Friend
Emanuel and the Fear – The Finale
Emanuel and the Fear – Vampires
Emanuel and the Fear – The Perfect Me (Deerhoof cover)
Emanuel and the Fear – Over and Over (Demo)
Emanuel and the Fear – The Rain Becomes the Clouds
Official Site / MySpace / BUY
Mike's note: Gotta love the nods to ELO during "Dear Friend". More contemporary artists taking a stab at this sort of majestic orchestral rock would be nice.