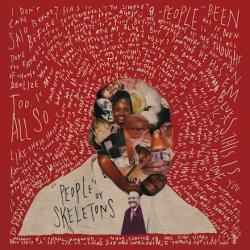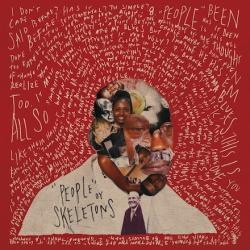 by Mike Mineo
Skeletons' new album, People, continues their rich mash-up of freak-folk and prog-rock, all while remaining separate from other contemporaries like Timber Timbre, Man Man, and Bruce Peninsula. People explores fuzzy narratives with fictional characters as idiosyncratic as the five-piece's bustling sound, with producer Rusty Santos masterfully keeping Skeletons' hypersensitive ambition in check. The ambitious prog-pop of John Vanderslice is a fairly noticeable influence, keeping excellent pace as bizarrely engaging psych-pop. Additionally, the accelerated guitar work invokes comparisons to virtuously melodic rock groups like Radiohead and Battles. Despite these glimpses of familiarity, People is a ceaselessly fascinating release with heaps of singular innovation that should establish Skeletons as a significant breakout act in indie-rock.
The quick guitars of "Grandma" are reminiscent of Battles' technical expertise, The Grateful Dead's virtuosity, and Radiohead's trickling arpeggio-based fury. Producer Rusty Santos pulls off the vocal mixing perfectly, with Matt Mehlan's crisp croon adjusting seamlessly to the constant alterations in volume and intensity. The guitars eventually increase in tonal force, with multiple layers starting to appear until crashing, percussive-led conclusions envelope for a minute. The final two-and-one-third minutes shows a lush folk melody gradually integrating itself into a full-bodied rock song, with each successive verse finishing with a teasing percussive build-up. Lead singer recites a bunch of – his mother, his grandfather, the girl he loves – and the eerie sentimentality grows in prevalence. "Grandma" is fairly jaw-dropping on several accounts, standing as one of the best efforts on People.
"More Than the One Thing" begins with a frantic piano melody that, if expanded upon, could easily unveil a jazz influence. The repetition is molded for the particular vocal melody though, and it changes subtly and with a newly budding brass attached. That section seems influenced by Matthew Herbet, along with many other elements – like the near spoken-word elements mixing with brass, jungle chirping, and a whimsically adorned structure. The screeching flutes and playful child-laughter, later accompanied by a more versatile brass flutter, during the song's second half kick-starts a dramatic increase in variation. Under it all, the frantic piano melody remains intact. "More Than the One Thing" is a very intelligently crafted song, and one that shows off Skeletons' versatility well.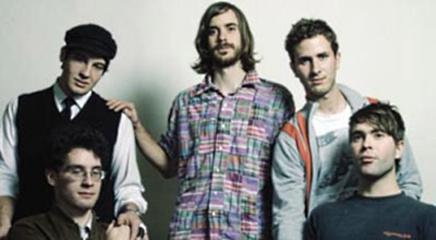 Even the weaker tracks on People are the farthest thing from linear. "Walmart and the Ghost of Jimmy Damour", while getting lost in some bland moments, is fascinating in its every pore, from the ambiguous narrative to the pulsating psychedelia inherent in the squiggly keys and tribal drums. Consider the tendency of over-indulgence to be more prominent here in this track than others, but it is not a significant issue. John Vanderslice is another artist who is able to juggle occasional overdoses of awkward contrasting and turn it into strengths; he is surely an influence found on "Walmart and the Ghost of Jimmy Damour". It has a very idiosyncratically noticeable presence as an ambitiously bizarre slice of pop.
The soft, spacey twinkle of "No" seems like a practical intermission for the album. It lacks the intensity and variation of other efforts, but fits in the middle of the album as a suitable bridge from the split-personalities of "Walmart" to the prog-rock expansiveness of "Tania Head". This instrumental-heavy track is another example of the band's phenomenal build-up skills, bringing back the trickling arpeggio-led psychedelia under a very active rhythm section. Several ambient roars can be heard in the background, which greatly accompanies the dexterous ferocity of the chorus. It would be difficult to call this track the most ambitious on an album full of candidates, but "Tania Head" is certainly up there. While lacking the immediate hooks of a track like "Grandma", "Tania Head" contains as many mesmerizing ideas – if not more.
Oh so modern, "Barack Obama Blues" is really the only place where Fleet Foxes comparisons are necessary – and that is only for the first few moments. A very cinematic drone of guitars finishes the bulk of it, returning listeners back to the post-rock/freak-folk/prog-rock mash-up that marks Skeletons' wonderfully impulsive innovation. Regardless of the numerous similarities in pitch to Pecknold throughout the album, the comparisons would be easy for critics to make but hardly accurate in a full sense. Skeletons, while lacking that band's up-front delicate beauty, present significantly more ideas and examples of innovation. Even if they are pulled off with less precision on a consistent basis, Skeletons' full range of ideas is captivating. Their futuristic vein of folk integrates forms of rock that are markedly difficult to infuse with cohesion and creativity. Skeletons do it extraordinarily well though, making People one of the most fascinating and impressively creative releases of 2011 thus far.
RIYL: Timber Timbre, John Vanderslice, Bruce Peninsula, Bon Iver, Danielson, Radiohead, Battles, The Grateful Dead, The Souljazz Orchestra, Fleet Foxes, Quantic presenta Flowering Inferno, Natural Self, Orgone, Bill Callahan, Neutral Milk Hotel, Suuns, Braids, Kurt Vile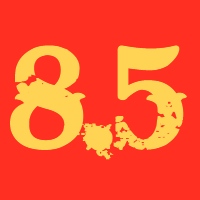 Skeletons in "More Than the One Thing" from Shinkoyo on Vimeo.