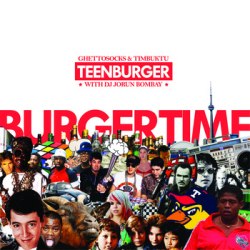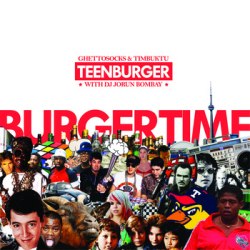 Nostalgia, always a component in hip hop's later fare, has taken a new flavor of late. Nostalgia in '90s hip hop was largely reactionary, a response to the breakout popularity of the gangsta rap genre. Their nostalgia for groups like The Juice Crew and earlier hip-hop came off like sour grapes. More recently, the flavor of nostalgia is more in the general direction of youth, and particularly such disposable cultural products as cult movies and Saturday morning cartoons.
Which is where we come to Teenburger, which may represent the only time to date any Obscure Sound writer could furnish the heavily relative string of words "Canadian Hip-Hop Supergroup". While I doubt most readers have heard of Ghettosocks, Timbuktu, or DJ Jorun Bombay, these are some of the most promising lights in Canadian hip-hop, with Ghettosocks even scoring a Juno nomination for Treat of the Day, a solo effort. Both Ghettosocks and Timbuktu have hyperactive flows, heavily rhythmic and well intoned so that, even when verses have no point or punch lines drop flat, they keep up the frenetic party-ready back-beat and film dialogue samples so numerous and well integrated they practically serve as a third rapper.
There is a refreshing lack of angst on their new album Burgertime. This feeling of refreshment is nearly enough to obscure the failure of each MC, their inability to stake out a distinctive identity or reach a novel conception of either childhood or '80s pop culture, the two motifs most commonly circled around on the disc. Things are assumed to be better simply because they occurred in the '80s, with the most embarrassing line coming on album closer "Drunk in the Sun": "I been skippin' school with the crew since way when Reagan was in office / Today we gettin' paid, which means a whole lot 'cause in the '80s they had better economics." This may be the first ever recorded endorsement of either Ronald Reagan or trickle-down economics on a hip-hop record.
Burgertime is made to be put on repeat at block parties. Quite literally, the same sound plays on the end of the last track as the start of the first, daring the listener to put the disc on continuous repeat. They very well may; the beats are excellent, the production amiably unrelenting, and the rhymes competent if undistinguished. Some clever lines can be discerned in the shuffle, though mostly the rappers obsessively stick to framing all their metaphors and imagery in the VH1 Western canon.
The quality track by track is entirely dependent on the quality of the production. Thankfully, this only falters on "Kill Lincoln", which repeats the same uninteresting horn sample ad nauseam. Highlights include "Wake Up", which weds warm whole-note horn samples with various vocal samples cut and chopped to perfection. "Halloween Special", the melody of which offers an intriguingly superficial reinterpretation of the melody used for Eminem's "Drug Ballad", is just as technically impressive. Even if you choose not to put it on continuous repeat, Burgertime is well worth a spin for fans of ambitiously geared hip-hop.
RIYL: Edan, Eternia, Dangermouse and Gemini, Wale, Dangerdoom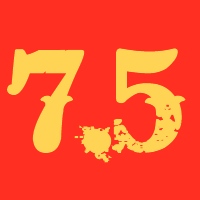 Teenburger – Wake Up (feat. Jorun Bombay)