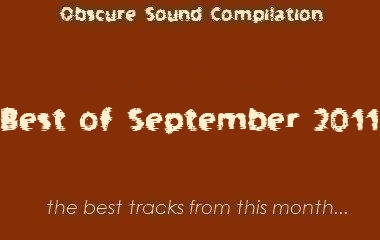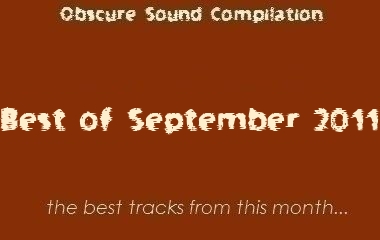 September's compilation is massive… I don't know where to start. These twenty tracks from the past month, ranging in every style from soothing folk to Halloween-themed hip-hop, offer greater diversity than usual — and it's not just due to the sheer number of tracks. New tastes on Obscure Sound have emerged with several new writers on staff. It's a reminder that there's so much quality music to be exposed, past and present, that variation is a music fan's best friend. I have thoroughly enjoyed many of those articles, from bizarrely enjoyable compilations to features on the unsigned and unknown. This site has always featured similar content, but seeing other music fans write to that format has been, for me at least, very enjoyable to read. I hope you feel the same.
Of course, for all the great unknowns like California Condors, Quichenight, and Leaves of Green, there are a couple of relatively big names. Jens Lekman and St. Vincent showed why they're indie-pop darlings with excellent new releases, while up-and-comers like Little Majorette and Lana Del Rey continued to be highly buzzed-about in the blogosphere. Every single song on this compilation was released in 2011 apart from one: Lewis' "Romance for Two". We can trace back to 1983 with that one, on the album L'Amour. It's a lo-fi lost classic, and is only at the end of this compilation because it sounds like the consummate closer. I don't know if it's related to the feature, but a bunch of original pressings of L'Amour popped up on eBay after the Lewis feature was posted. This one – quoting OS in its description – sold for $263.
That fun fact aside, enjoy the compilation. There's a lot there.
01. Jens Lekman – An Argument with Myself (post)
02. California Condors – Calm Carnivore (post)
03. Little Majorette – Never Be the Same (post)
04. Lo-Fi-Fnk – Kissing Taste (post)
05. Models Can't Fuck – Give it Time (post)
06. TV Girl – Lizzy Come Back to Life (post)
07. Quichenight – L.A. Time (post)
08. Leaves of Green – Attic (post)
09. Secondhand Pinups – Do It Slow (post)
10. St. Vincent – Cruel (post)
11. Male Bonding – Bones (post)
12. Rozwell Kid – Dylan, Don't Do It (post)
13. Lana Del Rey – Video Games (post)
14. Treefight for Sunlight – What Became Of You And I? (post)
15. Fossil Collective – On and On (post)
16. Crooks – Downtown (post)
17. Sound and the Urgency – White Kids (post)
18. Big Black Delta – Capsize (post)
19. Teenburger – Wake Up (feat. Jorun Bombay) (post)
20. Lewis – Romance for Two (post)
DOWNLOAD ENTIRE COMPILATION>>> (131.8 MB, .RAR)