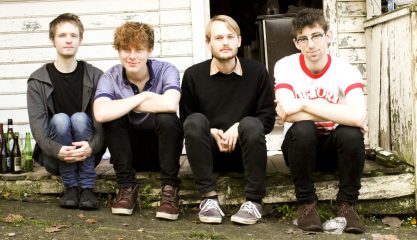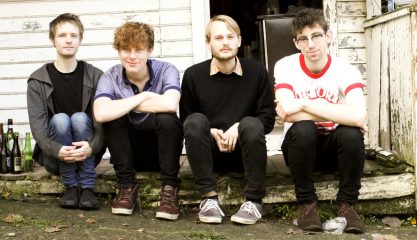 The Eversons are highlights in the fusion of past and present that is art-punk, a genre most recently propelled by names like Art Brut and The Rakes. Both groups debuted in 2005 with a thickly accented, spontaneously wry vocal wit backed by tremolo-heavy riffs and mechanical rhythms in a style akin to bands like Gang of Four, The Fall, and Talking Heads. The art-punk niche combines influences like these with a formula adherent of contemporary indie garage-rock; its hooks arise with a polish reminiscent of The Strokes or Arctic Monkeys, where shimmering instrumentals – predominantly guitar and bass – are restrained and accessible despite being concisely infectious, allowing vocalists the room to inject personality without overtaking the song's immediate appeal.
In art-punk the frontman is aptly front-and-center, but the choice to ignore him in favor of such hooks still exists. Art Brut excelled at this on their debut Bang Bang Rock & Roll, where Eddie Argos filled excitable compositions with moments of Morrissey-inspired melancholy and vague cultural commentary a la Mark E. Smith. Still, one did not have to fall in love with Argos' lyrical sentiments and/or vocal delivery to enjoy the album. No matter how clever the lyrics, the style of art-punk is reliant substantially on excitable accompaniments in addition to the frontman's evident swagger.
Following this ideology is one of several reasons why The Eversons are so successful on their new self-titled EP. The five tracks here are full of the vibrancy found in early punk; initial simplicity evolves to intricate wit over guitar-heavy arrangements that take turns alternating lead with the singer. "I'm a Conservative" rides on Mark Turner's vocals more than any other track, but the quality of the lyrics makes this disproportion allowable. There are plenty of excellent one-liners, as expected, but the true aspect of quality here is the varying degrees of interpretation. Like the best art-punk songs, it provides a narrative with a clear issue – this time being a glaringly overzealous separation in political parties around the world. Not much point in analyzing it lyric-by-lyric, since digesting these songs without bias is usually best. If you still don't get the point about its surprisingly in-depth structure and numerous interpretations after listening, check out this fan-made one. Fun stuff.
While The Eversons are never lyrically dull, the strength of both "Hyacinth Girl" and "Boyfriend" rests in the excitable melodic content of both. The former is heavily reminiscent of The Rakes, with reflecting backing harmonies imitating the twangy guitar tremolo on point. "She's my hyacinth girl in a floral dress," Turner sings during the chorus, one of the EP's most thoughtlessly enjoyable moments. It's a love song, plain and simple, but that doesn't mean the college-rock stations won't eat it up. The same applies to "Boyfriend", which fuses muted guitar chords with a bluesy sort of repeating progression that emerges every other chorus. "Now you're the boyfriend after all," Turner sings during the most memorable moment, the bridge which first appears at the mid-point and later serves as the conclusion.
The end of the EP pursues some more ambitious territory, particularly with how "Loser" melds both American and British styles of early '90s alt-rock. You have the snarling Brit-pop of acts like Supergrass, but with the sort of harmonious romanticism found on early Weezer records. The chorus, a repeating "you're a loser", is particularly representative of this. Of course The Eversons are from New Zealand, but many of their influences are British and American. Regardless, their sound is an excellent interpretation of rock, punk, and their different eras, including this one.
RIYL: Art Brut, The Rakes, The Fall, Talking Heads, Weezer, Devo, The Futureheads, Young Knives, The Cribs, Good Shoes, Little Man Tate, Maximo Park, Reverend and The Makers
The Eversons – I'm a Conservative