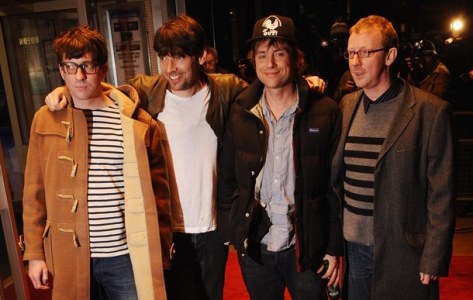 In somewhat of a flurry of Blur news this past week, frontman Damon Albarn clarified two things: Blur have been meeting "regularly" and plan to play live next year, and Albarn's newest opera Doctor Dee will be given a run at London's Coliseum this coming June.
In the midst of playing debut gigs for his new band Rocketjuice To The Moon (a supergroup including Flea and Tony Allen) the last weekend of October, these bits of news are not terribly surprising considering rampant speculation about Blur reuniting. The ceaselessly busy Albarn showed excitement over a Blur reunion in last week's issue of NME, but noted the difficulty in juggling it with his other projects.
Well, yeah — when you're writing an opera and performing with at least three different bands, free time isn't abundant. Not to mention, he has a gigs with (other supergroup) The Good, The Bad & The Queen later today, their first in three years. Albarn's previous opera, Monkey: Journey to the West, premiered in 2007 at the Manchester International Film Festival to wide acclaim. He also released Kinshasa One Two, a collaboration effort with local musicians from Congo, last month. The new opera, Doctor Dee, details the life of 16th century scientist John Dee, and has already recieved critical acclaim after running in Manchester earlier this summer.
It's hard to think of a busier person in the music industry than Damon Albarn… or at least someone as busy who produces sheer quality with every project. Here's to a great 2012 for one of the greatest Brit-pop groups of all-time. Along with news of a Pulp reunion, next year could be prime time for quintessential Brit-pop reunions. Blur last released a song in April 2010, with the wonderfully infectious "Fool's Day".
MP3: Blur – Fool's Day