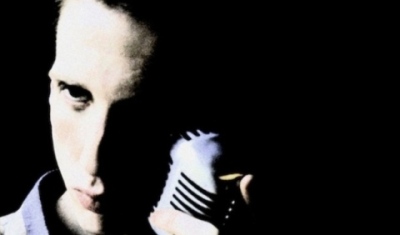 Some artists would be better off focusing on one project, exerting their energy toward one cohesive sound that merges their stylistic preferences. Bradford Cox is not one of them. His dozen or so releases since 2005 project enjoyable degrees of diversity, from the angular art-rock of Deerhunter to the more intimate lo-fi experiments of Atlas Sound – the latter more representative of his work as a solo artist. Why condense it into one sound when both projects are smashing, separable successes? Atlas Sound's new album, Parallax, was written in about one week, which is startling considering it sounds the opposite of a rush job. Actual time is hardly a signifier of rushing for Cox; his mode of songwriting involves a trance-like stream-of-consciousness process that usually results in a handful of songs within a day. He has never released a "rush job" as a result, and likely never will. As his most cohesive album to date, Parallax is the most vivid representation of Cox's unique talents as a songwriter. Some of his other releases may be more daring or stylistically adventurous, but Parallax contains the highest number of quality songs.
Though Cox's music packs more pop and energy even in his dreamiest psych-ridden moments, his voice assumes a languid drawl most akin to Cass McCombs. Opener "The Shakes" is particularly demonstrative of this. Melody prevails over complexity here, with the pacing of a mid-tempo rocker proving wise with each successive guitar accompaniment increasing in tonal clarity. The structure is traditional, permitting proper emphasis of each addition. Tactful structural choices continue on the gorgeous "Amplifiers", which touts standout percussion that is prickly and exotic. They take a backseat during the gorgeous chorus, instead relying on snares and hi-hats when Cox solemnly says "even if I didn't know, even if I didn't go," over a delicate acoustic progression. It's truly a stunning track with awe-inspiring beauty.
"Te Amo" is surprisingly straightforward, which for Cox is actually experimental in its own peculiar sense. The key melody that loops continuously, with various twinkles and oceanic keys adding gradual accompaniments, is caressing to the ears but listeners will yearn for something with more mood and structural advantages. "Modern Aquatic Nightsongs" sounds like a superior counterpart to "Te Amo", revisiting the breezy tropical feel of the track but with a darker and more precise grasp. Eerie distorted synths move alongside a lush acoustic progression as Cox contemplates whether love-induced nausea that is worth it. "Is your love like a thousand bells ringing?" he asks. "Is your love bright like a shining golden ring?" The chorus reveals itself with majestic fluidity, Bradford's voice retaining its nonchalant yet subtly emotive tone over warbling synths that could be taken from Hail to the Thief. In rare form, the guitars are pushed to the back of the mix. The acoustic backbone is a vital success, though, and essential in crafting the eerie yet serene feel of this massive success.
Two-thirds into Parallax, it's easiest for listeners to get comfy. The vibrant and accessible "Mona Lisa" is a fleeting acoustic-driven charmer with '70s AM pop influences. It's even complete with mimicked male-female harmonizing – the feminine component courtesy of MGMT's Andrew Vanwyngarden's high-pitched vocals. Rarely do big-name collaborative efforts come off as successful in modern rock. Here's an artist utilizing a collaborator's strengths to fit cohesively within the song. It's not just an effort to recruit MGMT fans, even if the fluttering bridge in "Mona Lisa" will remind those of the psych-rock approach of Congratulations – though Parallax lacks the superfluous bells and whistles of the aforementioned.
Apart from the rollicking and soulful "Angel Is Broken", whose near-gospel approach of choir reverb reveals some excellent hooks while containing one of Cox's most memorable vocal performances, the second half of Parallax is significantly more subdued. Nothing represents this more than "Terra Incognita" and "Flagstaff", some of the most intimate tracks Cox has ever produced. The latter sounds like a lost gem from the '70s psych-folk scene; Robert Wyatt and Kevin Ayers come to mind as the song progresses, especially Wyatt when a glitchy ambience surrounds the final three minutes. Still, the spacey synth pad corresponding with the crisp guitar licks in "Terra Incognita" prevails over "Flagstaff" on every level; "Flagstaff" sounds more like an extended finale of "Terra Incognita" than a separate song. It's slightly overbearing, but also a reminder of how stunningly cohesive Parallax is – even when length becomes an issue.
The two "Quark" entries concluding the album are noise novelty. They are the most experimental tracks on Parallax, but also the most forgettable by a long shot. These instrumentals are fascinating with their twinkling arpeggios and – in part two's case – bubbly synth tones, but they are out of place on an album dominated by naturalistic keys and guitars. Synths are best served as a backbone on Parallax, and it should have stayed that way. Cut these two tracks off and consider "Lightwords" the proper closer. A fun back-to-basics folk-rock song with harmonica and jangly acoustics, it's a perfect come-down after the emotional intimacy of subdued duo "Terra Incognita" and "Flagstaff". There is very little filler on Parallax. Some questionable sequential choices, but filler is rare. Overall it's an excellent album from a songwriter who has yet to disappoint. Those looking for the most suitable entry point to Bradford Cox may have found their answer in one of 2011's greatest indie-rock albums.
Atlas Sound – Modern Aquatic Nightsongs

MP3: Atlas Sound – Terra Incognita

MP3: Atlas Sound – Te Amo