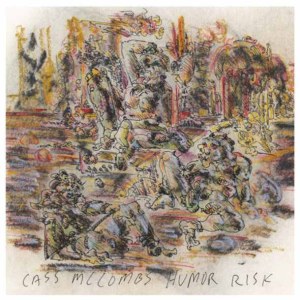 Cass McCombs' second full-length of 2011, Humor Risk, is an ace-in-the-hole for anyone arguing that McCombs' delivery is "classic", as in a singer-songwriting with a dominating presence who combines lyrical idiosyncrasy with a stylish smorgasbord of sounds from the past. In McCombs' case on Humor Risk, he turns the sparsely somber romanticism on this year's Wit's End into a breezier and bouncier replication. Here, his deliveries of folk, jangle-pop, and southern-tinged rock are heralded by delicate tempos and buoyant melodies. Electric guitars and percussion are instrumentally dominant, unlike the emphasis on keys, acoustics, and makeshift kitchen appliances featured throughout Wit's End.
Efforts like "To Every Man His Chimera" and "Mariah" provide the dose of brooding melancholy that McCombs fans have come to expect, but Humor Risk is otherwise more lighthearted and repetitive than its slightly elder sibling. In separating the two, it is hardly surprising that the lyrical wit of McCombs came up with something like this: "Wit's End is like a stew; Humor Risk is the raw food diet." Wit's End was a very gradually crafted release, at least by McCombs' prolific standards; its origins date back to 2009. Humor Risk is another story. It was written in the span of a few months, but its flaws have nothing to do with feeling rushed. Ironically, it feels overly elongated at some points.
Producer Ariel Rechtshaid aided with both Wit's End and Humor Risk, in addition to Catacombs, so it's not as if listeners should expect any dramatic alterations on the production front. The McCombs-Rechtshaid team has already mastered the approach, so all rests on the songwriting – just how the famously direct McCombs would prefer it. He's hardly a fan of romanticizing the role of a songwriter. The first track on Humor Risk, "Love Thine Enemy", is the polar opposite of the soulfully intricate "County Line", opener on Wit's End. "Love Thine Enemy" relies on a guitar riff as simple as its message: that you aren't going to like everyone (and vice versa) despite a universal desire to be loved. Love and hate are both essential components of human nature, and McCombs' lyrical depiction of this is exceptional as usual: "Without earthworms, how else would the soil keep clean?" Unfortunately the song lacks significantly on the musical front, delivering neither the hooks nor structural ingenuity of "County Line", or any of McCombs' best for that matter. Often his openers are standouts, but not here. Even without comparing it to Wit's End, it's just not a very fun song – or emotionally interesting, like much of his work, either.
The primary flaw of "Love Thine Enemy" is its mind-numbing repetition. With its message so easily decipherable, the fuzzy guitar riff that repeats throughout only finds accompaniment in the final minute – when clumsy, improve-sounding piano keys clunker down on the arrangement. "Mystery Mail" falls victim to many of the same deficiencies, though its saga-like lyrical content is excellent – like a bizarro-world version of a Breaking Bad episode. Selling drugs with someone you knew from high school, packaging "two pounds for speedy delivery", and paranoia about the DEA… it's here, seven minutes and all. It's one of McCombs' best narratives yet. It's just a shame that the same riff repeats for seven minutes, sounding like a lackluster version of "Born to Be Wild" after awhile. Beyond the lyrics it just feels empty, as if McCombs wanted to get the lyrics off his chest and assembled any ol' melody to accompany it. Several past efforts, like "The Lonely Doll" and "Lionkiller Got Married", rely on repetition as well, but they have the proper length and subtle structural tactics to make listeners yearn for a repeat, rather than the conclusion as one's patience wears thin.
Fortunately for the rest of Humor Risk, there are no apparent miscues. The remaining six songs are as strong as anything McCombs has done, specifically the meat of the album – from "The Living Word" to the end of "Robin Egg Blue" Humor Risk is flawless. The breezily nonchalant "The Living Word" borrows plenty from the caressing jangle-pop of Felt or The Field Mice, the lyrics having some sharp theological commentary. "In the Beginning, came the Word," McCombs dreamily sings. At one point he references China's two oldest philosophies, Taoism and Confucianism, before clarifying: "Not that it matters – the names, the place, or time." Perhaps he's touching on the dangers of taking religious texts for granted, or not abiding by them enough. Either way, this is a track that embodies what McCombs does so well – crafts hauntingly ingenious melodies over lyrics that, while often indecipherable, are always consuming and thought-provoking, whether it's a philosophical entry or a good-natured love song.
The album's literal and emotional centerpiece, "To Every Man His Chimera", would have been right at home on Wit's End. Still, between the chugging infectious folk-pop of "The Same Thing" and the acoustically upbeat "Robin Egg Blue", it provides a seamless sequential progression on Humor Risk. Apart from the heart-tugging start-stop patterns that McCombs employs, the main draw here is the excellent infusion of music into lyrics. Mentions of ghosts, failed weddings, and being stuck in a one-dimensional realm sounds like the plot to a Korean horror film, but McCombs incorporates the vague lyrical sentiments into a hazily retrospective guitar-led stroke of accompanying genius without getting overly fantastical. The end of each verse is met with a silence of sorts, as the tinny guitar echoes in the distance. With each conclusive "no, not you again!" the listener is inserted into an atmosphere that is sparse and melancholic, but also heavily romantic in its own unique sense. Part of this is due to the somber, tinny electric guitar tone that permeates throughout "To Every Man His Chimera", a sound tone that won't be found anywhere else on Humor Risk. It's like a lower-tuned imitation of the slow leading strum on "Buried Alive", a somber track off Wit's End whose feel is very comparable.
It's very evident that Wit's End and Humor Risk have two different feels. Although Wit's End is more cohesive atmospherically and production-wise, Humor Risk is the best representation of McCombs as a songwriter in the "classic" realm. His folk-rock approach never sounds stale, and when it does it's always due to strategical repetition – which works sometimes, but others not so much. By the time the album ends with the frailly beautiful "Mariah", one gets the sense McCombs is expanding his stylistic repertoire ever so subtly – whether it's the flourishes of soul in the latter or explorations into a pop-filled past with "The Living Word", albeit in a highly intelligent vein. Wit's End is another good release from McCombs, but not quite the masterpiece he seems destined for. Some opportunities are wasted, while others are overly emphasized to a mind-numbingly repetitive state. That's not to say the album should be overlooked though. Any music fan would be mistaken overlook anything from Cass McCombs, Humor Risk included.
MP3: Cass McCombs – The Same Thing

Cass McCombs – Robin Egg Blue (Gun Drum Mix)