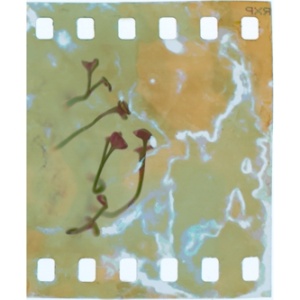 Cast your mind back to the early and mid-'90s. You may recall a specific revolution in electronic ambient music. Artists like Aphex Twin, Orbital and Brian Eno brought a whole new meaning to the electronica of that era, kick-starting a stylistic movement that would end up being quite influential itself. This deep ambient electronic sound can now be heard in all sorts of genres, but there are still plenty of artists producing the lo-fi electronic sound that enraptured listeners in the '90s. With her debut full-length album, Gelatinous, North London artist Mink Freud has crafted a piece of music that transcends history – referencing the past and carving the way for the future in 45 short minutes. There's a lot to love about Gelatinous, but buckle your seat-belt — it's quite a journey.
The nine-track album opens with the haunting "Dr Dre vs the Seraphim". It's an effervescent ambient track with a repeating vocal refrain that, while purposely repetitive, doesn't grate on the ears. In the undercurrent of this track you'll detect what almost sounds like a church organ, adding further airy atmospherics to this ethereal opener.
As the album progresses we start to hear more structured beats developing. "Music for Martina" is the first greyer example of this with its deep bass and hollow-sounding ambient drone. Flashes of synths are applied here, but it's done liberally as not to approach the synth-happy territory of ambient and electro-pop artists alike.
Gelatinous moves at a fairly relaxed pace, as you would expect from an ambient record. There's not too much straying from the formula here, with Mink Freud opting to explore moods rather than expand the roster of instruments. That's not to say the musicianship isn't spot on. In many cases it shines; this album is more of a mood-setter rather than a head-bobber. Moods move from light to dark quite readily, with tracks like "Kentish Town" expertly blending the lighter percussion with deep foreboding ambient drones. And of course it wouldn't be modern electronica without those touches of glitch-pop on top.
The mood of the record darkens considerably with the aptly titled "Darkness Approaching". The track is desolate and dark, with the juxtaposition of a distorted bird song calling to mind a post-apocalyptic wasteland with re-emerging life. It's demonstrative of this album's strengths that such images can be evoked through sound.
Gelatinous closes on a real high note, with the cathartic mood of "Winter Sunrise". It's a very subtle piece, which ends the album perfectly. Deeply atmospheric, it manages to capture a feeling of hope and inspiration. True to its name, "Winter Sunrise" has tendencies of coolness, softness, tranquility and a lulled undercurrent that pervades it. This song is a real accomplishment, and manages to create the feeling that you're coming back down to earth from a cosmic journey… in the very best way, of course.
Overall, Gelatinous is a solid ambient/low-fi album from an up-and-coming artist that deserves all the praise she'll undoubtedly get. It's one of those albums that will make you want to lie back on a recliner sectional, put your feet up, and escape into a completely alien world of soundscapes and ambiance. Each song captures the ear and the mind; the entire album is a real journey for the listener. From the ethereal to the cold harshness of reality, no stone is left unturned. Some listeners may tire of the slow pacing, and could potentially see fault in the lack of drive within the tracks, but anyone with an ear for the ambient will relish these things as they are facets of the genre. If you're a fan of ambient acts like Trentemøller, Aphex Twin, and The Future Sound of London, you'll be right at home with Mink Freud's Gelatinous. Perhaps the best way to describe the album is by using the title itself: gelatinous. It's a bit wobbly at times, but it has a certain smooth pliability and inherent comfort woven within it asserting subtle brilliance.
Mink Freud – War of the Worlds