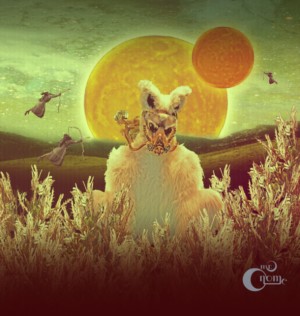 After delivering several albums with flashes of brilliance but a lack of consistency, mr. Gnome have taken their biggest stride with Madness in Miniature, their third full-length album. Their previous two carried a common plague, where style reigned over substance as memorable hooks failed to form with over-active arrangements or superfluous stylistic pursuits. When mr. Gnome were at their best, it usually involved post-rock explosives with vocalist Nicole Barille stretching her exceptional vocal range to the limits. Both her guitar work and drummer/pianist Sam Meister's technical skill were always apparent, but sometimes the songs struggled in letting loose and allowing melodies to reign over virtuosity.
Madness in Miniature is a different story. Standout "House of Circles" manages to inject freak-folk into a frenzied alt-rock arsenal. Barille's voice ascends from a moaning whimper into a confident snarl, both accompanied by a backing vocal harmony producing a ghostly yet ethereal effect; the banshee-like 'ooh'ing is a perfect fit. A clashing between the folk-leaning verses and explosions of alt-rock guitars comes to full fruition slightly past the three-minute mark. Introduced by an epic percussive build-up that marches along in a bluesy White Stripes fashion – and complemented by a quivering Barille, who puts in one of her best vocal performances yet – the conclusion to "House of Circles" is a rampant stunner that embodies mr. Gnome's energy and structurally innovative tendencies.
"Bit of Tongue" is structurally comparable to "House of Circles", mainly in the evolution of softer folk verses into loud guitar-based propulsions. It's a tactic employed throughout the album, avoiding repetition with an eclectic display of stylings in the verses, often containing offshoots of softer folk and pop.  The verses on "Bit of Tongue" float with the whimsy of '70s AM-pop , and also with hints of contemporary artists like Marissa Nadler and St. Vincent. Barille projects a presence quite similar to both, especially with the variation in her vocal delivery. The introduction of distortion at the two minute mark increases the tempo, allowing Barille to show off her astute abilities in reflecting rhythmic movements. Despite having such a powerful voice, her willingness to occasionally back down and let the music dictate her vocal intensity – instead of vice versa – results in some of the most memorable moments on the album.
Several interludes, most at less than a minute long, provide intuitive atmospheric flair for Madness in Miniature. "Fly Me Over" is most indicative of this. Placed between the intense "Bit of Tongue" and the straightforward rush of blues-infused power-pop contained in "We Sing Electric", its serene and nearly religious feel provides brief serenity between two songs containing a constant rush of ideas and twists. It helps that its ending sounds like it would complement the setting of a secluded temple in a Far East mountain range. Even as "We Sing Electric" sounds initially like a straightforward rocker, by the end of the song the tremendous number of ideas is apparent. It sounds like a two-parter despite being under four minutes.
While the first few tracks show Madness in Miniature as a continuous fusion of lighter rock elements with thunderous post-rock eruptions waiting at every turn, the second half of the album contains some efforts that could be considered ballads – at least by mr. Gnome's standards. The aptly titled "Winter" utilizes crystallized keys and high-pitched note sequences, delivering something that sounds like the alternative equivalent of Sally Shapiro's similarly arctic-sounding work. The wavering use of tremolo in the backing keys also deliveries a dream-pop vibe typical of Beach House, especially with Barille now alternating between a soft-spoken quiver and emotive proclamations. "Now I feel so ordinary," she sings before an absolutely gorgeous conclusion, marked by the first use of heavy percussion in the song. It's a stunning track that fully represents mr. Gnome's growth. Never before has the duo's songs resonated with such rich atmospheres and beautifully interwoven hooks.
After this delicately gorgeous ballad, the immediate blast of guitars on "Wolf Girls" may catch some listeners off guard. This somewhat abrasive art-rock trip begins with a bizarre and somewhat repetitive series of animalistic noises and straightforward power-punk verses, but like most songs on Madness in Miniature it evolves into something fascinating. The guitar work in the final two minutes is some of the best on the album, with the hypnotic organ-like accompaniment at the tail-end begging for continued expansion well past its four-minute length. Well, that is until the listener is introduced to the excellent "Outsiders", a rollicking folk-rocker with hints of Alamo-styled folk. Tempo shifts are hardly noticeable at this point in the album, as listeners have become accustomed to it. But there are no greater tempo-related moments throughout the album than "Outsiders", to which Barille adapts flawlessly in a vocal performance that rivals "House of Circles" for best on the album. On a triumph of a release like this, rivalries like this are indicative of a generous outpouring of ideas, most of them striking.
MP3: mr. Gnome – Winter