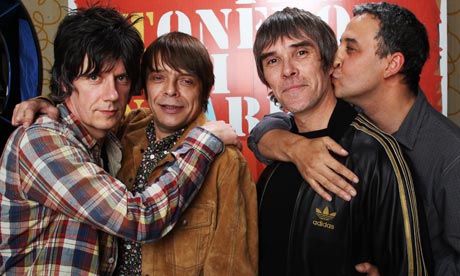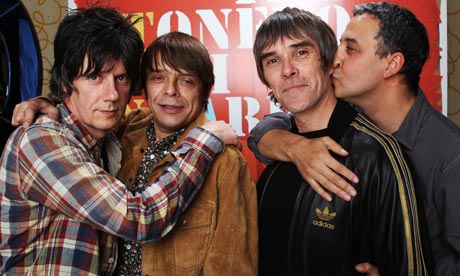 2012 seems to be a trendy year for Brit-rock reunions. In addition to Brit-pop greats Blur and Pulp slated to return in 2012, a band that hugely influenced them both is returning as well. After announcing a slew of tour dates earlier this year, The Stone Roses will headline next year's V Festival, according to various reports. The festival, which takes place at both Hylands Park in Chelmsford and Weston Park in South Staffordshire, was formed in 1996 after Pulp's Jarvis Cocker expressed a desire to play two outdoor venues in two days. Pulp, Paul Weller, and Supergrass headlined that year. The festival has done well commercially since then, though critics find fault in several money-related issues — like how the organizers charge for programs (the only way to see headlining times) and confiscate water bottles. At least the lineups are satisfying most of the time.
The Stone Roses were previously rumored to be headlining the Phoenix Festival next summer, but that is now ruled out in favor of the V Festival. They are still slated to play T In The Park, Benicassim and Fuji Rocks next year, among several other dates. Last month, the legendary quartet sold out three nights at Manchester's Heaton Park in under 14 minutes. Some reports say they are netting £8.25m for the Manchester dates alone. Click the tab below for supposedly leaked tour dates. Tickets for T in the Park go on sale on 12/2. The rest of the tickets will be available early next year.
The Stone Roses are best known for their idolized self-titled debut in 1989, which spawned hits like "Elephant Stone" and "I Wanna Be Adored". They followed up in 1994 with the fairly underwhelming Second Coming before calling it quits in 1996.
[toggle title="Stone Roses 2012 tour dates"]Fri 29 June Heaton Park, Manchester
Sat 30 June Heaton Park, Manchester
Sun 1 July Heaton Park, Manchester
Thu 5 July Echo Arena, Liverpool
Sat 7 July O2 Arena, London
Sun 8 July O2 Arena, London
Wed 11 July SECC, Glasgow
Fri 13 July Slane Castle, Ireland
Sat 14 July Botanic Gardens, Belfast
Mon 16 July iTunes Festival, London
Fri 20 July Espacio Movistar, Barcelona, Spain
Sat 21 July Palacio de Deportes, Madrid, Spain
Mon 23 July Palais Omnisports de Paris-Bercy, Paris, France
Wed 25 July Futurshow Station, Bologna, Italy
Thur 26 July Datch Forum, Milan, Italy
Sat 28 July O2 World, Berlin, Germany
Sun 29 July Color Line Arena, Hamburg, Germany
Tue 2 Aug Globe Arena, Stockholm, Sweden
Wed 3 Aug Spektrum, Oslo, Norway[/toggle]
MP3: The Stone Roses – Made Of Stone

The Stone Roses – I Wanna Be Adored

The Stone Roses – Your Star Will Shine