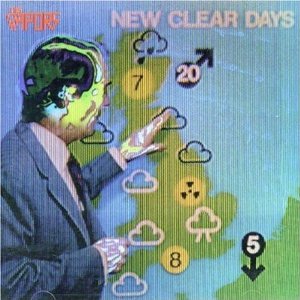 In the stream of excellent hard-hitting power-pop albums that were released in the aftermath of the punk explosion, there were bound to be a couple ones forgotten, or associated bands being relegated to one-hit wonder status. The Vapors, famous to anime fans and frequent listeners of the Dr. Demento show for their deliciously warped hit single "Turning Japanese" (an oriental ode to the joys of the five-finger shuffle) were in fact one of the most intelligent and propulsive bands to come out of new wave, and their debut album New Clear Days is their defining statement.
The album kicks off with "Spring Collection", featuring tinny drums, lots of symbols, and very recognizable buzzsaw guitar tones. It's a biting attack on the transformation of punk music into a fashion statement, tempered with frustrated admissions of lust denied… very Elvis Costello. This is probably the best song attacking punk fashion released until Dexy's Midnight Runners' "There There My Dear" on Searching for the Young Soul Rebels.
This is an album full of anthems that, in its most recent more turbulent developments, would fit the Occupy movement snugly. After a minute-long tense build-up, lyrics seemingly imagined for the last two months box the ears like Joe Frasier. To the question of demands:
"You play left handed for the revolution
You over-estimate the quick solution
But you'll get there soon"
What could be more apropos than the paranoid (or maybe not so paranoid now) cry of "Is this a military state I'm in?" that closes the track wraps everything up.
The nervous jittery energy of "Trains" meanwhile recalls early post-synthesizers XTC, the strangely addictive quality of anxiety that crawls over the feelings of nausea. The persistent clock-hand downbeat so prevalent to New Wave fits singer David Fenton's pinched yelps like the gears in an old world watch.
Perhaps the closest record to this one would be "This Year's Model", though there's something in Fenton's lack of lyrical cleverness that makes his music more urgent and alarming than the early Costello; there's no consoling dark punch line around the corner. There's no ambiguity to hide in when Fenton screams "maybe that's why we're living in bunkers!"
Album closer "Letter from Hiro" lets up the energy a bit, and the unwieldy runtime of 06:23 makes it the album's only real misstep. But for every Yankee Hotel Foxtrot there's a Reservations, right?
RIYL: Elvis Costello, XTC, The Adverts, The Damned, Blondie
The Vapors – Spring Collection
The Vapers – Trains
The Vipers – Bunkers