THIS CONTEST IS NOW OVER. THANKS TO ALL THAT ENTERED!
One of the greatest and most talked-about pop albums of all-time,
SMiLE
, sees another incarnation with the long awaited release of
The SMiLE Sessions
. With full participation from Brian Wilson, Mike Love, and Al Jardine, Capital/EMI has collected and compiled The Beach Boys' legendary '66-'67 sessions for
SMilE
, which Rolling Stone called "the most famous unfinished album in rock & roll history." To see what it's all about, there's a full stream over at
Spinner
right now.
Originally intended to follow the band's 1966 masterpiece, Pet Sounds, the SMiLE master tapes were never completed. This new set draws from the original masters.
Here's information on the release from the source:
[toggle title="Click for SMiLE details…"]
SMiLE Sessions physical and digital configurations include an assembled collection of core session tracks, while the box set delves much deeper into the sessions, adding early song drafts, alternate takes, instrumental and vocals-only mixes, and studio chatter. SMiLE Sessions invites the listener into the studio to experience the album's creation, with producer, singer and bassist Brian Wilson's vision leading the way as he guides his fellow Beach Boys, singer Mike Love, drummer Dennis Wilson, lead guitarist Carl Wilson, rhythm guitarist Al Jardine, and newest member Bruce Johnston (who'd replaced Brian Wilson in the touring group during 1965), through the legendary sessions.
Artwork for all of the SMiLE Sessions physical and digital configurations has been created with and inspired by Beat-Pop artist Frank Holmes' original 1967 LP sleeve art and booklet designs intended for the SMiLE album. With its three-dimensional shadowbox lid, The SMiLE Sessions box set offers a whimsical peek inside the storied "SMiLE Shop."
Box Set Content 
– 5 CDs / 2LPs / 2 7″ singles
– Three-dimensional shadow box lid featuring the original artwork of Frank Holmes.
– The Box Set measures 13″ x 13″ x 2.5″
– 60 page case bound book features liner notes by:
Brian Wilson, Mike Love, Al Jardine, Bruce Johnston, Frank Holmes, Peter Reum, Tom Nolan, Domenic Priore
Anecdotes by:
Marilyn Wilson-Rutherford, Diane Rovell, Dean Torrence, Mark Volman, Michael Vosse, David Anderle, Danny Hutton
Timeline
Sessionography
Lyrics
Frank Holmes drawings
Producer's Notes
More than 60 previously unreleased photos
Box also contains: 
– 6 panel folder holding 5 CDs and singles. Features photos of original session tape boxes.
– 7″ vinyl singles
– "Heroes and Villians" in sleeve art
–  "Vega-Tables" in sleeve art
– Gatefold 2 LPs
– Features full tracklisting of proposed unfinished album +
– Stereo mixes and session highlights (not available on CDs)
– 12″ x 12″ booklet created for original release features:
– Photos by Guy Webster
– Drawings by Frank Holmes
– 24″ x 36″ poster of Frank Holmes cover art
[/toggle]
So, any interest in getting this historic release for free? I thought so.
Obscure Sound is giving away a prize bundle to celebrate the release! You can win a 2CD Edition of SMiLE along with a t-shirt commemorating the release. To enter, reply to this question in the comments section below: Which Beach Boys (or BB solo release) is your favorite, and why? Unfortunately we can only offer this contest to readers in the US.
Enter ASAP and provide your real e-mail address. This is how you will be contacted if you win.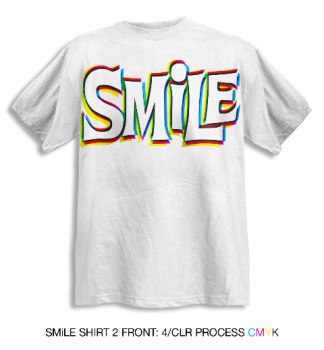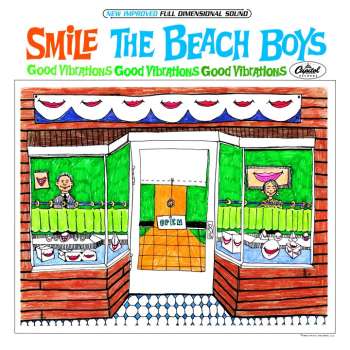 I have to say, it's an outstanding release. Listening to the new (or old depending on the context) versions of "Cabin Essence" and "Wonderful" sends chills up my spine.