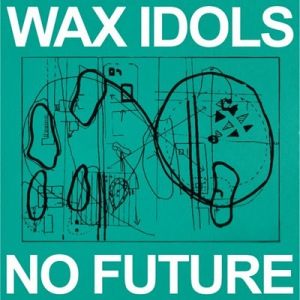 Haven't we all gotten tired of that generic tinny lo-fi garage guitar sound? Upward and onward to newer and more glorious fuzz, I say. Down with the old! Appreciate the garage records of yore only for what made them good, or what was awful to the point of being interesting. The b-side rave-up is not a folk tradition that needs any sort of mummification process by each progressive tribute record.
This bears stating because Wax Idols are a band with definite appeal and a some knack for hooks, yet their debut No Future too closely recreates the feeling of putting six or so hopelessly obscure garage 45s on a stack spindle and just letting it run. Yes, there are fresh nuggets; "Dead Like You", "Nothing At All", and "Gold Sneakers" have all earned a number of repeat rotations. But they only come sporadically through generic rave-ups like "Hotel Room" and "Dilno".
The vocals are straddled between a Joan Jett swagger and Shaggs-damaged naiveté. The feisty delivery aids the energetic vibe on display. However, on a track like "Hitman" – a story of dismemberment that reminded me of the horrific shock stories I read helping grade middle school creative writing papers – it brings the silliness of it to the forefront. Though a feeling of professionalism and polish has killed many garage records, this shouldn't be taken so as to confuse the lack of wit or lucidity with a self-justifying primitivism.
It seems the Idols themselves recognize when they've stumbled on a good hook, and play with an extra exuberant fervor, such as on the soaring chorus to "Gold Sneakers", which features one of the few musically interesting textures here: the wiry angular line full of sharps that guides the "I-I luh-luh-love you"s along like a roller coaster. Something frantic and not wholly self-determined is brewing there, and I wish it could've been explored more than the grade school nihilism of tracks like "Human Condition".
The group's single, also released this year, "All Too Human b/w William" is the catchiest thing they've recorded yet. When a singles compilation drops a couple albums down the road, it'll be an item to watch for. For now though, it remains a constructive process. If you want a garage fix, you could do worse.
RIYL: C or G chords
or
RIYL: Black Kites, Grass Widow, Wooden Shjips, Joan Jett, The Runaways, Cats and Jammers