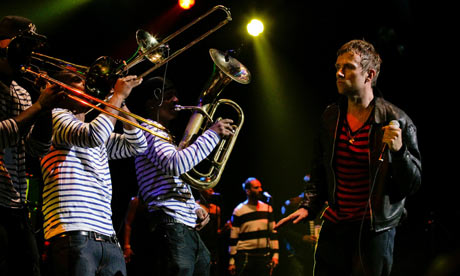 The supergroup comprising Blur/Gorillaz frontman Damon Albarn, Red Hot Chili Peppers bassist Flea, and Fela Kuti drummer Tony Allen revealed that their self-titled debut album will be out March 12th via Honest Jon's, a label Albarn co-runs that specializes in reggae, jazz, and soul. The trio, calling themselves Rocket Juice and the Moon, have tracked 18 songs for the album, which includes guests like Erykah Badu, the Hypnotic Brass Ensemble, Fatoumata Diawara, and M.anifest.
The band's web site, which has a design reminding me of the '90s, contains several live performances. It also points out that a tour will not be in the near future, since the Red Hot Chili Peppers tour lasts until 2013
Allen told MOJO, who broke the story, about the album: "It is all funk. Groove music, music that makes you dance. The audience don't want to sit and listen, they want to move their bodies." When asked about the band's recording process, he said "We don't say, what are we going to do? We say let's go for it, and we all play at once… It's a question of being free of mind."
Allen and Albarn previously played together in The Good, the Bad, & the Queen, who released their only album in early 2007. Albarn has indicated on numerous occasions that future material with that project is a possibility as well. It's not surprising, as he's no stranger to multitasking.

MP3: Rocket Juice and the Moon – Dolo Mbife (live)

MP3: Blur – On Your Own