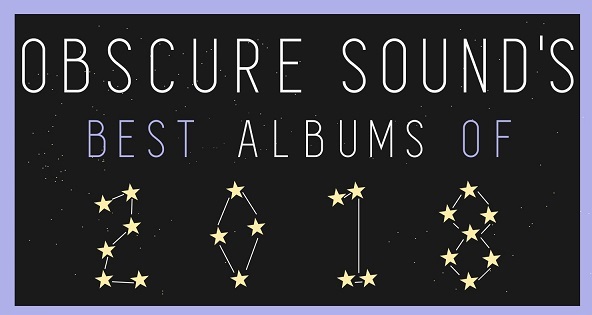 ——————————————————————————————————————————————
20. Rolling Blackouts Coastal Fever – Hope Downs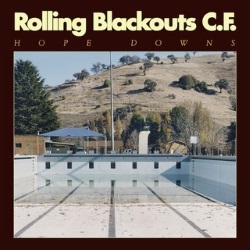 Australian rockers Rolling Blackouts Coastal Fever drew praise for their first two EPs, which showcased a band studious of effective jangle-pop. Guitar-pop sentiments are certainly retained on their debut full-length Hope Downs, with considerable advances in production from their lovably DIY-sounding EPs. Producer Liam Judson does well in clarifying the vocals and kicking up the guitars a notch, while recalling the guitar-pop/college-rock of acts like the Go-Betweens and R.E.M.. With my first listen to "The Hammer," I thought The Go-Betweens were back at it. Pefectly meshing nostalgic guitar-pop of the '80s with a modern indie-rock edge, Hope Downs is a fantastic debut.
——————————————————————————————————————————————
19. Rival Consoles – Persona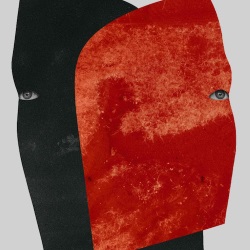 Rival Consoles, the project of Ryan Lee West, trades dance-friendly appeal for densely constructed soundscapes on Persona. Taking inspiration from the Ingmar Bergman film of the same name, also exploring self-perception and how others view you, the release features both electronic and acoustic instrumentation. Tightly-wound percussion accompanies evolving sounds, which in terms of melody and instrumentation appear as West's most dynamic to date. It's not new that West is fond of gradually building tracks, with the build-up often paying off, though here it works especially well. The self-titled track works around jazzy percussion and nocturnal synths for a more serene showing, while "Phantom Grip" shows a darker, more head-moving side. "Be Kind" and "Fragment" discard percussion, though build with vigor and convincing appeal nonetheless. Solid and consistent, Persona is one of the year's finest electronic releases.
——————————————————————————————————————————————
18. The Samps – Breakfast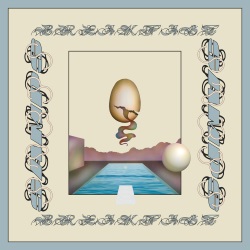 Speaking of notable electronic releases, Breakfast from The Samps is a fantastic listen with ample tonal variety throughout. The California trio, much like The Avalanches, take pleasure in digging through obscure vinyls and releases — somehow turning vague samples that feel somewhat disconnected initially into gorgeous, moving songs. Their debut EP released about eight years ago, impressing with this hazy sample-driven aesthetic, and their long-awaited debut Breakfast expands upon that with convincing allure.'80s guitar wails adorn "Slime Pit" and "Owe You" rides on soft keys, the disparity between hectic and lush working well from the get-go. From there, the album dips its toes into multiple arenas — from the chillwave-friendly synth grooves of standout gem "Let Me Down" to the hectic, building-block clunk of "Mangler," which touts an oddly successful vein of infectiousness. Breakfast is an album dripping with creativity, admiration for samples, and enjoyable tonal variation.
——————————————————————————————————————————————
17. Amen Dunes – Freedom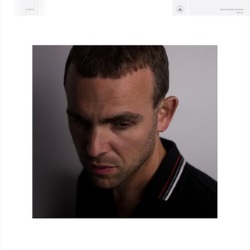 Amen Dunes' Damon McMahon is the timeless sort of singer/songwriter, whose music feels of no particular time or place, yet resounds with universal emotional appeal. Folk, rock, and electronic sounds integrate within his twangy vocal delivery throughout the excellent Freedom, sounding effortless in tone while delivering meaningful lyrical content that explores topics like toxic masculinity ("Dracula"), birth, death, and everything in between. Highlights are abound. A track like "Believe" captures an on-the-road rock feel that's reminiscent of War on Drugs, while "Calling Paul the Suffering" rides on a late-night synth pad with shades of "Streets of Philadelphia." Freedom sounds very much like a late-night, contemplative listen, particularly one with a timeless aesthetic that highlights the talented singer/songwriter's melodic and lyrical smarts.
——————————————————————————————————————————————
16. Christine and the Queens – Chris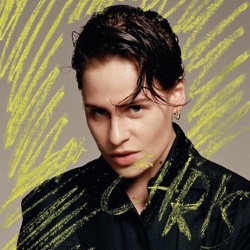 Anyone craving the R&B sounds of the late '80s and early '90s will be smitten with Chris, the latest album from the project of Chaleur Humaine. I'm a sucker for both '80s pop and R&B, especially when an act like The Style Council blends both with precision, so this album was an aesthetic treat. As is apparent from opener "Comme Si," Humaine deftly navigates from suave vocal verses into hooks that dazzle with effervescent emotion. The entrancing "Girlfriend" pursues suaver territory, with funk guitars adding dimension to the confident hook. "Goya Soda" rides on heavenly synth pads to craft a ridiculously catchy melody that sticks in your head for days. There are numerous standout tracks that show both the artist's talents as a hook-minded pop songwriter and striking performer, with the vocals gripping and the synth-driven instrumentation dazzling.
——————————————————————————————————————————————
15. MGMT – Little Dark Age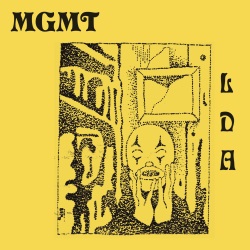 When an act like MGMT strike the success they did with their 2007 debut Oracular Spectacular, there's a number of routes to take. The safest involves a constant replication of the sounds explored there, trying to latch onto another chart-topping hit. Rather, the band opted to maintain their accessible tendencies, while still exploring stylistic expansion. 2010 follow-up Congratulations was eclectic in exploring both electronic-pop and psych-rock, turning off some press in the process. Still, I'm fond of how MGMT continues to explore various sounds with each successive release. In that sense, Little Dark Age is perhaps their most accomplished release. It's evident from opening track "She Works Out Too Much" (which reminds me fondly of Pet Shop Boys) that their infectious appeal remains, as good as ever. The "I breathe in stereo," hook on the track's self-titled track is a surefire winner. The synth-pop illumination of "Me and Michael" is insanely catchy. You probably get the point by now; Little Dark Age is one of the year's catchiest, most well-produced pop albums. Don't let the lack of a #1 single turn you off. There are several tracks here better than anything MGMT have put out to date.
——————————————————————————————————————————————
14. Pusha T – DAYTONA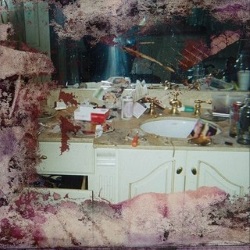 Daytona stretches over just barely 21 minutes, though it shows enough to cement Pusha T as a continuously improving, promising artist. While the lyrical sentiments – ranging from knocks at ghostwriters to more intricate takes on the drug trade – aren't groundbreaking in theme, Pusha T's preciseness in delivery is a marvel at points. The album especially impresses with beats that feel alive; "If You Know You Know" recalls heyday Kanye with hypnotic repetition of the track title over masterful vocal sample manipulation, while the swanky drug-dealing anthem "The Games We Play" is breathlessly impressive in the escalating vocal delivery and overall beat. This is a very short release, though one that doesn't waste time with filler. All seven tracks beg for replays the moment they conclude, delivering a concise though wholly addictive listening experience.
——————————————————————————————————————————————
13. Robyn – Honey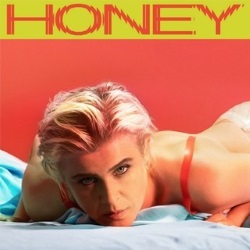 Easily one of the year's finest pop albums, Honey is a delight, adding further emotional depth to the Swedish artist's already-impressive repertoire. The 2014 death of longtime collaborator and friend Christian Falk had a significant impact, resulting in some down time though also her most resonating material to date. "Missing U" embodies this well, drawing on bright synths and a driving beat over contemplation of love — the high of being together and the utter, devastating low of being apart. It's an apt opener, giving listeners the prep regarding the greater lyrical introspection. That isn't to say there's been a disbanding of dance-friendly pop, though; "Between the Lines" touts a super-catchy house feel, while the lush synth allure of "Human Being" is a captivating showing of songwriting and performance. Honey finds Robyn touting the same hook-friendly appeal as always, while adding further emotional depth after considerable personal hardships the past eight years.
——————————————————————————————————————————————
12. Tierra Whack – Whack World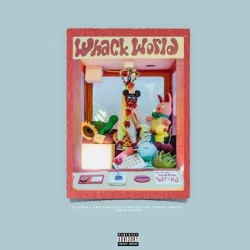 Whack World is 15 minutes long and has 15 tracks. Each track is a minute long, and has its own personality and vibe. This gimmick may not work for most, but for Tierra Whack it's a home run. The rising artist answers developing hype that practically teases listeners, the majority of tracks captivating with hip-hop and pop pedigree that in terms of production and melody stands up to any album of those respective genres this year. The fact that each track has its own minute-long video – the whole album streaming below – adds even more fun to the experience. From the Frank Ocean vibes of "Flea Market" to the key-laden dog ode "Pet Cemetery" there's ample charisma and appeal, with lighthearted humor accompanying more serious statements on society and relationships. Melodically, "Hookers" is a standout, purely infectious by any standard. "Sore Loser" emphasizes the artist's hip-hop vigor, while "Fruit Salad" sounds like a brilliant modern take on Beach Boys' "Vegetables." Do yourself a favor: take 15 minutes and check the video out below.
——————————————————————————————————————————————
11. Noname – Room 25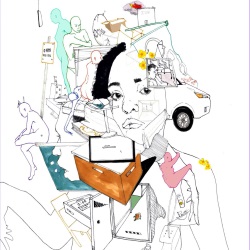 Room 25 is my favorite debut full-length of 2018, a master showing in mood and songwriting from Noname, the project of Fatimah Nyeema Warner. The Chicago-based artist startles with transitions and personable lyrical sentiments; opening track "Self" works from jazzy elegance into biting, told-you-so confessions, quickly informing the listener that personality is abundant in Warner's lyrics and vocal delivery. The album plays like a coming-of-age tale complemented by soul, spacey jazz, and hip-hop, delivered by an artist with obvious poetic ability. Her vocals are spoken-word for the most part, though in an apt sense that allows the briskness of rhythms and keys to interact with the consuming lyrics. The album was created in about a month, though feels the opposite of rushed while still injecting the charm of spontaneity. "Prayer Song" is a particular standout, especially as the second half lists anxieties of life's demise (falling "into the deep") as soulful backing vocals and smattering of keys take hold. Room 25 is a striking debut.
——————————————————————————————————————————————