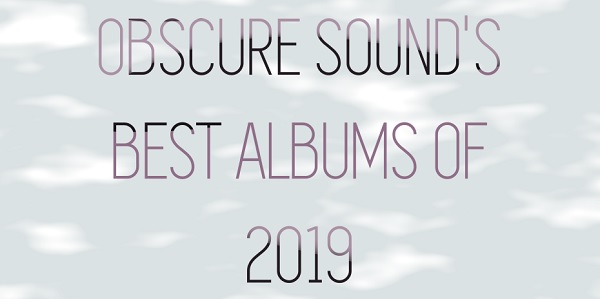 ---
10. Freddie Gibbs + Madlib – Bandana
Five years after 2014's Piñata, Freddie Gibbs and Madlib return with another rap gem. Gibbs' technically awe-inspiring flow and Madlib's mesmerizing beats are a force throughout. With the album apparently using a bunch of leftover beats that Madlib offered to Kanye (who only chose one, "No More Parties in LA"), it's a gift that these were passed onto Gibbs. It's difficult to imagine anyone else matching the solemn tone and precise flow achieved on many of these tracks. "Half Manne Half Cocaine" shows a spacey beat and striking mid-point transition, emphasizing the release's dynamic song structures, a talent also particularly present on the atmospheric "Flat Tummy Tea." "Palmolive" features a soaring vocal sample and vintage soul vibe, which Gibbs, Killer Mike, and Pusha T utilize as a backbone to their excellent flows. Meanwhile, "Crime Pays" rides on glistening soul samples and crisp production, sounding like a truly classic hip-hop track unearthed from the vault. Bandana, in general, has the feel of a hip-hop touching stone.
---
9. Nick Cave and the Bad Seeds – Ghosteen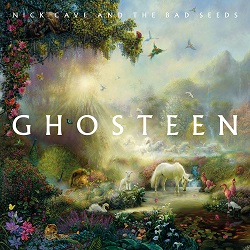 Since the passing of Nick Cave's teenage son in 2015, the artist has explored the depths of tragedy — touching on death in a way few are capable. 2016's beautifully devastating Skeleton Tree transported listeners to a dark, murky place, with Cave's reverberating voice and solemn recollections serving as a guiding light. Very much so, Ghosteen is a natural continuation, also touting an understated and retrospective feel — best experienced when in a contemplative, relatively morose mood. "Night Raid" certainly achieves a nocturnal tone in its distant synths and segmented vocal cues, with lyrical content reflecting new life — and a hope for new love. Few moments are more devastating than the core of "Waiting for You," when Cave cries out "'Cause I'm just waiting for you." The slight crack in his voice plays with striking emotional genuineness. Other highlights include the Scott Walker-esque 'Fireflies" and the ominous closer "Hollywood." Ghosteen is another gripping exploration of death and grief from one of the most talented songwriters alive.
---
8. Avey Tare – Cows on Hourglass Pond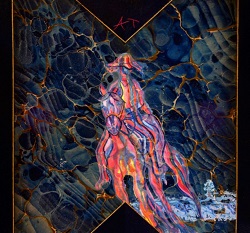 Cows on Hourglass Pond contains several of Avey Tare's most immediate, hooky songs — all while retaining the creative, psych-friendly soundscapes and vocal fluctuations of his previous works. Avey's 2017 album Eucalyptus showed a renewed fondness for acoustic guitar infusions, continued here with great results. The brilliant "Remember Mayan" is one example, with acoustic strums and synth-bass leading a super catchy melody. The textured guitar additions in the track's back-end are particularly resonating, as is the final vocal bit; this is definitely one of my favorite tracks of the year. Elsewhere, "Saturdays (Again)" is a lovely slice of psych-friendly bliss, its bouncy guitar-laden melody vibing beautifully with laid-back vocals. Fans of Avey's vocal yelps/yips are bound to enjoy "K.C. Yours" and its swelling passion, too. Cows on Hourglass Pond shows familiar elements of Avey Tare's production modes, while presenting some very melodic and hooky songs.
---
7. James Blake – Assume Form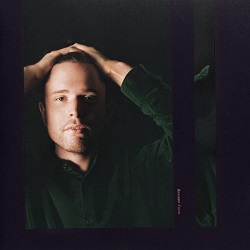 For the most part, James Blake's Assume Form departs from the artist's dark atmospheric crevices — touting tracks like the heart-tugging ballad "I'll Come Too" and infectious hip-hop turn "Where's the Catch?" featuring André 3000. The former's chorus, featuring ghostly vocals and strings that lead to "but I'm not on my own tonight," conclusion, is striking. Elsewhere, the lushly entrancing "Barefoot in the Park" meshes multi-lingual vocals with trickling serenity, while "Can't Believe the Way We Flow" touts a shimmering, optimistic electronic loop with warming vocals. Essentially, Assume Form is a collection of tracks from James Blake that appears as his most vibrant and optimistic to date, showing a sense of maturity with some cheer. While Assume Form may not appeal as much with Blake fans who prefer his more patiently developing, darker efforts, Assume Form shares an abundance of highly melodic, resonating songs.
---
6. Trudy and the Romance – Sandman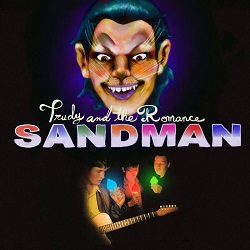 Chock full of aesthetic rock nostalgia and devastatingly catchy melodies, Sandman is a surefire success from Trudy and the Romance. "The Original Doo-Wop Spacemen" captures a number of the Liverpool act's strengths — notably, a striking quivering lead that meshes beautifully with backing vocal harmonizing ("Mr. Sandman open up your eyes,"), as well as a timeless suaveness that treasures melodic hooks in addition to aesthetic. Aesthetically, they recall The Last Shadow Puppets' merging of classic rock with glam and modern pop sentiments. "Doghouse" is another highlight — the "put me in the doghouse," hook shining with classic pop effervescence. Opener "My Baby's Gone Away" starts with galloping guitars and menacing brass, with creeping vocals leading into a joyously raucous chorus. Charismatic rock is on display, dripping with nostalgia and unforgettable hooks on Trudy and the Romance's superb album Sandman.
---
5. (Sandy) Alex G – House of Sugar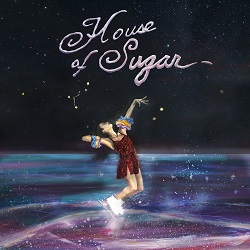 Over the span of nine albums, (Sandy) Alex G has propelled from Bandcamp buzz to a Domino Records deal. Impressing initially with more lo-fi rock and folk, the Pennsylvania-based artist has expanded his sound in recent years with more textural and electronic-added finesse, especially throughout his three Domino Records albums. His third on the label, House of Sugar is (Sandy) Alex G's densest and most tonally eclectic to date. Featuring one of the year's best tracks in the captivating "Gretel," House of Sugar is a testament to the artist's admirable stylistic experimentation, while retaining the scope of lo-fi intimacy and familiarity. Back to "Gretel" — this is a track that embodies the strengths of (Sandy) Alex G, a wonderfully produced spectacle evolving from swelling key-tinged shimmering to deeply ruminating rock with a southern twang. From the infectious vocal manipulation in the bouncy "Near" to the chugging barnyard folk of "Southern Sky," the variety offered throughout House of Sugar is lovely — with enthralling melodies and an intimately engaging charm remaining constants throughout.
---
4. Purple Mountains – Purple Mountains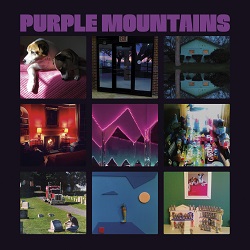 David Berman's public musical contributions since Silver Jews' final album, 2008's Lookout Mountain, Lookout Sea, were minimal. An appearance on The Avalanches' 2016 album Wildflower suggested further activity, alongside rumblings of Berman trying to record with several collaborators, like Dan Bejar and Stephen Malkmus. These collaborations never quite came to fruition, so the existence of Purple Mountains' self-titled album is alone something to celebrate. Also worth celebrating is the sheer quality. Before Berman's tragic death this past August, fans and new listeners alike were treated to an album of Berman relaying his best attributes, namely witty lyrical contents and rousing alt-rock arrangements. Listening to this release is a constant reminder of a talent and human being lost, though Berman's audible expression of morose and depression via his art is beneficial to any human experience. Highlights are numerous. The dual-vocal performance and brassy highlights on highlight "Margaritas at the Mall" is striking, as is the organ/brass/pedal steel on the excellent "Snow Is Falling in Manhattan." Purple Mountains is a special album that serves as an artifact of Berman's tremendous talent.
---
3. Angel Olsen – All Mirrors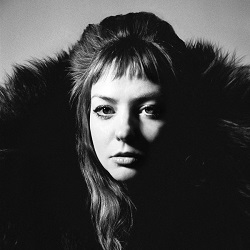 Angel Olsen's first few albums made her striking vocal and songwriting talents obvious. All Mirrors intertwines familiar points of impression with a mode of production that fits ever so perfectly. Specifically, the heavier emphasis on orchestral elements — ranging from dark Gothic appeal to bright pop-forward effervescence — combines with Olsen's soaring vocals and lyrical talents for a stirring album, the artist's best to date. All Mirrors succeeds from the get-go with the one-two punch of "Lark" and the self-titled track. "Lark" gradually expands its string-based presence in alignment with escalating rousing vocals, producing an organic-sounding anthem punctuated by the enduring "dream on," vocal repetition at its conclusion.
Meanwhile, "All Mirrors" explores Olsen's more Gothic demeanor, with synth pads joining strings for a darkly impacting result. The booming bass, string adornments, and stirring vocal hitting @ 02:53 ranks among the year's best musical moments. The album impresses well beyond the first two tracks, with stylistic pursuits including the soft folk-pop of "Spring," the swelling dark ambiance of Impasse," and the alignment of bass-heavy booming and string flourishes on the ELO-esque "What It Is." All Mirrors is a delight throughout, serving up a confident aesthetic within excellent, orchestral-infused production.
---
2. Weyes Blood – Titanic Rising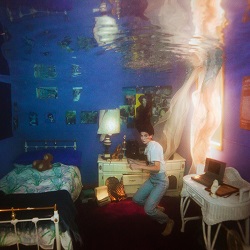 It's difficult to begin an album better than "A Lot's Gonna Change." New listeners to Weyes Blood, the project of Natalie Mering, are immediately treated to the artist's unmistakable vocal talent, exhilarating melodic developments, and timeless aesthetic wonder. A weeping synth gives way to a sole piano and Mering's vocal presence, growing from emotive contemplation to soaring heights. The shimmering strings emerge alongside the percussive build-in, with the orchestral-folk aesthetic to follow being utterly engrossing. The production from Mering and Jonathan Rado is a marvel throughout, and especially on the first two tracks.
"Andromeda" swaps acoustic-forward folk verses with a tugging, string-forward chorus that projects a twangy, southern appeal. The album's emotional centerpiece, "Movies" is another standout — with spacey arps complementing a haunting vocal lead and very affecting lyrics, conveying a desire for a life equivalent to a movie's simplicity and happy, predetermined ending: "Put me in a movie and everyone will know me / You'll be the star you know you are / The movies I watched when I was a kid / The hopes and the dreams / Don't give credit to the real things / I love the movies." 2014's The Innocents and 2016's Front Row Seat to Earth were both fantastic displays from Weyes Blood, though Titanic Rising emerges as something uniquely resonating.
---
1. Tyler, The Creator – IGOR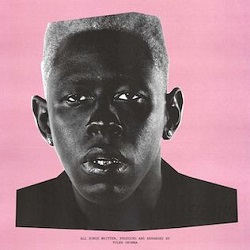 2017's Flower Boy was a major leap for Tyler, The Creator — a left-field turn embracing more radiant, psych-friendly hooks on a variety of tracks, such as the brilliant "911/Mr. Lonely." Although more pop-conscious, tracks like "Who Dat Boy" still retained a sense of Tyler's earlier, more raucous sound, making Flower Boy a stellar release though one whose stylistic focus tended to vary — catching Tyler at an enjoyable point, though one that nonetheless felt like an in-between. On IGOR, there's a loving embrace for the brighter, hook-friendly sound that pulsated on Flower Boy, resulting in Tyler's most focused and enjoyable release to date.
Lacking any semblance of filler, IGOR captivates right away and never lets go. Opener "Igor's Them" is vibrantly addictive. Melodic, soulful vocals mesh with buzzing synths and active rhythms, leading to a final-minute hook where minimalist piano moments conjoin cohesively with the buzzing synth play. Several pop-minded tracks follow this nicely establishing opener. "Earfquake" and "I Think" both show Tyler's focused hook-centric allure these days, the latter impressing with a serene interlude just past the two-minute mark — one of many abrupt though seemingly cohesive stylistic switch-ups on the album. These are tracks with very clear hooks and soulful, vibrant production — retaining a pop-forward focus while avoiding the pitfalls of structural repetition.
The second half of IGOR is phenomenal, showcasing an emotive and often trippy variety of sounds that succeed immensely. Easily one of the year's best tracks, "A Boy Is a Gun" jump-starts this second half with brilliance. Masterfully produced "don't shoot me down," vocal cues align with the nostalgic soul sound, propelled by orchestral components and keys. Tyler's confident hip-hop vocal flow is precise and addictive, easing listeners into a second half where hip-hop elements are more prevalent, while staying within a psych-pop mode of production. "A Boy Is a Gun" is a stunner, solidifying itself as guitars and trickling piano establish a gripping feel as Tyler cautions not to advance — though certainly with the chamber-pop yearning of "Puppet" to come next, you won't be able to stay away.
Two-part tracks is something Tyler has impressed with in the past, notably with "911/Mr. Lonely," so it's hardly a surprise that IGOR's own "Gone, Gone / Thank You" impresses on a similar level. The "rain or shine," chorus in the first section is melodically addictive, followed by some diversely excellent rhythmic flows. Namely, Tyler's "there's poison in that gumbo," verse is joined by chilled-out keys and atmospheric samples, resulting in the album's most hypnotic section. The track's conclusion features exhilarating vocal backings and spacey synth arps, thanking a former love for their time, while also acknowledging "I will never want to fall in love again." "Gone, Gone / Thank You" is a testament to the album's fantastic production, while sounds aesthetically focused within a flowing abundance of stylistically eclectic ideas.
---