Posted
March 28, 2007 by Mike Mineo
in Features
A New Batch of Art-Rockers: The Lord Henry, The Wombats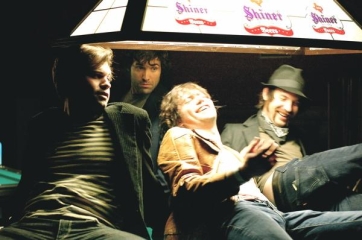 Today, we bring you two rising bands from the thriving genres of art-rock, post-punk revival, or whatever you would like to call it. Actually, the specification "indie rock" may actually be the most agreeable specification, with both bands demonstrating distinct influences for a variety of genres, primarily early British punk and contemporary alternative. Though the term "art-rock" has been used the most often to describe this decade's contemporary movement featuring bands like The Strokes and Franz Ferdinand, I believe this craze is so irresistible to many for clear nostalgic purposes. It all sounds familiar, yet somewhat original. It makes sense though, as a recollection of old influences with an emphasis on budding youth is the backbone to this "art-rock". I suppose some may consider it a slight guilty pleasure, though what's so guilty about songs that are this damn catchy? The first band goes by the name of The Lord Henry, coming from the unlikely but reputable music scene of Austin, Texas. They sound somewhat like an angrier and more aggressive Franz Ferdinand, containing a similar degree of immediately likable hooks with a carefree, half-arrogant, and half-whimsical vigor. If you need further convincing, go ahead and check out the fantastic "Fire On 42 Street". The punk approach to the rumbling bass line and quickly executed guitar riffs fits the band's specifically consistent sound extremely well. When vocalist Clinton Piper shouts out the chorus, "Inside there's a fire, it's making it very hard to breathe," most will be immediately reminded of Franz Ferdinand's "This Fire" for lyrical and instrumental reasons, with Piper's intensity reaching an admirable length of profuse durability over the aggression of Josh Gibson's distorted guitars, made even more effective by the tight rhythm section consisting of bassist Grant Piper and drummer Billy Potts.
"Shiraz" is significantly cleaner, with the musical approach showcasing a slight XTC influence, even if the modern vocals throw the comparison off a bit. I was pleased with "Shiraz", as it generally showed me that The Lord Henry are not just a bunch of angry kids trying to create the loudest hooks imaginable. Here, they do it with subtle passion and with increased creativity. "Is This Legal" reminds me of the dark approach that the White Rose Movement did so well on their debut, Kick, where the deeply mumbled vocals sounded nearly hypnotic over layers of guitars and rhythm, though The Lord Henry are more reluctant with synth use. However, as was before, it could also be considered as another twin of Franz Ferdinand, especially during the bridge where Piper delivers a hook reminiscent to the ones of Kapranos and friends employ on "What You Meant". Fine, I'll stop with the Franz comparisons now. It must be getting on the nerves of some fans of the band, who certainly admire The Lord Henry's creative hooks for good reason. I'll give them that, as I wouldn't be surprised if "Fire on 42nd Street" becomes quite popular later this year. I mean, just listen to it. It has all the hooks, excitement, and means necessary to at least gain an appropriate amount of recognition. All three songs are off of the band's debut full-length, Zoo Palace, which was released last February on High Wire Music. If you're looking for some fun, catchy, and exuberant songs from a band whose reputation will be through the roof in a few months, The Lord Henry are a perfect match. If they keep it up with songs like "Fire on 42nd Street", you'll be hearing their name quite often in the coming months. ~Mike Mineo
The Lord Henry – Fire on 42nd Street
[audio:http://obscuresound.com/mp3/lord-fir.mp3]
The Lord Henry – Shiraz

[audio:http://obscuresound.com/mp3/lord-shi.mp3]
The Lord Henry – Is This Legal

[audio:http://obscuresound.com/mp3/lord-ist.mp3]
——————————————————————————————-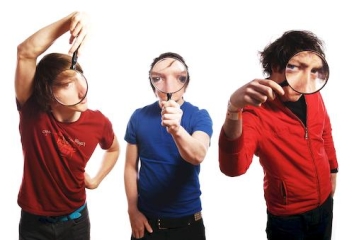 The second band featured has a similar disposition for lovable hooks complemented by a vivid and excitable passion. The Wombats know how to steal a show. And when I say steal, I truly mean steal. In one year, this band went from playing small London clubs, pubs, and colleges, to taking complete control of a 10,000 strong crowd at a Beijing festival. But who could doubt them? With an almost overly-poppy sound, 80's-ish synth-pop keyboard work, jangly guitar verses, bass and groove driven beats, and down-to-earth lyrics, many claim that The Wombats are one of the hottest bands to come out of Liverpool, England since the Beatles! Though they remain a primarily underground band, they have received many a praise from foreign e-zines. With a large UK tour, and a few spots here in the US (only Texas, regrettably), you can be sure the Wombats will be spreading their name like wildfire. Their newest single, "Backfire at the Disco", will be released on April 16th with a new album coming later this year. ~Kellan McCall
The Wombats – Moving to New York
[audio:http://obscuresound.com/mp3/wombats-mov.mp3]
The Wombats – Lost in the Post

[audio:http://obscuresound.com/mp3/wombats-los.mp3]
The Wombats – My First Wedding

[audio:http://obscuresound.com/mp3/wombats-myf.mp3]
Mike Mineo
I'm the founder/editor of Obscure Sound. I used to write for PopMatters and Stylus Magazine. Send your music to mike@obscuresound.com.