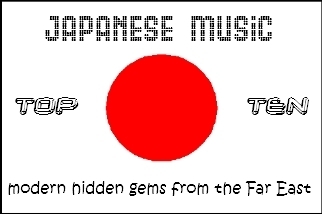 In our first feature, we take a look and a listen at ten outstanding songs from Japan.
Music from many countries often combine their own individual elements with many Western influences. Japanese music is renowned for this. While most Japanese music is either regarded as classical kimono ballads or sappy anime songs, several outstanding genres are hidden to the naked Western eye. Modern Japanese indie, pop, and rock artists are extremely fond of music outside of their country, while still showing a respectability and admiration for their own personal roots. Modern music took great storm in Japan a few decades after the big movement in the United States and Europe, first appearing as a large standpoint in the 1960s with psychedelic rock bands and folk-rock.
As of now, Japan remains on a similar page musically as the rest of the world. With several created genres – ranging from Shibuya-kei to Enka – have made their impact on world music. Despite Japanese-originated genres, most modern Japanese indie music sounds very similar to Western music… well, if you don't count the language, of course. I chose ten songs that made an impact on me and my view on Japanese music.
——————————————————————————–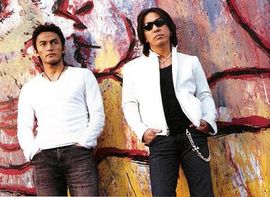 I'll naturally start off with one of my favorite Japanese bands. The B'z consist of the duo Tak Matsumoto (guitar) and Koshi Inaba (vocals, keyboards). Making their debut in 1988, The B'z may be the most successful Japanese rock bands of all time, selling over 50 million records. Matsumoto and Inaba are truly the Marr-Morrissey duo of Japan, with Matsumoto writing the music and Inaba writing the lyrics and doing the vocals. Matsumoto is a sensational guitarist and his musical songwriting is outstanding. His arrangements are as catchy as they come and they can stand up to any band in the world as far as this goes. If you're looking for an introduction to Japanese music, The B'z are the way to go.
Buy
————————————————–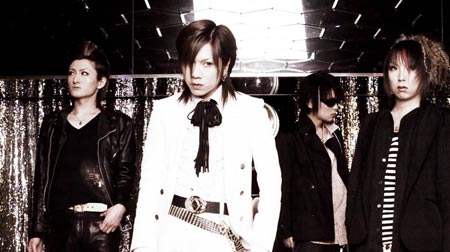 Kagerou was the first Japanese band I truly fell for. Despite their overdrawn and ghoulish appearance (yes, they are all guys), their music can be elegant, emotional, and powerful. They really don't sound as gothic as they look, and the gothic band look in Japan is called 'Visual-Kei'. They are known for crossdressing, wearing makeup, and odd outfits but are actually rarely homosexual or bisexual. It's just a unique style in Japan, taking roots from such Western artists as Bauhaus, David Bowie, and T-Rex.. Frontman Daisuke has some of the most unique vocals I have ever heard, and it's certainly a compliment. An outstanding band with an outstanding catalog of albums and mini-albums (EP's in Japan).
Buy
————————————————–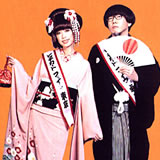 Pizzicato Five – Let's Spend The Night Together
[audio:https://obscuresound.com/mp3/jp/pizzicato_five-lets_spend_the_night_together.mp3]
I'd like to introduce all of those who don't know about it, to the wonderful genre of Shibuya-Kei. Shibuya-Kei is a genre of music that originated in Japan that combines several styles, including blues, fusion, traditional music, folk, and rock. It is said to be Japan's most popular original genre, with several modern Western (particulary French) artists heavily influenced by it as well. Pizzicato Five is one of the most famous Japanese bands to Westerners because of their very nice flow and accessible jazzy sound. Their signing to Matador certainly didn't hurt their Western status either. Their music has even had small cameos in several Western entertainment such as in Goldmember (Austin Powers), Charlie's Angels, and Futurama. They are considered one of the most successful Shibuya-Kei artists of all time.
Buy
————————————————–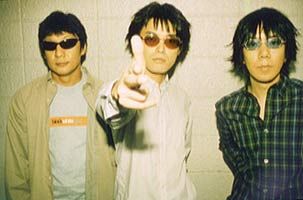 The Pillows – Our Love And Peace
[audio:https://obscuresound.com/mp3/jp/pillows-our_love_and_peace.mp3]
The Pillows are one of the Japanese bands who gained popularity because of the anime popularity in Japan. A regular in the series FLCL, they are one of Japan's more popular rock bands. Their popularity in the United States is starting to increase as well, as they kicked off a tour in the United States in March 2005. The three core members of Sawao Yamanaka (vocals), Yoshiaki Manabe (guitar), and Shinichiro Sato (drums) have been together with 1989 making a great amount of catchy songs. I chose 'Our Love And Peace' because it is highly enjoyable, not too fast or loud, and just generally fun.
Buy
————————————————–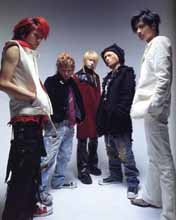 Though they apparently consider themselves no longer visual-kei, Dir En Grey is one of the most successful Visual-Kei artists ever. As displayed because of hundred of fan sites and fan cults, they are one of the most popular. Their frantic style of play and consistent albums have made them a trademark in Japanese music. They are younger than most Japanese bands of their stature, having been around for less than ten years. They are exceptionally popular in Germany. They have been a band known to embrace English roots, as each of their albums is often seen going in a different music direction, sometimes approaching full English. Their album, Withering To Death, (released in 2005 in Japan) will see a United States release on March 21, 2006.
————————————————–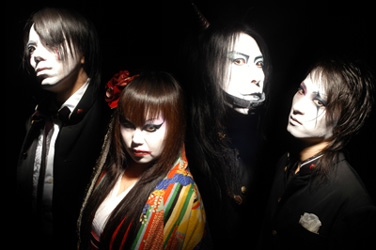 It's just a coincidence that their song name is the same as one of the band names above, it's no relation. 'Kagerou' would mean 'dragonfly' in English, just in case you're interested. Originating in 1994, they are actually a Visual-Kei band with a real girl! Her name is Kyouko and she is the vocalist too, and she adds a nice flavor to the Blues-influenced rock. Their lyrics tend to be associated with ghostly and violent things, so they are one of the bands that actually reflect their attire. Nonetheless, the music is quite good.
————————————————–
MUCC got their name from the number '69'. In Japanese, '69' can be pronounced "mukku". With that interesting bit said, they are one of the louder bands in the Japanese genre. Like Dir En Grey, their frantic play style can be found, but it is often more consistent. The song 'Dilemma' is very entertaining. They are currently a hot selling band, since forming in 1997.
————————————————–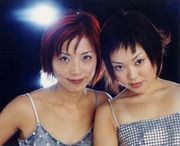 Yeah, it's that song from Jet Set Radio! Cibo Matto was actually formed in New York, but the founding members are Japanese (Miho Hatori and Yuka Honda) and combine many Japanese elements so I fit them in here regardless. They're basically in a genre of their own, combining general shibuya-kei, Latin music, and even rap to create a very interesting sound. They are really only for a specific group of people, but all music fans should respect and admire their sound. They broke up in 2001 but their two albums (Viva! La Woman and Stereo Type A) are both very fun stuff.
————————————————–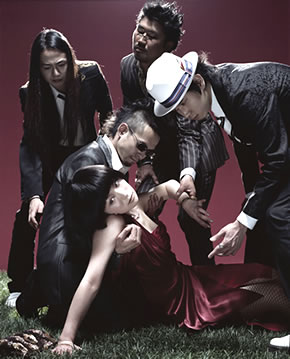 I already raved about Tokyo Jihen in another post on this blog, but their new album Adult is just so damn good that here is another track. 'Blackout' is the track that grew on me the most. I'm really digging the keys, claps, and Shiina Ringo's usual great vocal style. Here is what I wrote about Tokyo Jihen in a previous post: Tokyo Jihen is the brainchild of popular Japanese singer/songwriter Yumiko Shiina, better known as Shiina Ringo. She chose the nickname of 'Ringo' because of her admiration of Ringo Starr and Fiona Apple ('ringo' means 'apple' in Japanese). In my opinion, Shiina Ringo is probably one of the most rawly talented songwriters in the world. I know that may seem like a high honor, but she has displayed signs of outstanding song and structure writing since her debut album, Muzai Moratorium, in 1999. After a successful solo career for seven years, she fulfilled her desires to create a full band by forming Tokyo Jihen in 2004. Translated to The Tokyo Incidents, Tokyo Jihen combines several music styles, mostly blues, to make a great sound.
————————————————–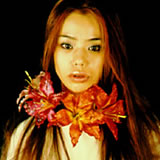 Chara creates quite lovable music. Chara is Miwa Sato, who has been making quality J-Pop since the early 90s. With vocals that could pass for a middle school girl, it fits in right in with the twinkling keyboards and catchy beats in 'Atashi Ha Koyoko'. I strongly recommend her greatest hits compilation, Caramel Milk.. Child-like qualities in vocals are often considered a plus in Japanese pop music, and Chara comes with no exception. She released an album with imminent English in Montage with Yen Town Band in 1996. It is my favorite album from her, though her greatest albums should be a great introduction.