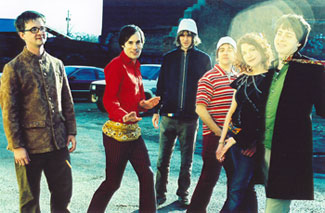 Of Montreal's new album, Hissing Fauna, Are You the Destroyer? held some high personal expectations for me. This is partly because the band has released a respectable album every year since 1997, with head songwriter Kevin Barnes' brilliant melodies and creatively diverse song structures leading the way. Of Montreal has always been the traditional mold of an Elephant 6 Collective band, mixing modern experimental techniques with catchy 70s British invasion and psychedelia. I am referring to the experimental aspect as partly due to Barnes' wildly imaginative vocals, making their mark in each and every song, in which the vocals are never dull as they always sound completely confident with the material at hand. Of Montreal's general sound seems to be slowly expanding as each album is released, even as their debut Cheery Peel used a diverse mixture of several genres, with traditionally acoustic-bred love ballads to early 20th century jazz poking their way through.
One of the notable focuses on Hissing Fauna, Are You the Destroyer? seems to be the interest with electronic dance. The eruptive 'Heimdalsgate Like a Promethean Curse' transfers from a straightforward piano-led verse into an explosive synth layered chorus with ease, as Barnes' vocals yet again prove to be the perfect fit for his hooky melodies. Of Montreal's fascination with funk and blues has always been evident, and Hidden Fauna, Are You the Destroyer? offers some of their best based off their fascination. 'Gronlandic Edit' is one of the best examples of this, even as Barnes' vocals sound half mocking, though entirely effective especially during the vocally halted chorus. Like general funk, the same melody leads the song for quite some time before switching to a bit of a surprising chorus signified by a chorus-like pad. 'Faberge Falls for Shuggie' also uses the funk element, though primarily with the rhythm section as the chorus is filled with creative takes on brass and synth instruments.
Even while his melodies remain brilliantly in tact, Barnes makes a heavy lyrical impact with 'The Past is a Grotesque Animal' in the view of a man gone mad over a lost love and the memories that still consume him. The descriptive elements vary as the verbal epic lasts almost twelve minutes. "I fell in love with the first cute girl that I met who could appreciate Georges Bataille," Barnes emphasizes through a simplistically consuming repeating guitar riff, with a variety of different ambient noises shifting in and out, stressing how "it's so embarrassing to need someone like I do you". The song initially may come off as a failed creative attempt to those who grow impatient with ease, but a listen to the song as a whole open-minded effort will reveal itself as a successful, in terms of what Barnes was shooting for. He manages to capture the essence of insanity and lost cause perfectly through his lyrics and emphasized use of the first-person.
'She's a Rejector' manages to really make itself stand out from many of the other tracks, with a straightforward punk approach. "There's a girl that left me bitter, I want to pay some other girl to just walk up to her and hit her," Barnes solemnly says before erupting into the exclamative increase of tempo, "But I can't! I can't! I can't! I can't". The verses are short and rare, with the three-part chorus really making the most impact, further touching on their often creative song structure. 'Suffer for Fashion' abandons the creativity, but manages to create the most accessible song on the album, not surprisingly being the opener, while the fantastic 'Bunny Ain't No Rider' rides on a quickly swiped expanding chorus, colliding with Barnes' odd and humorous lyrics. The album ceases to stop, with most songs falling into the next without a break, though each song is creative enough to avoid any sort of tedious overplay. Of Montreal continues to achieve success, filling my expectations along with others who have been fortunate enough to have heard their previous albums. The album is scheduled for release in January, making it (so far) the best album of 2007, though with a lack of competition.
Rating: 8.7/10
——————————————————————————————-
Of Montreal – Heimdalsgate Like a Promethean Curse
[audio:https://obscuresound.com/mp3/ofm-hei.mp3]
——————————————————————————————-
Of Montreal – She's a Rejector
[audio:https://obscuresound.com/mp3/ofm-she.mp3]
——————————————————————————————-
Of Montreal – Bunny Ain't No Kind of Rider
[audio:https://obscuresound.com/mp3/ofm-bun.mp3]
——————————————————————————————-