Posted
November 6, 2006 by Mike Mineo
in Features
Melvern Taylor and his ukulele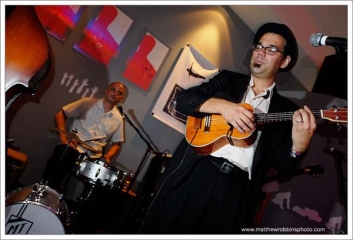 On a rainy Saturday afternoon when Melvern Taylor was in seventh grade, he made his musical aspirations clear to his entire family. With his brother's acoustic guitar (which he wasn't allowed to touch) and an Eagles songbook at his side, he taught himself all he could about the instrument and music theory for months. Growing up on the classics of The Beatles and the Rolling Stones, Taylor eventually gained more diversity on his growing musicianship. During the 90s, he was the leading man for Mudfoot, whose rhythm section consisted of upright bassist Johnny Grant and drummer Bob Nash. The 70s-inspired pop trio saw success in local Massachusetts but failed to reach a large universal audience. After the fading of Mudfoot, Taylor once again approached Grant and Nash in the hopes of them contributing to his solo career. They accepted the offer along with guitarist Dale Livingston, calling their duties as the backing section "The 'Meltones". Melvern released his debut, Handsome Bastard, shortly thereafter, which obtained the attention of local label Broken White Records. The label released his second album, Spider and the Barfly, in 2001 with a wider degree of success but still nothing very substantial. After the album, Taylor learned ukulele, which he calls "the best instrument in the world". Whether it his far-from cheap beginner ukulele or his growing songwriting skills, his newly released third album, Fabuloso, is destined to be the one that finally breaks Taylor's talent out to the open.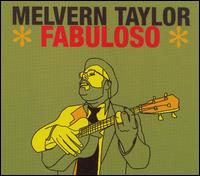 Taylor has an incredible amount of vocal diversity. One moment, he can sound like Wilco's Jeff Tweedy or Jellyfish's Roger Manning Jr., and the next he could sound like James Taylor or even Barry Gibb. The sullenly upbeat 'Sad and Blue' is an example of Taylor's range, with most of the song being very high pitched with occasional lower breaks. The chorus, simply states, "And it don't matter if you break my stupid heart, I've got no place else to go". Complemented by a dramatic violin and a light acoustic guitar, Taylor crafts a song of melancholic proportions sung with a great emotional hook. 'Angel On My Shoulder' is the opposite on terms of vocal delivery and mood, but the great quality is similar. Now Taylor sounds somewhat like Tweedy, with fun down-to-earth lyrics swarming over Taylor's beloved ukulele, with a short but upbeat guitar solo rounding out the track. 'Coming Up Roses' serves as a tribute to Taylor's initial influences of The Beatles and The Kinks, with a simple but effective melody and a magnetic chorus. A piano is another instrument that makes an appearance on the ambitious Fabuloso, with harmonicas also entering the mix in the more country-themed songs. If you're looking for a new fantastic folk album with a good amount of diversity and hooks, purchasing Melvern Taylor's Fabuloso should be one of your top priorities.
——————————————————————————————-
[audio:https://obscuresound.com/mp3/mel-sad.mp3]
——————————————————————————————-
Melvern Taylor – Angel On My Shoulder

[audio:https://obscuresound.com/mp3/mel-ang.mp3]
——————————————————————————————-
Melvern Taylor – Coming Up Roses

[audio:https://obscuresound.com/mp3/mel-com.mp3]
——————————————————————————————-
Mike Mineo
I'm the founder/editor of Obscure Sound, which was formed in 2006. Previously, I wrote for PopMatters and Stylus Magazine. Send your music to
[email protected]
.