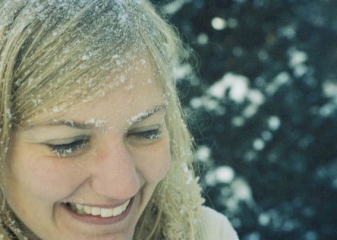 The word "flawless" is hardly a loose term. Straightforwardly, it is something without any errors or faults whatsoever. I have yet to find an entire album that would fit this description, though I discover individual songs occasionally that really seem quite brilliant enough for consideration. Brilliant in a sense that I don't see how another song in a genre could top it. Well, the genre of Sally Shapiro is classified as "Italo disco", a term introduced by Bernhard Mikulski in 1983 that classified songs reliant on spacey synths with drum machines, often sung in an Italian accent. The structures were simple yet catchy, dealing with topics from love to science fiction to both (falling in love with a robot?). Vocoders and overdubs were also popular in this particular sub-genre of New Wave and synth-pop. The genre only held a small following in the United States, though acts such as Baltimora and Den Harrow saw significant success overseas. Now, I wonder if calling Shapiro's 'I'll Be By Your Side' flawless would be an exaggeration. I don't think so, because personally, this is the best song I have heard out of the "Italo disco" genre in several decades. Even ignoring the genre altogether, this is one of the strongest pop songs of the year.
Shapiro typically works from a duo, with Johan Agebjörn writing the songs and Shapiro embracing us with her lovely and angelic vocals. Her actual last name is unknown, as "Shapiro" is just a musical alias. Despite her raw talent, Shapiro is known to have the reputation of being extremely shy. She is reluctant to play live, hates seeing herself on film, and refuses to have the producer in the same room when she is performing. I find that quite surprising, considering reviews of her material have been overwhelmingly positive from even the harshest of critics. Agebjörn discovered that Shapiro's vocals blended in perfectly with Italo disco after they sung Christmas songs together for fun in 2004. About half a year later, Agebjörn rediscovered his love for Italo disco and found instant inspiration, as he apparently wrote 'I'll Be By Your Side' in two hours. That is quite astonishing considering the deep lush atmosphere and romantic touch the song conveys. His songwriting style is comparable to other contemporary artists who are influenced by Italo disco, such as the Pet Shop Boys and Junior Boys. Under layers of beautifully laced synth, Agebjörn constructs memorable hooks that echo extremely well with Shapiro's graceful vocals. Any suggestion that the synths sound outdated will be corrected by the cohesive flow and irresistable melody that songs such as 'I'll Be By Your Side' offers. After he wrote the song, Agebjörn played it for Shapiro and she loved it and wanted to see how her vocals would fit in the song. When the song was completed and uploaded to the internet, it found instant acclaim, largely from German and Polish forums concerning Italo disco. Thus, one of the most promising Swedish duos in years was born. They scored a record deal shortly after and have been growing in popularity ever since. Their debut album, Disco Romance, is now available from their web site.
Sally Shapiro – I'll Be By Your Side
[audio:https://obscuresound.com/mp3/sally-ill.mp3]
Sally Shapiro – Anorak Christmas
[audio:https://obscuresound.com/mp3/sally-ano.mp3]
——————————————————————————————-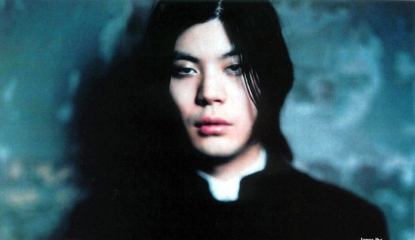 Way back in '98, the Smashing Pumpkins were at the top of their game. As fans eagerly awaited the sequel to highly successful Mellon Collie and the Infinite Sadness, the band clearly displayed signs towards a new musical direction. Billy Corgan dealt with the loss of his mother in the dark abyss that was Adore, an underrated record that is often considered a Corgan solo album due to the lack of outer musician involvement. Drummer Jimmy Chamberlin was not even involved at all (due to his drug troubles), with guitarist James Iha and bassist D'arcy Wretzky providing only minimal studio time as Corgan wrote and recorded most of the tracks. This left Iha with plenty of time to create something that he always dreamed of: a solo album of his own. Iha was always seen as "the quiet member" of the band, with the egotistical Corgan often in control of other legally challenged members such as Chamberlin and Wretzky. Iha was with the Pumpkins from the beginning to the (apparent) end, even as rumors circulated that he and Corgan could not stand each other. His debut and currently only album, Let It Come Down, reflects the handful of songs he contributed to the Pumpkins, such as 'Take Me Down' and 'Blew Away'. Like their personalities, Iha's music often tends to be the polar opposite of Corgan's. While Corgan dwells on darkness and pain, Iha has a lighter and more approachable touch that borders on country-rock and light folk. Iha's vocals are absolutely perfect for his weightless sound, with a welcoming and charming tone that is both deep and pleasantly boyish at once. The aspect they have in common is that they both craft genuine hooks built out of pure emotion. While Corgan is obviously the most recognizable and successful of the two, Iha captures a more accurate portrayal of acoustic songcraft, something that Corgan has often struggled with due to his nasally vocals. Corgan is absolutely perfect for classics such as 'Tonight, Tonight' and 'Quiet', but there is good reason why he let Iha take the spotlight for the lighter tunes. 'Lover, Lover' is an absolutely fantastic pop song that is a good demonstration of Iha's melodic ability to craft hooks out of vocal presentation alone. Let It Come Down is filled with tracks of a similar nature, bringing out an album that I surprisingly enjoyed just as much as Adore. Iha is not involved in the Pumpkins' reunion, though there are rumblings that he will finally deliver a follow-up to his debut in 2007. He has also been involved with several Japanese movie scores (Linda, Linda, Linda) and musical collaborations (Chara, Kazu Makino), all while promoting his clothing label Vapor. His most recent musical release is a remix of The Postmarks' acclaimed track 'Goodbye', which I posted here two months ago.