Posted
January 23, 2007 by Mike Mineo
in Features
Eleni Mandell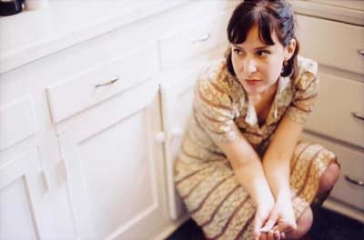 Every once in awhile, everyone has one of those days where they just stay in bed all day, with a cup of coffee in one hand and a box of chocolates in the other. After all, life can get rough sometimes. Perhaps these are the days when "rainy day music" sounds best, whether it's raining or not. Typically consisting of light, breezy, and relaxing melodies created by the usual assortment of lo-fi instruments, it's a breed where succession is surprisingly hard to find. Eleni Mandell has been a master craftsmaker of "rainy day music" for about ten years now, quietly slipping under the radar even with six great albums under her belt. Based out of Los Angeles, Mandell has clear admiration for a variety of prolific genres, including jazz, blues, soul, and country. She has worked with a variety of respectable figures in the music industry, from Jon Brien's production of her debut album Wishbone to her studying under the guidance of Chuck E. Weiss, the legendary Tom Waits enthusiast and collaborator. Comparisons to both Weiss and Waits have been echoed throughout Mandell's career, with the three being good friends who frequently collaborate with each other. Though they are accurate in forms of creativity and admiration for Delta blues and jazz, I find her most determining similarities to be in the form of PJ Harvey. Besides the slight physical resemblance, Mandell shares the same emotional inheritance in her vocals that are both representitive of a soft whisper and a raging soul simultaneously. Their lyrical intellect is also similar, focusing on regret and sorrow as main themes, though Harvey is certainly more volatile and outspoken. In addition to Mandell's music appearing on several television shows (including my favorite, Six Feet Under), she is also the lead vocalist for The Grabs, which is a band that generally expands on Mandell's style and turns it into a more electrical output. Consisting of Mandell, Steve Gregoropolous (Lavender Diamond), Nigel Harrison (Blondie), and Elvira Gonzalez (formerly of Silversun Pickups), they released their debut album Sex, Fashion, And Money in 2005. Including The Grabs, Mandell has a released an album every year (besides 2001) since 1999, with all proving to be very consistent in nature and quality. Mandell's latest album Miracle of Five will be released on February 7th.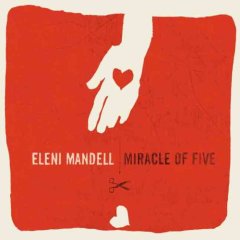 Miracle of Five is the most in-depth album of Mandell's career. While her previous expidentures usually consisted of little to none outside collaborators, Mandell has enlisted the help of several diverse musicians. Andy Kaulkin provides vital production in an album whose barren surroundings are purely beneficial. Mandell's melancholic deliveries are executed without a hitch, with her vocals sounding like the sharpest of her career. When she was in her teens, Mandell idolized Los Angeles punk legends, X. Now, their drummer D.J. Bonebrake is collaborating with Mandell on Miracle of Five in which proves to be a dream come true for her. The subtle orchestral elements that Bonebrake brings to the table includes saxophone, violin, harp, and clarinet. While many artists overdo the orchestral element, it is done at perfect length here in order to maintain Mandell's originality and visibility. The opener 'Moonglow, Lamp Low' is perfect evidence of this, mixing Mandell's relaxing vocals together with the slight strums of an acoustic guitar and the echoes of a saxophone with ease. Credit Kaulkin with the effective production on this gem. Nels Cline is credited with most guitars on the album, playing very well with the album's soft mood in mind. Kaulkin adds some keys on the enjoyable 'Girls', which holds a slight Magnetic Fields vibe with the acoustic combination. The rather humorous 'Make-Out King' reflects Mandell's outlook on a superficial society obsessed with rumors and false accusations. Mandell's Miracle of Five is more of the same calm and relaxing songwriting that Mandell fans have come to expect. While some excitable listeners will often find Mandell's bleak imagery and downbeat songcraft not to their liking, there is no doubting that Mandell's talent in her specified area exceeds many. Even so, Miracle of Five contains some of the best songs of her career, resulting in one of the best albums of her career.
——————————————————————————————-
Eleni Mandell – Moonglow, Lamp Low
[audio:https://obscuresound.com/mp3/eleni-moo.mp3]
——————————————————————————————-
[audio:https://obscuresound.com/mp3/eleni-gir.mp3]
——————————————————————————————-
[audio:https://obscuresound.com/mp3/eleni-mak.mp3]
——————————————————————————————-
Mike Mineo
I'm the founder/editor of Obscure Sound, which was formed in 2006. Previously, I wrote for PopMatters and Stylus Magazine. Send your music to
[email protected]
.