Posted
January 11, 2007 by Mike Mineo
in Features
Loney, Dear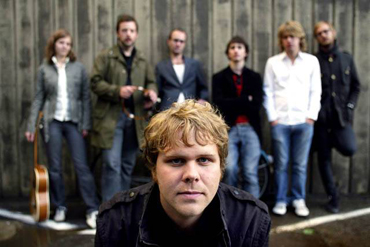 Emil Svanängen is Loney, Dear, a musical project recorded straight out of his bedroom in Jönköping, Sweden. Perhaps much like the "British Invasion" of the 60s, one day the 00s will be considered the forefront of the "Swedish Invasion", as artists such as Jens Lekman, The Knife, and Kristoffer Ragnstam continue to shine as true examples of the musical talent that continues to originate from a country previously only musically known for ABBA. Unlike the "British Invasion" however, these Swedish artists are just perfecting past pop influences, rather than reinventing a new genre all together. While their whole sound may not be entirely their own, the songwriting is often extraordinarily engaging and enjoyable, often surpassing generic Western artists such as The Killers and Bloc Party in terms of creativity and passion. Since he recently signed to Sub Pop, Svanängen's new album Loney, Noir may be considered his major label debut but it is certainly not his first actual album. He released four homemade albums on CD-Rs the past few years in his native Sweden, selling thousands of copies all on his own by word of mouth and buzzing publicity. This includes last year's Sologne, which was released on his own participating label, Dear John. When Sub Pop got a copy of one of the albums, they understandably fell in love and offered the talented multi-instrumentalist a recording deal. This is one of the marvels of the contemporary music industry. Any musically inclined young individual has a chance of being heard throughout the world with the capabilities of CD-R media, the internet, and bedroom recording accessories. Svanängen plays live with five other musicians, comprising of a guitar, organ, saxophone, clarinet, and drums. That alone could tell the tale of Loney, Noir's orchestral capabilities.
While much of Loney, Noir is simplistically enjoyable folk music, Svanängen adds his own unique touch to each and every track. For example, the organ on 'I Am The Odd One' adds a sullen touch to the track before the climatic chorus even takes place. Where most artists would simply be content with a strum of an acoustic guitar, Svanängen has taken it to new lengths with such elements. The chorus is magnified by a slight touch of keys layered over several backing voices harmonizing beautifully with the organ. Svanängen comes off as quite modest, starting the track off aplogizing, "I am sorry, honestly I'm sorry I've ruined your day". While the track originally comes off as a ballad of self-hatred, it eventually folds into something half-satirical and half-morally conscious. Svanängen concludes the track stating proudly that being unique is not nearly as bad as society makes it out to be. 'Saturday Waits' appears very personal, as Svanängen reflects on how all the joys in foreign lands are often exempt by missing someone particulary special who is overseas. Though it's not quite a folk version of Weezer's 'Across the Sea', knowing Svanängen's international backstory adds a nice sentimental meaning towards the song. 'I Am John' is one of the more upbeat tracks on the album, providing for a rather excitable opener. The song evolves evolves from a simple acoustic strum and a bass line to several layers of clarinets, twinkling keys, and brass. Other favorites on the album include the string-touched 'The Meter Marks OK' and infectious 'I Will Call You Lover Again', which even utilizes a slight strain of synth. Loney, Noir releases on February 6th from Sub Pop.
——————————————————————————————-
Loney, Dear – I Am The Odd One
[audio:https://obscuresound.com/mp3/loney-iam.mp3]
——————————————————————————————-
[audio:https://obscuresound.com/mp3/loney-sat.mp3]
——————————————————————————————-
[audio:https://obscuresound.com/mp3/loney-john.mp3]
——————————————————————————————-
Mike Mineo
I'm the founder/editor of Obscure Sound, which was formed in 2006. Previously, I wrote for PopMatters and Stylus Magazine. Send your music to
[email protected]
.