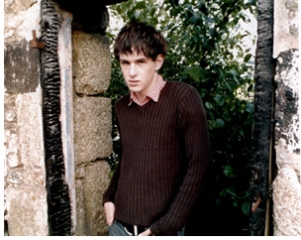 Last October, I posted a single from Patrick Wolf's new album, The Magic Position, which was the very riveting and catchy 'Accident & Emergency'. Though I outgrew the song quickly after initial enjoyment, it had me curious about The Magic Position for the next several months. I wondered whether the other songs on the album would be in the form of catchy pop songs like 'Accident & Emergency' or more similar to his previous release, Wind in the Wires, featuring emotionally charged songs with complex structures and lyrical depth. Somewhat expectedly, The Magic Position features songs of both descriptions. Though most of the album's songs fail to compete with the brilliance of 'The Libertine', The Magic Position contains a handful of tracks that remain representitive of Wolf's overall musicianship, demonstrating why the English songwriter was considered a child prodigy since the age of eleven. A variety of instruments are still present in the twenty-three year old's third album, particulary demonstrated on the infectious 'The Magic Position'. The song retains a touch of innocence, something rare in the usually dark world of Patrick Wolf, with the cheerful shout of children in the introduction eventually leading us to an irresistably pleasant chorus where Wolf provides some very moving vocals over a synchronized movement of strings and keys. "It's you who puts me in the magic position, darling now," Wolf stresses an influence, eventually demonstrating how music extends beyond a profession to him personally, chanting "to live, to learn, to love in the major key" during the climax of the song. While this song is a perfect representation of Wolf's recent embracement of accessible pop, the devastating 'Augustine' reflects on his earlier releases with a strong vocal performance overshadowed by a vaguely touching musical arrangement. While 'The Magic Position' is representitive of loving companionship and good fortune, 'Augustine' shows a side of loneliness and unrealistic desires, as Wolf simply asks the sympathetic question, "why does love leave me so damn cold?". While The Magic Position is not as focused or musically ambitious as Wind in the Wires, it remains as a solid album with a collection of great songs, most notably 'The Magic Position', 'Augustine', 'Overture' and the latest single, 'Bluebells'. The album's musical significance was to be expected considering Wolf's background, but it was his emotional range that truly drew me into the album the most effectively. The Magic Position will be released on February 26th.
Patrick Wolf – The Magic Position
[audio:https://obscuresound.com/mp3/wolf-mag.mp3]
——————————————————————————————-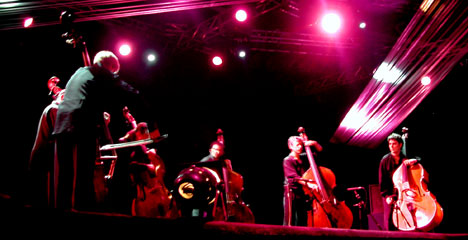 In terms of ingenuity and pure musicianship, few can compare to L'Orchestre de ContreBasses. Formed by Christian Gentet in 1981, the group features six internationally acclaimed bassists, all having a great deal of experience with musical composition and art. The unique thing about this six-piece orchestra is that they exclusively use bass. What you are hearing is the work of six basses playing together with absolutely no additional musical aid. No strings, no extra percussion, no expensive bass pedals. It is simply the work of these six talented bassists utilizing their improvisional techniques and musical background. These three tracks are off their justly titled release in 1993, Bass, Bass, Bass, Bass, Bass & Bass. With a focus on freeform jazz and contemporary classical music, Gentet and group work with extraordinary diction. While 'Touetatou' is a great demonstration of the their inventive fury, my favorite happens to be the beautiful 'Artificiel Paris'. Where one would usually think the song is a mixture of strings, flute, and bass, it remains the exclusive work of six basses. A beautiful string-like serenade is eventually backed by a fantastic bass solo, grasping onto melancholy thoroughly in the entire piece. The solo is a great tool to avoid repetition, hooking the listener and refusing to let go. 'Tango' is an oddly enjoyable one, moving along at a frantic pace with an initial introduction that many would mistaken for an actual vocal tribal chant, while again, it is simply another innovative playing technique. The last several minutes of 'Tango' is one of the most impressive moments on the album, presenting an epic explosion of the six basses being pushed to their musical potential. Several orchestras with over fifty members could not produce this type of musical amplitude even with their instrumental variety. While L'Orchestre de ContreBasses' albums may be hard to find outside of France, they do have a worldwide audience and influence backed by their reputable live shows. Along with Gentet, the majority of the group is from France, being composed of Gentet, Xavier Lugué, Olivier Moret, Étienne Roumanet, Yves Torchinsky, and Jean-Philippe Viret. Though their faces are mainly hidden behind their double basses for the duration of their live shows, their talent and creativity remains visible to all.
L'Orchestre de ContreBasses – Touetatou
[audio:https://obscuresound.com/mp3/orcbass-tou.mp3]
L'Orchestre de ContreBasses – Artificiel Paris

[audio:https://obscuresound.com/mp3/orcbass-art.mp3]
L'Orchestre de ContreBasses – Tango
[audio:https://obscuresound.com/mp3/orcbass-tan.mp3]
——————————————————————————————-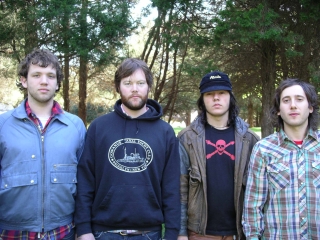 The Subjects are, in a sense, the type of group that dedicated high school bands envy. While the majority of high school bands disband due to educational purposes, The Subjects decided to continue after their schooling in native New York. The interesting thing is that the band consists of two students and two teachers, all from the same school. Well, it appears the two teachers at least show some youth, as I cannot even guess which two they are in the above photo. I wonder how the school board reacted to students and teachers smoking, drinking, and making music together. I would hope that they saw it as a great model of student-teacher relationships, though my personal understanding leads me to believe that most school boards are not understanding at all. Oh well, it certainly didn't phase The Subjects. They continued to express their enjoyably amateur delivery of likable power-pop, led by boyish vocals (by the teacher, ironically) and charismatic hooks. 'The Hounds of War' sounds like something off of a great 80s power-pop compilation, with a steady buildup of repeating guitar chords and rapturous vocal melodies providing for a generally catchy effort. Though the songs remain focused on a repetition of basic guitar chords, each song on a whole displays a more clever side after increasing listens, showcasing an almost natural ability to write a catchy song. After releasing an EP, they recorded their debut album With The Ease, Grace, Precision, and Cleverness of Human Beings in the basement of an old family home in Maryland. Working faithfully, the album includes a variety of additions such as horn arrangements, adding to their often infectious songwriting. The album will be released on February 20th.
The Subjects – The Hounds of War
[audio:https://obscuresound.com/mp3/subj-hou.mp3]
The Subjects – I Could Never Tune
[audio:https://obscuresound.com/mp3/subj-ico.mp3]