Posted
January 15, 2007 by Mike Mineo
in Features
The Besnard Lakes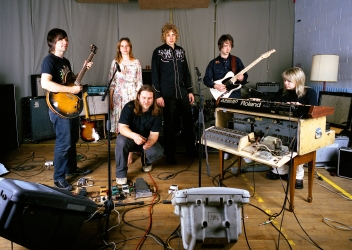 The Besnard Lakes are more than just another hyped rookie band from Montreal. Most of the musicians involved have been in the industry for years, so "rookie" would certainly not be a term to describe them. This applies particulary to frontman Jace Lasek, who contributed vital production work to Wolf Parade's Apologies to the Queen Mary and Sunset Rubdown's Shut Up I Am Dreaming. Those are two albums that could be considered some of the best for their year of release (2005 and 2006). With those two under his belt, Lasek is hoping to make another splash in 2007. In the line of acclaimed producers releasing debut albums (à  la Rusty Santos), Lasek's The Besnard Lakes is the latest. Along with his wife and fellow band member Olga Goreas, they both recorded their debut album The Besnard Lakes Are The Dark Horse in their owned small studio in Montreal. Though they have an additional cast of talented band members, the two decided to just record the album themselves, playing every instrument between the two of them. Olga Goreas saw it as a positive experience. "Oh gosh, the decision to record the album was the easiest one we ever made," Goreas says. "Yes we lost our bandmates, but it was all good. We wiped the slate clean and Jace and I really got to know each other as songwriting partners. Plus, it definitely helped that we have our own studio. It's just such a nice thing when you don't have that nagging 'we're on the clock' feeling. We could do whatever the hell we pleased. If a song wants four drum parts overlapped on it, it's going to get it." Other members of the band, such as Steve Raegele, Nicole Lizée, and Kevin Laing contributed different written parts as well. Raegle wrote the guitar solos, Lizée arranged the string and horn sections, and Laing shared some percussion tips. The album also boasts some help from familiar faces, such as George Donoso III from The Dears and Chris Seligman from Stars.
The Besnard Lakes sound like an odd cross between Brian Wilson, Ride, Spiritualized, and Pink Floyd. Lasek has a falsetto that is highly reminiscent of Wilson's, with loving vocal melodies that craft imaginable hookss similar to those Wilson employed in his earlier years. While the vocal comparisons are spot on, the musical influence is more varied and experimental. Shoegaze elements are present, with guitars and keys often set on a haunting reverb, only enhanced by Lasek's experienced production skills. Though 'Disaster' starts off as any Wilson ballad would, it eventually folds into a dark journey that few artists wish to travel. After a few minutes of uneasiness and melancholy, a collection of guitars is launched in combination with some fantastic strings, somewhat musically remindable of The Verve. Being the opener to The Besnard Lakes Are The Dark Horse, it is certainly one of the most accessible along with 'And You Lied To Me', which contains some of that great neo-psychedelia that acts such as My Morning Jacket and Mercury Rev are known for. It is also concluded by a great guitar solo written by Steve Raegele, who shows off his guitar chops quite well. Though they are both fun in their own way, my favorite track on the album, by far, is 'For Agent 13'. Here, Lasek seems to be combine all his influences into one fusion of success. With a taste for shoegaze, alternative, and pop, Lasek has created something extremely memorable. For the first three minutes or so, the song takes the route of repetition, instilling the listener with a certain focus and memory for the melody at hand. The verse is eventually unveiled as nothing more than buildup, as the last two minutes of the song is a pure explosion of guitars, keys, bass, and distortion that is executed nearly flawlessly. Throughout the entire song, Lasek's joyous falsetto rings with pride and emotion, demonstrating the rare occurrence by remaining entirely in key. When The Besnard Lakes Are The Dark Horse is released on February 20th, there is no doubt that similar comparisons will be publically echoed. Despite the obvious, The Besnard Lakes Are The Dark Horse will be remembered as a considerably creative debut, one that contains a collection of memorable songs pushed to their full potential with the aid of great production. If Lasek's goal remains to produce an outstanding album every year, he may have accomplished it already only two months into 2007.
——————————————————————————————-
[audio:https://obscuresound.com/mp3/besn-dis.mp3]
——————————————————————————————-
The Besnard Lakes – For Agent 13

[audio:https://obscuresound.com/mp3/besn-for.mp3]
——————————————————————————————-
The Besnard Lakes – And You Lied To Me

[audio:https://obscuresound.com/mp3/besn-and.mp3]
——————————————————————————————-
Mike Mineo
I'm the founder/editor of Obscure Sound, which was formed in 2006. Previously, I wrote for PopMatters and Stylus Magazine. Send your music to
[email protected]
.