Posted
January 22, 2007 by Mike Mineo
in
The Zetland Players; Butcher Boy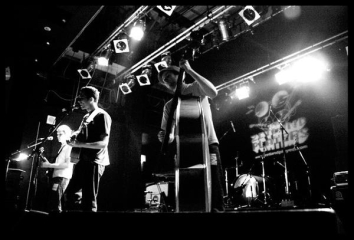 I'm sure your mother has told you at least once to "respect your elders". The Zetland Players are certainly respectful, with two of the three members taking cues from their grandfathers, who were both musicians as well. It's clear that music runs in the families of Michael Wiper and Tobias Silvester. Wiper's grandfather Phil played in a folk band named The Zetland Players in the 1940s, which is where their name derives from. Silvester's grandfather George was also an accomplished musician. The two met "over a curious incident involving a smokey room, a guitar with large penis drawn on the back of it and Wiper's partial blindness", which is so vaguely stated that I don't think anyone has any clue what it refers to other than the band members themselves. After that "incident", they recruited Adrian Zookrow as the final piece to the trio, citing his "melodic charm" and "sterling good looks" as the waivering components. Though they are from London, they now reside in Washington DC after their tour of the United States. One of the most unique aspects of The Zetland Players is the musical instruments involved, which is an acoustic guitar, an electric guitar, and an upright bass. The only form of percussion on their debut EP Making Friends With… is a bit of automated clapping on '1 in 7' and 'Night At The Lyric'. Surprisingly, the EP turns out to be an excitable collection of a contemporary mixture of folk and pop even without percussion. Their leading single 'Jack's Little Zoo' is led by a few acoustic chords and is aided by a variety of catchy electric guitar additions. The song proves to be quite innocent, almost turning itself into a sarcastic children's song, well that would be if not for the part about when Jack "went drinking, smacked his lips and salutes his animal pie". After a few cheerful verses about his love for animals, he eats them? How awful. Actually, it's quite entertaining. So, kids: be kind to animals, don't go drinking, and always have an open mind towards vegetarians. The vocals from The Zetland Players remind me occasionally of Franz Ferdinand's Alex Kapranos when he dwells on his acoustic tunes such as 'Eleanor, Put Your Boots On' and 'Jackie Jackson', which also pokes fun at children's songs. 'Night At The Lyric' is a good expansion of sound, as the group demonstrates some harmonica which incorporates nicely with the catchy melody. The band is currently searching for a drummer, which should certainly enhance their sound. With sharper production and more percussive elements, the band could perhaps become an English version of The Lucksmiths. With influences stemming from Bob Dylan, Woody Guthrie, Hank Williams, and their respectable grandfathers, The Zetland Players are filled with potential. You can download their entire EP for free here.
The Zetland Players – Jack's Little Zoo
[audio:https://obscuresound.com/mp3/zetl-jac.mp3]
[audio:https://obscuresound.com/mp3/zetl-1in.mp3]
The Zetland Players – Night At The Lyric
[audio:https://obscuresound.com/mp3/zetl-nig.mp3]
——————————————————————————————-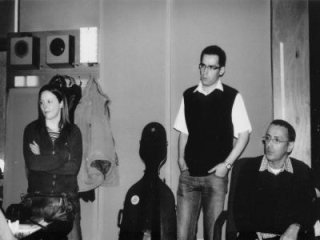 A band who is recently making a splash in the blog atmosphere is Glasgow's own Butcher Boy. In the past few years, we've seen strong revivals of classic British punk, psychedelia, and 80s dance, among many others. One influential genre that has remained largely untouched has been one of my personal favorites: jangle pop. While it remains one of the most important genres of post-punk in the 80s, new bands rarely find themselves reaching the quality of early material from The Smiths, The Housemartins, and R.E.M.. Shying away from the traditional revivalism, Butcher Boy takes their chops from the bands they adored while growing up. Often consisting of seven members, most of the members have been well educated in the creation of music, particulary vocalist John Blain Hunt who sounds like some clever mixture of Paul Heaton, Morrissey, and Stuart Staples. They are quite fond of the Smiths relevance as well, comparing their music in similar circumstances as to "closing your eyes and listening to the first Smiths record". Well then, The Smiths' first record is one of my favorite of all time. They certainly bought me on that line alone. Of course, their influence is even noticabe in the song titles. 'Girls Make Me Sick'? Hah. A younger Morrissey would certainly agree. The song fits form as well, led by the frantically executed bass line of Garry Hoggan and the quick guitar strums of Basil Pieroni, the song eventually evolves into a catchy and fairly complex version with the surrounding of various keys and mixed percussion. Perhaps the vocal production seems a bit outdated, though I woudn't be surprised if this was entirely intentional. Either way, the song works and is in strong form. 'Keep Your Powder Dry' is excellent usage of the relationship between the electric and bass guitar. Each one synchronize with each other flawlessly behind the drums of Findlay Mackinnon. The song is abrupt and short-lived with only one chorus, but also intentional, this only leaves listeners in the band's intended position: begging for more.
Butcher Boy – Girls Make Me Sick
[audio:https://obscuresound.com/mp3/butcher-gir.mp3]
Butcher Boy – Keep Your Powder Dry
[audio:https://obscuresound.com/mp3/butcher-kee.mp3]
Mike Mineo
I'm the founder/editor of Obscure Sound, which was formed in 2006. Previously, I wrote for PopMatters and Stylus Magazine. Send your music to
[email protected]
.