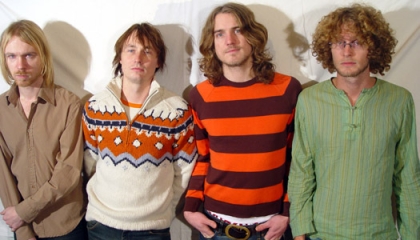 If one was asked about the current music scene in Sweden, I would expect the usual response to be in relation to witty folk-pop songwriters Jens Lekman and Julian Nation or adorable indie pop in the vein of The Concretes and The Cardigans. After all, ABBA basically defined the musical generalization of the county thirty years ago with their irresistible style. So, what about those epic psychedelic rock acts that most often generate from other countries such as the United States, France, and Japan? Well, surprisingly Sweden has their share of them as well. They just live behind the shadow of more "acceptable" linear Swedish acts such as I'm From Barcelona and Peter, Bjorn & John. As Jens Lekman once proclaimed in "The Cold Swedish Winter", the impression of the country is usually led by baseless standards: "When people think of Sweden I think they have the wrong idea… like Cliff Richards, who thought it was just porn and gonorrhea." As comedic as that brilliant line is, it applies well to the country's musical assumptions. One band hopes to change that. Since early 2001, Dungen began to record his own music, constructing his own private studio in the basement. His friend Stefan Kéry eventually heard the fascinating songs and offered has been creating a whole new style based around their own innovative standards. The Swedish foursome is led by the talented multi-instrumentalist Gustav Ejstes. On their five albums, Ejstes has played all instruments and written all the songs on his own. While performing live, he is backed by guitarist Reine Fiske, bassist Tiaz Gustavsson, and drummer Fredrik Björling. Growing up on a small village in Vastergotland, Sweden, Ejstes was born into a musical family. His father was a musician and music teacher who educated Ejstes well on musical intellect. Ejstes eventually learned how to play a variety of instruments out of sheer enjoyment while he developed a fond admiration for all musical genres, even hip-hop (which he sampled for a short time). After moving to his mother's farm, Ejstes a record deal on Subliminal Sounds, the label who later released Dungen's self-titled debut LP in 2001. Through the next six years, Ejstes recieved a variety of offers from major labels but chose to stick with his friend's label, as he released three more albums over the following years. While he was a prominent figure in Sweden since Dungen's debut, his foreign recognition skyrocketed in 2004. Ta Det Lugnt ("Take It Easy") brought his attention overseas as American audiences fell in love with Ejstes' original psychedelic sound, which both sounded foreign and familiar. While Ejstes sings in Swedish, foreign audiences do not even notice the language barrier. His melodies and instrumental knowledge overshadow any lyrical misunderstanding, as such captivating music does not rely on lyrics either way.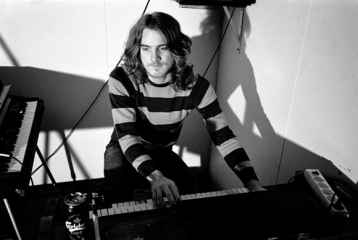 On May 1st, Ejstes will release Dungen's fifth album Tio Bitar. Translated to "Ten Pieces", that is exactly what it is: ten new excellent pieces of music from the mastermind of Gustav Ejstes. While he still plays the majority of instruments like past releases, Ejstes actually enlisted some outsider help for the recording of Tio Bitar. While Ejstes is still the main force, he brought in a few friends to aid with backing vocals, along with a Turkish string musician. Ejstes can still be found on guitar, bass, organs, flute, and strings. Tio Bitar is Dungen's most expansive album yet, with each track clearly differentiating themselves from one another. While "Familj" is classic Dungen with it's soothing vocals and mellow reverb, "Caroline Visar Vägen" is one of the most original tracks that Dungen has produced. Mainly consisting of percussion, organs, and an outstanding arrangement of strings, the instrumental track fits very nicely on the album in between the rapid "Gör Det Nu" and the catchy "Du Ska Inte Tro Att Det Ordnar Sig", which is about as "anthemic rock" as Dungen gets. "Du Ska Inte Tro Att Det Ordnar Sig" is a large success though, largely credited to Ejstes' lasting vocals and attributed emotion. "Svart Är Himlen" is another gem bursting with originality. A classic piano is layered over a heavily distorted guitar and a collection of light backing vocals and organs, with the introduction being relayed by a compelling flute. Of course, like most Dungen albums, Tio Bitar is not without an epic. The nine-minute "Mon Amour" transcends from a typical rock song to a nearly improvised sketch with guitar solos and experimental effects in it's remaining seven minutes. While Tio Bitar is not as catchy or lighthearted as Ta Det Lugnt, it is certainly more musically impressive. Ejstes' ambitiousness shows great value as each track has it's own form of life, with all ten pieces being highly rewarding and completely necessary.
——————————————————————————————
Dungen – Du Ska Inte Tro Att Det Ordnar Sig
[audio:https://obscuresound.com/mp3/dungen-dus.mp3]
——————————————————————————————
Dungen – Caroline Visar Vägen
[audio:https://obscuresound.com/mp3/dungen-car.mp3]
——————————————————————————————
——————————————————————————————
Do you love good music?  Have you ever considered making your own music?  By taking guitar education lessons, you are learning a life long lesson.  Music education is a skill you will cherish for the rest of your life.  Whether you want to take piano lessons or you are interested in vocal lessons, music lessons are important.  For the best music lessons in your area, sign online today!