Posted
February 3, 2007 by Mike Mineo
in Features
Ideal Free Distribution and their lovely time machine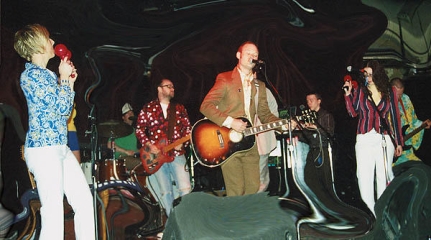 The amount of time it takes to record an album varies dramatically from artist to artist. Some are like Ryan Adams, sometimes releasing several albums per year. Others tend to be more in the mold of a Scott Walker, releasing one new album about once every ten years. Whether or not the time involved can define a perfectionist, it just goes to further emphasize that every artist has a different way of creating their own songs. As far as releases between albums go, Ideal Free Distribution tends to be taking after the Scott Walker route, an artist they ironically list as one of their primary influences. Their self-titled debut album, Ideal Free Distribution, is finally being released ten years after the band formed in 1997. Originally a mere trio, the Kentucky-based group has evolved into seven consistent members. Their story is a very simple one of determination and hard work. The original trio consisted of Eric Griffy, Tony Miller, and Craig Morris, three friends who were all fans of 60s pop and psychedelia. They all decided to take after The Beatles (like most bands do) and record on a basic four-track to get things started. In Griffy's bedroom, the three wrote dozens of promising songs, eventually performing them for several audiences in their hometown of Benton, Kentucky. The three described half of the songs as brilliant and the other half as absolutely horrible, which if accurate, is still better than most active contemporary artists. The band depicts the following years as a period of song solidification, with the three primary songwriters drastically improving the solid songs and abandoning the lackluster ones. In 2003, they finally started to consider their debut album's final track listing. They also added four musicians to the mix, being Joe Drury and guitar, Mike Grote on drums, Marci Schneider on mellotron and castanets, Shelly Morris on vocals and percussion, and Samantha Herald on accessory percussion and vocals. Their big break came when Robert Schneider (of The Apples in Stereo) stumbled upon Ideal Free Distribution's demos and fell in love with them. That does make perfect sense, as both artists seem to have very similar influences, being particulary fans of past decades and musical movements, from psychedelia to British invasion. Schneider helped the band get signed to Happy Happy Birthday To Me Records, a rising label in Georgia. In addition to his promotional help and playing live with the band (as seen in the photo above), Schneider mixed and pre-mastered the album with Jason Nesmith. It sure helps to have friends in the industry.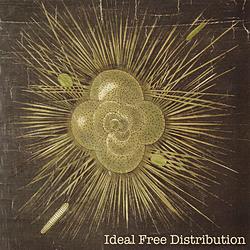 Schneider's love for Ideal Free Distribution is certainly understood. It's actually quite easy to fall in love, as the influences stem from the bands that people stereotypically are forbidden to dislike. Whether it's The Beatles, The Zombies, or The Byrds, the influences that Ideal Free Distribution borrow are as clear as day. Mixing together a variety of psychedelia, folk, and traditional 60s British pop, their debut album is an easy listener. To gain full enjoyment of the album, full attention isn't even required, which in some cases is just the right medicine for a rough day. The melodies sung by Tony Miller are rich and colorful, filled with soothing variability added by a calmative tone. "Apples and Oranges" serves as a musical tranquilizer, taking the listener through some vividly chromatic musical time machine. The beginning is led by a few organ-like keys and a steady bass line, later complemented by a few solo acoustic strums before a bridge of building percussion. Miller's vocals are eerily reminiscent of Rod Argent's, fitting unsurprisingly well with Ideal Free Distribution's droning style. The chorus is pure psychedelia, as Miller stretches out the "A" in "US of A" for the majority of it. The result, as simplistic and predictable as it sounds, turns out to be extremely enjoyable. "Saturday Night" is certainly more driven and aggressive. If Ideal Free Distribution turns into some full-fledged psychedelic band in their latter careers, this will be the type of song that defines their "early career". With a few guitar licks and solos guiding the way, Miller's delivery is more straightforward and pop-oriented than usual until a series of keys and a complementary guitar solo make for a memorable bridge. The keys are of a similar nature to that of "Apples and Oranges", with the organ aspect recalling that distinct psychedelic nature. You can check out the music video for "New Madrid, 1811" by clicking here. It's another enjoyable song that focuses on Miller's vocal "whoo"s and "bop"s over repeated guitar distortion and more alluring keys. Other highlights on the album include "Someone's Gonna Die" and "Mr. Wilson", which is most likely a tribute to one of their heroes, Brian Wilson. Ideal Free Distribution was released last Tuesday and I recommend it to any fans of British pyschedelia or rock in the 60s or 70s. While their originality is nothing more than a throwback, their songwriting certainly stresses an impressive amount of natural skill.
——————————————————————————————
Ideal Free Distribution – Apples and Oranges
[audio:https://obscuresound.com/mp3/ideal-app.mp3]
——————————————————————————————
Ideal Free Distribution – Saturday Drive

[audio:https://obscuresound.com/mp3/ideal-sat.mp3]
——————————————————————————————
Ideal Free Distribution – New Madrid, 1811

[audio:https://obscuresound.com/mp3/ideal-new.mp3]
——————————————————————————————
Mike Mineo
I'm the founder/editor of Obscure Sound, which was formed in 2006. Previously, I wrote for PopMatters and Stylus Magazine. Send your music to
[email protected]
.