Posted
February 20, 2007 by Mike Mineo
in Features
Loch Lomond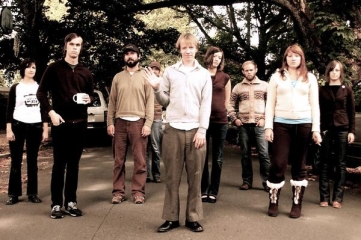 When Ritchie Young formed Loch Lomond in 2003, he saw it nothing more than a solo project. Always in touch with his music persona, Young found working solo to be a fulfilling yet somewhat shallow experience. Alongside longtime friend, producer, and drummer Rob Oberdorfer (of Portland-based post-rock quintet The Standard), Young created Loch Lomond's debut album When We Were Mountains with his multi-instrumental talent, mainly dabbling in guitar and mandolin. It was released on In Music We Trust Records and though it was of commendable quality, the album did not receive the deserved press at the time of release. Despite the lack of initial publicity, When We Were Mountains was an extremely impressive display of Young's musical range, from the electronic New Order-inspired "Sir Edmund" to the grungy "Stripe". Jazz and soul elements even poke through in songs such as "Whatafall", where Young appears to be an inherent natural at creating whatever genre is thrown at him. Most of Loch Lomond's recognition came after the release of their debut while touring, with shows that initially started out as Young and Oberdorfer or Young alone. Many musicians began to take note of Young's skill and asked the ambitious young man about opening spots in the band. Over the years, as many as ten different musicians took the stage at once for Loch Lomond. A few mainstays included Jay Clarke on bass and accordion, Kate O'Brien on violin, Katie Schnepp on viola, and Peter Broderick on saw and slide guitar. Their consistent performances and songs of impressive range also caught the attention of HUSH Records, home to prominent artists such as The Decemberists and The Places. They were awarded a record deal and will release their label debut with Lament For Children. Originally self-released in early 2006 as an EP of various recording sessions, Loch Lomond eventually became a nine-person band in late 2006 and decided to perfect the EP and have it evolve into their second full-length album.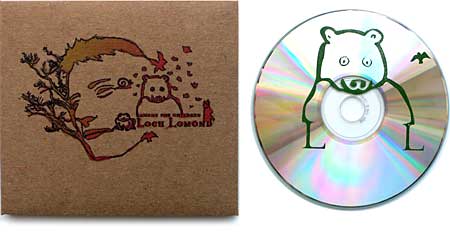 In contrast to When We Were Mountains, Loch Lomond's second album Lament For Childen is a much more focused effort. Where Young previously made attempts toward a variety of more diverse genres such as vague hints of electronica and jazz, Lament For Children consists of eight folk-driven songs. What remains are Young's engaging lyrics and interesting vocal delivery. His vocals remind me a bit of The Decemberists' Colin Meloy, who he happens to share a label with. Such an example is shown on the acoustically rendered "Tic", where Young demonstrates a similar slight vibrato and emotional choral outburst. Young's lyrics display a vivid line of an assortment of different characters. There are no awkward love songs or awkward flamboyance in Young's lyrics, with each song telling a story in their own right. The lyrics for "Tic" tells the tale of a man with sociophobia, viewing his own faults as a reason to avoid human. "Singin' I am not an animal and I am not an animal, he cried!" Young bursts out emotionally over a brooding violin. Such a song would pale well in comparison to Joseph Merrick, otherwise known as "The Elephant Man". "Spine" is another exceptional song that shows Loch Lomond's instrumental diversity, delivering a more electric song that while not as lyrically powerful, is generally more catchy than "Tic". Still, Young is a powerful presence and the chorus led by a simplistic electric guitar adds for nice transition. "Grandad & Toothache" is just as odd as the name represents. It's just as chilling as well. Young begins the song with a haunting acoustic guitar and whispered vocals, already setting a different pace than those of the previous energetic songs on the album. A series of various strings and plucks eventually weave themselves into this eerie song, with the lyrics being similarly spine tingling. "I think we can thank grandad, grandad for the toothaches" may sound awkward in contrast to the song's dark feel, but the interpretation of Young's lyrics are up to you, no matter how perverse your interpretation are. If it were up to me, I think Young may be hinting at something a bit deeper than candy. Such risks and engaging qualities make for a very impressive record, both lyrically and musically. All eight tracks on Lament For Children are highly enjoyable and I would suggest picking it up when it releases on March 13th.
——————————————————————————————
[audio:https://obscuresound.com/mp3/loch-tic.mp3]
——————————————————————————————
[audio:https://obscuresound.com/mp3/loch-spi.mp3]
——————————————————————————————
Loch Lomond – Grandad & Toothache

[audio:https://obscuresound.com/mp3/loch-gra.mp3]
——————————————————————————————
Mike Mineo
I'm the founder/editor of Obscure Sound, which was formed in 2006. Previously, I wrote for PopMatters and Stylus Magazine. Send your music to
[email protected]
.