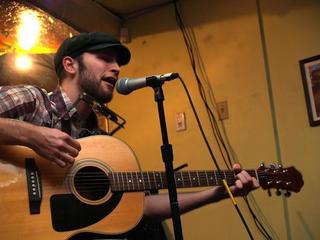 Sometimes inspiration can come in the oddest packages, literally. One early morning in 2004, Jeff Ilgenfritz was in the middle a usual morning routine consisting of consuming Count Chocula while strumming away on his guitar and harmonica. Thinking about his music aspirations, Ilgenfritz began to ponder hard as to what to call himself. Glancing on the floor, he saw a copy of Mumpsy Goes to Kindergarten, a popular children's book published in 1941. The name of the smiling girl on the cover must have given Ilgenfritz a sense of gratification, as he settled on the name Mumpsy to call himself. "It was love at first sight," Ilgenfritz said of the name. Name aside, Ilgenfritz is quite proficient on a number of instruments. He states that he can "perform excellently" on the drums, guitar, bass, and harmonica. Even while those four instruments are more than enough for establishment capabilities, Ilgenfritz can also play organ, piano, harmonium, tabla, and sitar. Oh yeah, he sings as well. His talent drew the attention of Post-Records, the friendly label that eventually signed him and released his debut album, The Exuberence of Peachtree. The album was a success and included cameos from several artists on the Post-Records label. After lending a song towards Post-Records' Ole! compilation, he set off to work in the studio for his second album, 3 People. A mere five songs, it is a collection of vibrantly colorful songs that show off Ilgenfritz's tendency to create compelling melodies over an array of vigorous instrumentation. He actually reminds me a bit of Of Montreal, minus the excessive synths, glam make-up, and nude showmanship. "The Emperor" showcases a steady melody wrapped in guitars and flimsy keys. Ilgenfritz's vocals are fraught, filled with melodic knowledge and strained emotions. "Iowa City" is a bit of a throwback, calling on 60s pop influences like The Kinks and The Zombies to create a very memorable song that sounds innocent enough to force a grin out of anyone. A very simple love song it is, but an entirely enjoyable one at that. "64 Colors" is another fun one that reflects on childhood purity and naiveness. "She grabs the crayon box that tells her sixty-four colors make the world," Ilgenfritz breezily states over a singularly layered guitar riff, "sixty-four colors make the world go 'round, she's got a least a dozen browns". Despite such an innocent portrayal, the album cover indicates anything but nescience, apparently depicting "a junkie priest, a whore, and a salesman" and the life that revolves around them. However you may depict the songs as they flow from Ilgenfritz's mind, there is little doubt that 3 People is a very enjoyable album for its short duration. It will be released on April 10th.
——————————————————————————————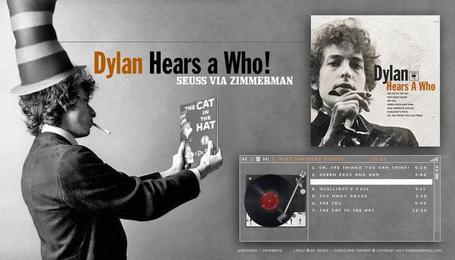 This has been a recent hot topic on the net, for good reason too. Recently, a web site titled Dylan Hears A Who! went online with seven songs by an undisclosed artist impersonating the untouchable Bob Dylan. Instead of generic covers, these impersonations are somehow entirely original in their own sense. I have no source or reliable input but if I were to take a guess, I would say that some bored dude who sounds exactly like Dylan came up with the strange idea to sing Dr. Seuss novels in his famous Dylan mock tone. It probably originally started out as a joke, but then perhaps he started mixing together several music tracks from Dylan himself and putting together various vocal melodies. Even though this appears to be a result of pure boredom, the artist has successfully captured the attention of both Dylan fans and Dr. Seuss readers. Truth be told, tracks like "Miss Gertrude McFuzz" and "Too Many Daves" are pretty damn good, providing a nice sense of entertainment. If anyone has any background info about the tracks, feel free to share. Obviously, I don't expect anyone to take these seriously but the fun factor involved is worth the listen alone. This undisclosed artist, who I'll call "Mocking Dylan", certainly would fare well in a game of vocal charades. You can download seven tracks for free off of the web site.
Mocking Dylan – Green Eggs And Ham
[audio:https://obscuresound.com/mp3/drdyl-gre.mp3]
Mocking Dylan – Too Many Daves

[audio:https://obscuresound.com/mp3/drdyl-too.mp3]
Mocking Dylan – Oh, The Thinks You Can Think!

[audio:https://obscuresound.com/mp3/drdyl-oht.mp3]
Click here to download all seven tracks (160kbps MP3s, 55MB ZIP)
If you love to find the most obscure music, find the best online music coupons through our website.  If you are interested in buying CDs at best buy, use our best buy coupons.  No matter where you purchase your music, you can find the best online coupon codes through our website.