Posted
March 12, 2007 by Mike Mineo
in Features
The Attachments and Their Bizarre Love Triangles!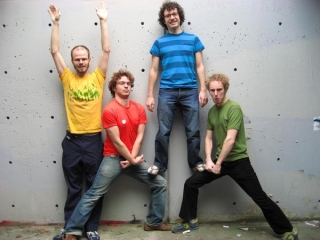 Woman sure know how to break, create, and occupy the minds of young men everywhere. The four members of The Attachments have all been through their share of messy relationships, but fortunately, all four are obsessed musicians. Those who wrap themselves in any form of art often use it as a way to cope and express inner feelings, whether it's humorously, emotionally, or satirically. The Attachments use a bit of each in their self-titled debut EP, which consists of six songs with lyrical content focused on six different girls, all of which at least one of the members have dated or had an infatuation with. The beginnings of the band started to form in 2005 when chief songwriter Ben Urwand met Michael Coleman on the campus in Berkeley, California. Upon learning that Urwand was a songwriter who spent an average eight hours a day writing songs and Coleman was a highly touted keyboardist, the decision to form The Attachments came shortly after. In January 2006, their plans finally took began to take form when Urwand recruited bassist Mark Allen-Piccolo and Michael brought in drummer Rob Schwartz. Aside from their shared interests in music, they all each learned of their own problems with women. This included Ben Urwand (blue shirt) once being in love with Mark Allen-Piccolo's (red shirt) girlfriend, a tall brunette named Karla. That was actually how they both met, as Urwand gave up on Karla after meeting Allen-Piccolo and learning of their relationship, though the fact that he found him to be a great guy made Urwand feel a bit better. Urwand then started dating Jessica to ease his pain, a girl who apparently "got around". Jessica was also dating Michael Coleman (green shirt) at the time, eventually leading to the two meeting. Coleman also had his share of previous girl trouble, earlier moving from New York after getting slapped by a girl he had been "stalking" on the F-train. Last but not least, Rob Schwartz's (yellow shirt) ex-girlfriend once ridiculed him in publc about his beloved yellow sheets, which was an indication to Schwartz that this one was certainly not a keeper. Man, it all sounds like some indie sitcom, doesn't it? Either way, it gave the band plenty of material to write about on their debut EP. The Attachments are quite a collective band, with each member contributing vitally. During the usual live show, each member sings as each one to express the group's versatility and passion. When labels started to take notice of the band's catchy pop sound, The Attachments received several offers but turned them all down because Allen-Piccolo assured the members he had the chops to record them on their own. As the son of a sound engineer, he had always wanted to experience what his father had in recording music. What better place to start than by recording his own band?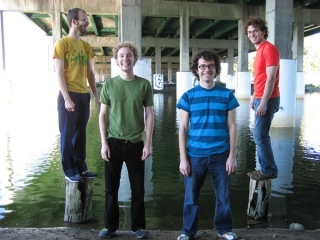 With the soap opera above described in detail, the EP's lyrical content should certainly be clearer to those listening. "Jessica" is about the girl who loved to get busy with many (including Urwand and Coleman), "F-Train Girl" describes the feelings of Coleman when thinking about the girl who apparently stalked in New York, "Ha Ha Ha" mocks Schwartz's insensitive ex-girlfriend, and the closer "Karla-la" is about the infamous brunette, Karla, who was at one point loved by Allen-Piccolo and Urwand. "Jenny" appears to be about an unfortunate homely girl who wanted to be more than friends with one of the four and "Come To My Home Town" appears to be too vague to interpret. Urwand wrote all six songs, with Coleman contributing naturally to "F-Train Girl". As far as the four-piece's musical style goes, it is in a similar mold to that of artists in their local Bay Area scene, being acts such as The Morning Benders, The Makes Nice, and Push To Talk. Like their local contemporaries, it is not uncharacteristic to call on influences of the 60s with a keen focus on simplistically catchy guitar riffs, essential organs, and a balanced rhythm section. The vocals of Ben Urwand may appear to sound shaky at some points during "Karla-la" and the key-led "Jenny" but they are generally satisfiable at the conclusion of each song. They consider "Karla-la" to be one of their best songs and it's easy to see why. Their lyrics of desperate romanticism is both expected and diverting. "Every single guy is trying hard to have a talk with her," Urwand strains out, "but only one could love her and he can't get in a word". How delightfully tragic. Like the rest of you, I know exactly how Mr. Urwand feels. Well, to a certain extent. The chorus is lifted by a pair of backing vocals in falsetto, with all instrumental accompaniments being backed by the strongly diversifying organs of Michael Coleman. "Jessica" shows us more of those alluring keys, which hand-in-hand with Urwand's extremely capable melodies create something generally agreeable to listen to. "F-Train Girl" is the most emotionally intensive on the album, beginning with a set of keys eventually picked up by all four members lending their appropriate instruments and vocals. The lyrical content reminds me of The Divine Comedy's "Commuter Love", telling the story of a man in love with a girl on the train who would never give him a second glance. "I saw you just the other night on the train," the song begins, "You didn't see me, read your magazine, it didn't matter much it seemed". The song ends with a play on Coleman's "stalking" expenditure, remarking solemnly, "And I said I knew you from the train, but you didn't know me, said to let you be… oh my baby, we will see". Oh well, as Morrissey once said, "Rejection is one thing, but rejection from a fool is cruel". You've likely heard numerous bands like The Attachments before but the California foursome's debut is more consistent than most, producing six songs that are memorable, genuine, and substantial. As selfish as it may sound, if flawed relationships cause The Attachments to write songs as enjoyable as these, I hope they find the most superficially ignorant girls on the planet.
——————————————————————————————
[audio:https://obscuresound.com/mp3/attach-jes2.mp3]
——————————————————————————————
[audio:https://obscuresound.com/mp3/attach-kar2.mp3]
——————————————————————————————
The Attachments – F-Train Girl
[audio:https://obscuresound.com/mp3/attach-ftr2.mp3]
——————————————————————————————
also: Ha ha ha
Mike Mineo
I'm the founder/editor of Obscure Sound, which was formed in 2006. Previously, I wrote for PopMatters and Stylus Magazine. Send your music to
[email protected]
.