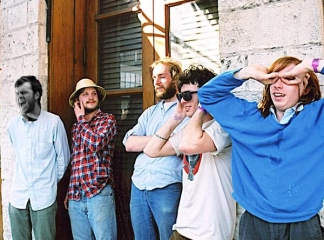 If you are a reader of more than a few music blogs, you are probably familiar with Dr. Dog. The quintet from Philadelphia has been creating all sorts of buzz, online and off, with their newest and fourth album, We All Belong. These boys most likely have their eyes widened in awe of the reviews they are receiving, with such publications as Rolling Stone and Entertainment Weekly already proclaiming We All Belong as one of the most enjoyable indie releases of the year. Though the five members have always been recognized around Philly as a talented group of songwriters, their national reception just began to pick up steam with the release of their fourth album in 2005, Easy Beat, which was a collection of very unique pop songs with lovable hooks and compelling melodies, all layered with a pinch of eccentric songwriting that echoed the greatest artists of the 60s and 70s. The band formed in 1999 when guitarist Toby Leaman and drummer Scott McMicken (half of the Philly-based classic rock revivalists Raccoon) decided to start another project on the side that would serve as an outfit for their more ambitious and experimental songwriting. This idea formed after the two recorded the 35-track The Psychedelic Swamp in their basement, which would later be self-released as Dr. Dog's debut in 2001. Seeing the material as far too exotic (and perhaps too brilliant) for Raccoon, Leaman and McMicken took Dr. Dog into full initiative after gathering guitarist Doug O'Donnell, keyboardist Zach Miller, and drummer Juston Stens.
After wrapping up Raccoon with its final album, Strange Terrain, in 2002, the duo decided to devote their entire work ethic to Dr. Dog, self-releasing Dr. Dog's second album, Toothbrush, that same year. By the end of the year, even with four commendable albums from two projects on their resume, Leaman and McMicken had yet to break through to the masses. Their big break came in 2004 when a certain respectable friend finally gave the band their deserved recognition. Jim James of My Morning Jacket had been a fan of the band ever since the days of Raccoon, eventually willingly offering Dr. Dog an opening slot on My Morning Jacket's tour at the time. Critics and fans alike finally got a look at the oddballs from Philly on the tour, building up a consensus that the band wasn't quite used to for their upcoming album: a little thing called "anticipation". After former Raccoon bassist Andrew Jones replaced Doug O'Donnell, Dr. Dog's prominence began to rise even more steadily with news of their third and most anticipated album. Easy Beat was Dr. Dog's first album that was not self-released, also being the breakthrough hit that earned them their eventual recognition. Though the album grouped them with comparisons to the Olivia Tremor Control and other E6 recording artists who reveled in 60s-esque pop, Dr. Dog were also highly original with their lucrative song structures and capricious vocal melodies. In addition, unlike most of these 60s idolizers, each of Dr. Dog's songs sounded indubitably distinctive from each other, creating an extremely solid album in Easy Beat.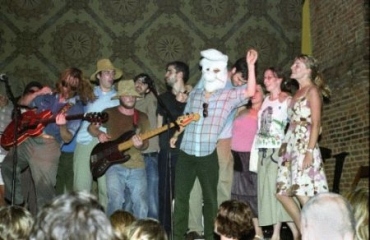 When We All Belong was released in February, I was quite surprised at the band's ability to maintain their eccentric appeal, all while increasing their professionalism in production and instrumentation. Recorded solely on a 24-track tape (a step up from their previous 8-track), We All Belong is certainly more polished than Easy Beat, there remains a sense of vigorous youth and excitement. Even if many of the songs are more straightforward and less experimental, I doubt you will hear many artists like Dr. Dog this year. I could sit here and compare songs like "Alaska" to The Band and "Ain't It Strange" to The Zombies, but that would serve as rather pointless. In this era of sloppy "art-rock" and "plastic pop", Dr. Dog brings back what made classic rock 'n' roll so memorable. All five members are concise instrumentalists and talented songwriters, always reaching for the most satisfiable and creative hooks that their capable minds allow. "Alaska" uses a singular set of organs and percussion to set the initial standard, eventually complimented by an eruptive guitar. You can just smell the hook about to enter the picture as the drums pick up speed and the guitars collide in a fury, with the vocals going from a slight murmur to an enthusiastic yelp of sorts in an instant. What is so commendable about We All Belong is that each and every song contains such a moment of complete and utter satisfaction, where a hook or a chorus just overwhelms you with an indeterminable fervor. "Ain't It Strange" uses the classic technique of layering a screeching guitar over a romanticized chorus, later touched by an assortment of sprinkling keys. It's one of the more immediately noticeable tracks on the album, presenting us with the band's lovable concept of songwriting once again.
The interesting "Die Die Die" has the potential to be a lo-fi classic, using nothing but an organ, occasional bursts of percussion, and fierce vocals that echo with sullen passion, "I don't wanna die in your arms, I just wanna die." As far as their modernized sound goes, "The Girl" is a perfect example. Both "The Girl" and the catchy "My Old Ways" utilize Zach Miller's keys to the fullest extent, displaying brilliant changes in key that sound entirely natural. "The Way The Lazy Do" also showcases keys exceptionally well, with the song slowly becoming my favorite on the entire album. The chorus in "The Girl" is another interesting point in the album, as the vocals let out a frustrated scream for help before another verse begins. The conclusion to the song is also highly enjoyable, serving as a recap with most of the band providing backing vocals the original melody. A prevalent theme on several songs in We All Belong is the belief that one can defy the odds and escape the low points in life with hard work, commitment, and passion. Such is appropriate for Dr. Dog, a band whose brilliance is just starting to get the deserved attention due their respectable ethic and talent. Although it is considered too early to declare such a thing, We All Belong is one of the strongest albums of the year.
——————————————————————————————
——————————————————————————————
——————————————————————————————
——————————————————————————————