Posted
April 8, 2007 by Mike Mineo
in Features
New Buffalo (Sally Seltmann) is Somewhere, Anywhere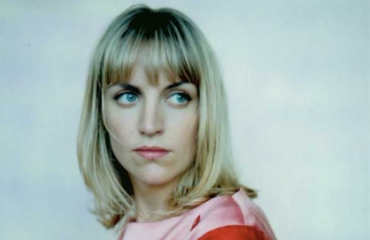 Sundays always seem to be the most appropriate day for lounging around. Even though it is officially the first day of a new week, many of us consider Sundays to mark the end of a hard and strenuous work week; one that is best rewarded by doing a limited amount of anything productive. I suppose being that many of you celebrate Easter, this particular Sunday is more of the same with the addition of chocolate, ham, and whatever else may entertain your taste buds. I figured featuring an artist who is light in nature would hit the spot today, as any loud dance-inducing madness would surely cause cramps caused by indulging on too much Godiva. Sure, Sally Seltmann (musical alias: New Buffalo) isn't going to blow anyone away with insane guitar solos or electrical explosions, but she has the ability to craft songs that are eternally memorable with a gentle appeal, complemented by her soft and airy vocals, a very appealing aspect that rarely goes beyond the intensity of a breathless coo. Her emotional durability stands out through her softhearted arrangements and ravishing lyrical content, often delivered in the form of a coherent storybook. Mixed together with the likes of a piano and an acoustic guitar, Seltmann has been playing the piano since she was ten years old, giving a good reason why keys are incorporated so flawlessly into each and every one of New Buffalo's songs. Though she is still relatively young at the age of thirty-one, Seltmann has been involved in the music industry for a respectable amount of time. Born as Sally Russell in Melbourne, Australia, she was involved in two Sydney-based pop bands in the early 90s, Lustre 4 and Spdfgh. Her talented playing style eventually caught the attention of Ben Lee a few years later, who began to work with Seltmann after he recognized her great potential. After marrying The Avalanches founder Darren Seltmann in about 1998, she began to work on her music more progressively with Lee and her husband. Seltmann's first release under the New Buffalo moniker was the track "16 Beats", which was released via Ben Lee's web site in early 2000. Her debut EP, About Last Night, was released two years later and was co-produced by her husband, in addition to containing the aforementioned "16 Beats". After the EP helped gain a credible fan base, Seltmann released her first full-length album, Last Beautiful Day, in 2004 under the Melbourne-based Dot Dash label. It received warm reviews and landed her spots in practically every major American music publication, granting her a desirable fan base overseas. She later released a self-titled EP in the summer of 2005, which included "Inside (The Corrections)", a graceful song that featured Jens Lekman. Late last year, she announced that her second full-length album would be released in 2007.
Somewhere, Anywhere was released a few weeks ago in March, following the anticipation gained from her solid debut. It's a fairly short effort, with ten tracks measuring out to be slightly over thirty-five minutes. Hold no fear though, as that is almost exactly the same as Last Beautiful Day's length of thirty-six minutes, and we all know how well that turned out. New Buffalo is best served in small doses either way, as Seltmann's style is very consistent through each and every song. Laden with a light touch of keys, her weightless vocals provide as scenery to the accompanying piano and acoustic instruments surrounding her. Backing vocals are also used prominently throughout the album, incorporating itself flawlessly into the main setting. For her adult contemporary sound, her influences have a very wide range. She is a fan of a variety of genres, from classic songwriters such as Irving Berlin and Gershwin to modern bands like Pavement and Sigur Rós, all of which she claims to have helped her develop as a songwriter. Her development in Somewhere, Anywhere may not be very noticeable at first, though a careful analysis will reveal that her song structures hold much more variability and appeal, throwing in that appealing factor of unpredictability in most songs. "Cheer Me Up Thank You" is the first single from the album. It's a great showcase of the importance of backing vocals on the album, as they help establish the primary melody with the combination of keys. This is one of the more simplistic songs on the album but it remains very satisfying. "Stay With Us" is bleakly beautiful from it's opening moments, creating a barren landscape with the hush of Seltmann's angelic vocals and the nimble touch of a subdued piano. Though the instrumental variability only shows face in the conclusion of the song, Seltmann's vocal impact carries enough strength to make the song both haunting and extremely memorable. The slight strain of an organ or even a light synth are the only additional factors to Seltmann's voice and her skills on the piano. "Emotional Champ" is more free-spirited, showcasing a quicker piano arrangement wrapped in the backing instrumentation of several other piano tracks, self-created backing vocals, and even the slight murmur of brass. Seltmann's lyrical impact is as durable as ever, being at her most personable in notable tracks like "Stay With Us", "Versary", and the heartbreaking "I'm The Drunk and You're The Star", displaying the emotion of human regret in full capacity. Somewhere, Anywhere is an improvement on most levels from the previously impressive Last Beautiful Day, showcasing Seltmann's vocal beauty, lyrical depth, and alluring piano arrangements to the fullest extent.
——————————————————————————————
New Buffalo – Cheer Me Up Thank You
[audio:https://obscuresound.com/mp3/buffalo-che.mp3]
——————————————————————————————
[audio:https://obscuresound.com/mp3/buffalo-sta.mp3]
——————————————————————————————
[audio:https://obscuresound.com/mp3/buffalo-emo.mp3]
——————————————————————————————
Mike Mineo
I'm the founder/editor of Obscure Sound, which was formed in 2006. Previously, I wrote for PopMatters and Stylus Magazine. Send your music to
[email protected]
.