Posted
April 3, 2007 by Mike Mineo
in Features
The Mother Hips Release Sixth Album, The Crystal Flake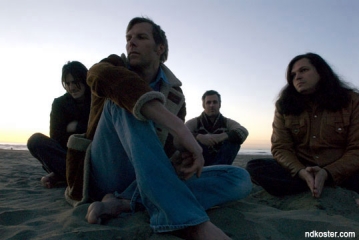 We all love the typical history of a successful band, even if it appears to be a mere fairy tale to the legions of other struggling musicians. You know the gist of it — start in a garage with a few friends, play at a few small venues and bars, attract the attention of some promoters and big-shots, and eventually release a handful of acclaimed albums, winning a desirable fanbase. Oh yeah, playing alongside acts such as Wilco and Johnny Cash wouldn't be so bad either. Though it doesn't apply to many, this is the story of The Mother Hips, a band originally from Chico, California who started out small and eventually became one of the most respectable rootsy-rock bands of the 90s. If the sales don't reflect it, their ceaseless fanbase and supporting cast of prestigious musicians certainly does. The band originally met in 1991 in the dorms of Chico State, with vocalist and chief songwriter Tim Bluhm coming together with guitarist Greg Loiacono, bassist Isaac Parsons, and drummer Mike Wofchuck, all with a shared admiration for artists like Neil Young and the Beach Boys. After building up hype throughout the area with their lively local shows, the band released their debut album, Back to the Grotto, a year later. The album had a rough feel with amateur production, though the melodies were distinct and memorable, with hooks that rang out with a bursting passion. Noticing their minor but noticeable flaws in the debut, the four-piece waited three more years to release their sophomore effort, Part Timer Goes Full. As the album title suggests, it was an indication that The Mother Hips gained enough confidence in their songwriting to express their desire to devote all of their time, energy, and focus on the band. It was a breakthrough that propelled the bands to a new area of attention, stretching their fanbase outside of the Bay Area in their native California. It was also their first release under a major label, being Warner Bros. Records. With their new relationship with American Recordings (Warner Bros.) in hand, they played slots with Wilco and Johnny Cash, creating quite a surreal atmosphere for the four friends from Chico. For the next two years, they released two albums: Shootout and Later Days. Shootout was another successful step forward in artistic recognition, though the lack of sales caused a drop from the Warner Bros. label. Later Days is considered to be the band's worst effort. To that effect, the songs aren't bad at all. It's just that it sounded much too similar to their previous material, sounding as if the band ceased an increase in creativity. During the album, drummer Mike Wofchuk was replaced by John Hofer. After Later Days, the band took another break, waiting four years to release their fifth album, Green Hills of Earth. Undoubtedly, it was the best effort of their career. Abandoning their focus on psychedelia and jam-rock, The Mother Hips focused more on power pop and accessible hooks, creating an addicting array of fourteen pleasurable songs. Despite the album's success, guitarist Greg Loiacono left the band, creating a temporary hiatus for the band during their peak. Despite the momentary absence, the band reformed during 2005, with all of the initial members except bassist Isaac Parsons returning. Paul Hoaglin took over as full-time bassist, with John Hofer resuming duties as full-time drummer. The EP, Red Tandy, was released later that year directly after the reformation. It was a very impressive release, displaying how the band did not skip a beat during their three year absence. The sound was in a similar aspect to Green Hills of Earth, delivering more emphasis on power pop and direct hooks. After much anticipation, the band released their sixth album, Kiss The Crystal Flake, today under Camera Records.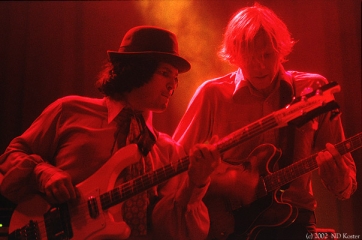 Much like their previous two releases, The Green Hills of Earth and the Red Tandy EP, Kiss The Crystal Flake continues with the band's sensible pop approach, which they perfected in 2001. Produced by the band and Dylan Magierek, it's a very strong effort that lives up to the expectations pushed upon them by their previous handful of acclaimed releases. "This album is almost like a debut album for us," Tim Bluhm said, "it is very different from anything we recorded in the past." While Bluhm may be more indicative on that quote toward the crisp production, the band continues to churn out some very catchy songs, reminiscent of their California stereotype. This can be especially heard in "Time We Had", the third track off of Kiss The Crystal Flake. Bluhm and company showcase a tendency for irresistible vocal melodies, even drawing comparisons to a less distinctive Brian Wilson for a change in pitch during the fitting chorus. If you listen to "Time We Had" and then listen to a song that The Mother Hips wrote sixteen years ago, the difference is quite extraordinary. The developmental growth that The Mother Hips have demonstrated over the years is very gratifying to watch, as die-hard fans can attest to. "TGIM" brings us to a slower approach, with several halted guitar chords constructing a very standard song that is more reflective of the band's middle years of Shootout or Later Days, even reaching a glimmer of psychedelia with the repetition lingering in the conclusion. The emotional output in "Not So Independent" is satisfying enough, with Bluhm's best moment coming when he matches the melodies of his guitar and vocals to create an enjoyable collision of sorts. The Mother Hips' tendency to create genuine pop hooks has not diminished quite yet. Even if their age is slowly beginning to show, they can still compete with the younger and more acclaimed acts. It's no secret that Kiss The Crystal Flake contains many songs that may be initially difficult to differentiate from one another, though further listening will reveal unique hooks and innovative twists that make the album a rewarding experience for new and old fans alike.
——————————————————————————————
[audio:https://obscuresound.com/mp3/mother-tim.mp3]
——————————————————————————————
[audio:https://obscuresound.com/mp3/mother-tgi.mp3]
——————————————————————————————
The Mother Hips – Not So Independent
[audio:https://obscuresound.com/mp3/mother-not.mp3]
——————————————————————————————
Mike Mineo
I'm the founder/editor of Obscure Sound, which was formed in 2006. Previously, I wrote for PopMatters and Stylus Magazine. Send your music to
[email protected]
.