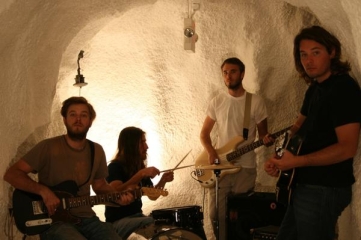 Unless you were an only child, many of us remember sibling rivalries as an aspect of childhood when a brother or sister would strive to achieve the brightest glisten in the eyes of their parents. This memorable attribute can often provide for a strenuous work environment between siblings at a later age, regardless of how much they admire or love one another. The three brothers in Brown Shoe most likely grew up under similar circumstances, worshiping the same musical idols and perfecting their instrumental talents in a synchronized atmosphere. While it would be assumed that such a childhood would equate to constant competitiveness between each of them, the three brothers chose instead to integrate their skills and work together in a musical project, pushing aside all assumptions that it would be impossible for siblings to also be a collaborative creative force. While Ryan, Aaron, and Bryson Baggaley comprise 75% of the members in Brown Shoe, the final spot is filled by Jim Mikesell, a proficient drummer who the band finds close enough to nearly consider him a fourth brother. Brown Shoe's beginnings spouted in a garage in Folsom, California, abandoning the stereotypical upbeat surf pop sound of California for a more ambitious and darker sound more reminiscent of late 80s post-punk and mid-90s Brit-rock. The foursome released their debut full-length, The Wheat Patch, last year to receptive support from college radio stations and local fan bases. It also caught the attention of producer Duane Lundy, who helped the boys produce their follow-up album, Vanity, due for release later this year.
With all four members having a long history with one another, the resulting chemistry often plays off well with their noticeable influences and matching musical fervor. Vocalist Ryan Baggaley has a distinctively emphatic croon that compares to My Morning Jacket's Jim James, sounding resonate and powerful through efficacious guitars, bass, keys, xylophones, and drums. While the likeness to James is certainly representable, Baggaley is not nearly as overpowering in pitch or emotional release as James, even though such a comparison is difficult for anyone to match consummately. Even if his vocals lack the raw energy or varying pitch tones of Jim James or Sigur Ros' Jónsi Birgisson, they are passable enough to appreciate through the thickly played instrumentation. And it in is that particular instrumentation where the true strength lies in Brown Shoe. If they were to one day transform themselves into an instrumental post-rock band, you should expect me to one of the first in line for the next release in that specified style. All four members of the band play at least two instruments on the album, showing that each one is a highly practiced musician with capable understanding of rhythm, songwriting, and key transition. While Ryan Baggaley occasionally surprises with vocal melodies that lifts songs on Vanity like "Holiday in Cape Town" and "Heavy Handed" to new heights, Brown Shoe sounds most effective in an entirely instrumental atmosphere.
While the majority of songs on Vanity are accompanied by vocals, there are rare and enjoyable circumstances where the songs are almost entirely instrumental. The simplistically titled "II" is one of the few that encompasses this, being a vivid depiction of Brown Shoe's musicianship and devotion. The song initially begins as a fairly linear guitar-led instrumentation but it is eventually picked up with a hectic rhythm section, powerfully led by the bustling drums of Jim Mikesell, posessing a similar talent to My Morning Jacket's highly underrated drummer Patrick Hallahan. Though "II" is the only song on Vanity that is entirely instrumental, the volatile gem "Ness" . However, do not take my admiration for the more instrumentally involved tracks as an insult to Ryan Baggaley's voice. His stylistic approach on songs like the fast-paced inaudible muttering on "Désolé" and his backing vocal accompaniment on the humorously titled "Low-Fi Audio File" are vital to the song's enjoyable successes. Even though you will not find any radio-friendly pop songs typically derivative from Brown Shoe's native California, their second album, Vanity, is quite an enjoyable record for fans of intricate instrumentation and soaring vocals.
——————————————————————————————
Brown Shoe – Holiday in Cape Town
[audio:https://obscuresound.com/mp3/brownshoe-hol.mp3]
——————————————————————————————
——————————————————————————————
——————————————————————————————