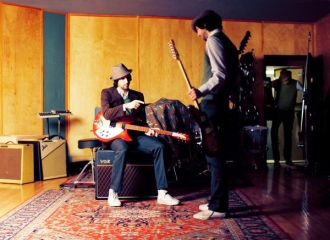 Lou Reed opened up his classic 1973 album, Berlin, with the lingering words, "In Berlin, by the wall, you were five foot ten inches tall." A native of New York City, Reed's lyrics were particularly striking at a time sixteen years prior to the abolishment of the Berlin Wall. Both politically eloquent and emotionally rousing, Reed's album depicted two troubled youths in a deep state of love, even while forced into the perils of drug addiction, abuse, and suicide with the pressure of the country's perilous past lingering on their minds. With lyrical intellect adorned with a political and emotional coat, Berlin was one of the first rock albums that interchangeably connected politics with natural human emotion, detailing the often overlooked sociological effects of an individual in the midst of a situation that renders completely uncontrollable. It was also arguably the first commercial album that effectively relayed the personal views of Germany's past from a New Yorker, as Reed was born in Brooklyn and grew up in Freeport. Now over thirty years later, Berlin has transformed into a thriving city where industry and positivity have regained a new form of power. Much like New York City, it has become the central thriving point of its respected country, both in terms of industrial and artistic production.
Jason Friedman, the lead songwriter for The Boggs, can relate to Reed's recollection thoroughly, even while Friedman has been placed in a less turbulent contemporary society. Based out of Brooklyn, Friedman relocated to Berlin for artistic intentions both revolved around music and video production after The Boggs' second album, Stitches. After sketching out the ideas for Forts, the Brooklyn-based group's third album, Friedman returned to his native New York to hammer out the details and record the final product. With an increased intellectual view of cultural diversity and domestic transition, Friedman appeared set to incorporate both his philosophical and musical learnings into their third album. Seeing the great potential that the first two Boggs albums held, Friedman once again gathered a few familiar figures from some very recently admirable acts, most notably Julian Gross of The Liars and David Lloyd of Cause For Applause. The first two releases from The Boggs were highly symbolic of great detail and dedication, with innovative production being shrouded by a variety of instruments ranging from brass and xylophones to bass and guitar. Despite the diversity and impressive use of range, the general view was that The Boggs were always a mere inch away from fulfilling their potential, with overambitious intentions portraying a generally unorganized collective of oddball pop. While their musical intellect was certainly representable, Friedman and his backing band often shrouded their most memorable hooks through numerous layers, producing what quite frankly was a very messy album in Stitches.
Hoping to correct this criticized form of disorganization, Friedman's Forts holds a handful of songs that truly capture the intended essence of The Boggs. The self-titled opening track finds the band in form consistent to their first two releases, compiling non-traditional percussion over layers of keys and guitar swipes that sound nearly in the form of a rich tribal dance. "Forts" does indeed hold an infectious chorus that boasts a diverse transition from the initial verse; an aspect that the band previously struggled with on their first two albums. Surprisingly, the next track on Forts, "Remember The Orphans", explores entirely new territory altogether for the band with vocals that sound oddly like Damon Albarn's seventieth project, masked under accompanying female shouts that are regularly consistent throughout the album. The vocal approach also applies for the volatile "Arm In Arm", a track led by a distinctively animated distorted guitar that treads through the track in a consistent manner, with an increase of rapidity signaling an eruptive chorus laced with Friedman's husky vocals. Imagine such a thing. A contemporary band based in New York and Germany that sounds like a traditionally jumpy mid-90s British experimental pop band. Even so, this eccentric pop song is one of the gems on the often inconsistent Forts, an album that contains many of the same weaknesses that the first two albums possessed despite excitable songs like "Remember The Orphans" and "Arm In Arm".
The first half of Forts is actually quite good in being the best batch of songs the band has ever written. The dramatic strings touched in "One Year On" provides a nice setting for a new set of vocals that sounds like an unconventional cross between Stephin Merritt and Stuart Stapley. Whether it is easy to adore or dislike the constant etches between Albarn, Merritt, and Stapley, those searching for forms of consistency will not be enamored with Forts. The latter half of the album is filled with dull acoustic attempts like the repetitive "After The Day" and the incoherent jumble that is "Melanie In The White Coat". It gets no better with "If We Want (We Can)", sounding like a drunken sorority with access to a furious percussionist. While The Boggs create several interesting innovations and excitable circumstances with tracks in the more coordinated vein of "Bookends" and the structural consistencies of "Remember The Orphans", it appears that The Boggs' only form of significant growth has come in the increased patterns of well-synchronized rhythm sections and early Brit-pop comparisons. While their potential continues to glow brightly, it will take quite a bit of newly constructed musical unity and organization to achieve their evident goal of being mentioned in the same sentence with Xiu Xiu, !!!, The Liars, and other groups in the upper tier of enjoyably unconventional pop music.
5.8/10
——————————————————————————————
The Boggs – Remember The Orphans
[audio:https://obscuresound.com/mp3/boggs-orp.mp3]
——————————————————————————————
——————————————————————————————
——————————————————————————————