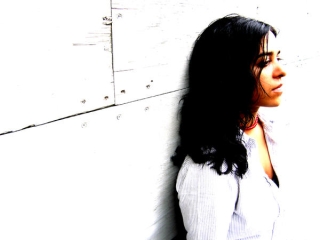 Parents can often assume their children's identity, making assertive decisions concerning their child's education, religion, and even artistic interests. Swati Sharma grew up with a familiarity to the spotlight, largely attributed to her "old-fashioned Indian parents" and their expressive desire for her to become a proficient musician, attempting to instill in her the motivation to become an accomplished trombone player. Sharma certainly showed natural skill at a young age, playing Carnegie Hall at the age of eighteen and being offered a full-fledged scholarship to Julliard. Despite her evident talent, Sharma's viewpoints were similar to most average teenagers growing up in New York City. Expressing a desire to rebel and follow her own distinctive path, Sharma decided to give up trombone and never touch it again after her impressive performance at Carnegie Hall, immediately choosing instead to focus on the guitar. While the decision was to her parents' dismay, Swati eventually proved that the shift in musical style fit her outspoken personality best. Following in the footsteps of influential female alternative songwriters Joni Mitchell and PJ Harvey, Swati mastered the guitar quickly and began writing acoustic songs with a natural passion. Much like Joni Mitchell, Swati is known to use a twelve-string guitar with open tunings, often laced with effect pedals. Though she would later incorporate keys and percussion into her work, Swati's initial beginnings in her self-titled debut album in 2005 were often bare with a natural melodic charm, showcasing a strong songwriter resembling the rare combination of talent for both melody and engaging lyrical content. As contradictory as it may sound, Swati has defined her sound as "acoustic metal", though it sounds more realistically like an edgier version of today's female alternative songwriters. If one were to specifically compare, Swati could resemble a rougher version of Tori Amos or a less ambitious PJ Harvey, though Swati's naturally gifted approach makes it truly and justly her own.
An openly gay artist, Swati shows no hesitation to reveal her personal life in interviews and conversations. Whether she informs listeners of unique experiences, such as her first orgasm at the age of five, or her hitting on babysitters as a young child, Swati is a fascinating character who incorporates her entertaining confidence in her often poetic lyrics and melodic charm. She often incorporates touches of sarcastic romanticism to her lyrical content, frequently criticizing society's flaws, whether it be the inhumanity of superficiality, dishonesty, or baseless hate. Swati's second album, Small Gods, appears poised and truthful from an artist who never appears afraid to speak her mind. The bold statements begin abruptly on Small Gods, with the opening self-titled track addressing everyone's favorite sociological topic: superficiality. "To me, ["Small Gods"] means the little things people worship in life," Swati said in an interview, "things that seem so insignificant and they make them godly – like money, real estate, dick size." While the specific artistic statement has been done a countless number of times before, Swati utilizes a realistic depiction through political awareness, harmonic intellect, and vocals that give off an impression that signifies both experience and intimidating yet controversial perspectives on life. However, "Small Gods" is also enjoyable for instrumentation alone, sounding quite catchy even for those who find her lyrics to be a non-attentive entity.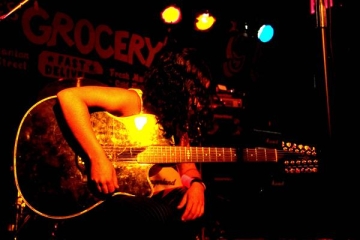 In one of the album's more story-driven songs, "Blackjack" details an actual night that Swati spent with a prostitute out of pure loneliness and desperation. While in Atlantic City, Swati apparently met a "call girl" and asked her for a form of approachable entertainment, being a need for natural affection over sexual desire. "I said [to the prostitute] I'm just looking for you to hold my hand, and we played blackjack at Bally's. Then I drove her home," Swati later recalled, "I feel like I found some sort of connection and unconditional love with a stranger. She stayed the whole night with me playing blackjack and she only charged me for one hour." While the dragging acoustic guitar demonstrates the same form of desperate loneliness that Swati's effective recollection portrays, many of the songs on Small Godsare intertwined with folk-oriented verses where Swati's recalls anecdotes, only later to be complemented by a slightly infectious chorus uplifted by a variety of effects and vocal reverb. "Blackjack" specifically uses a raise in vocal emotion, faint strings, and a gradual increase of guitar harmonics. One of the more emotionally touching songs on the album, "2 O'Clock In The A.M.", pushes all sexual or perverse statements aside for Swati's understanding of human nature. The song was apparently an inspiration from the lights on the rooftops of New York City, which Swati described as convincing her that, "we're all connected in the same storm."
Unlike most contemporary alternative songwriters, Swati steers away from most sappy songs about romance. Though she has admitted that she was involved in a serious romance from the age of sixteen to twenty-two and continues to consider romantic relationships a vital component to happiness, Swati prefers to not hold on to a past that cannot be altered. "I don't like to hear myself get cheesy," she remarks, "when I start talking about relationships, I can get sappy." Even so, Swati admits that "Stay" is one of those rare emotional ballads. Borrowing an effective string arrangement from Jane Scarpantoni, the song is Swati's own approach to a break-up ballad; shadowing the effects of an individual following such a traumatic event, which in Swati's case intentionally envisioned "killing brain cells." Other enjoyable tracks on Small Godsincludes the animated closer, "New Me", and a cover of Springsteen's "I'm On Fire", an interesting take on Bruce's classic using Swati's repertoire of vocal boldness and melodic wit. While Swati's outspoken nature may tend to frustrate those searching for an emotionally "clean" tactful singer-songwriter, there is a genuine nature in Small Godsthat makes Swati's second album a vast improvement from her fairly linear debut.
——————————————————————————————
——————————————————————————————
——————————————————————————————
——————————————————————————————