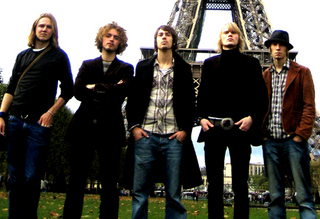 Most of us have grown accustomed to hearing a set standard in Swedish music over the past few years. Whether the typical Swedish artist delivers clean indie-rock like Peter Bjorn & John and The Concretes, lyrically exuberant folk-pop in the form of Jens Lekman and Loney, Dear, or orchestrated catchiness to the likeness of I'm From Barcelona and Salem Al Fakir, Swedish music has grown to become more easily identifiable upon initial listen in the past decade. Oddly enough, The Sacred Sailors cannot be grouped into any of these enjoyable Swedish clichés. Based out of somewhere near Gothenburg, Sweden, these five music-loving gentlemen instead chose to savor classic rock 'n' roll influences like Bob Seger, The Rolling Stones, Lynyrd Skynyrd, and Grand Funk Railroad; more in the vein of American or British artists. Instead of charming an audience with sugary synths or soft acoustic strums, The Sacred Sailors guarantee plenty of "sex, blood and rock 'n' roll music!" Well, perhaps that would be putting it a bit too bluntly. Unfortunately, due to their evidently futile attempts to attempt in several songs to sound like a modern Creedence, the comparisons that The Sacred Sailors will receive to the laughable Jet is imminent. However, the main difference between the two is that The Sacred Sailors actually possess enough style and swagger to pull it off.
The Sacred Sailors formed in 2001 and began attracting labels with their demo release in late 2003, later signing to Lonestar Records. Their first album, We Gave It All To You, came in November of 2004. It was fairly well received and led to an all-out European tour, giving the five boys a bit of crafty experience that they utilized in the production of their second album, Golden Dawn. Released last year in Sweden, it should see a re-release this year in the USA and I would not be surprised to hear some receptive radio play considering the current domestic appeal for throwback aggression. Honestly, The Sacred Sailors bring absolutely nothing new to the genre. Their approach, as generic as it is, holds a goal that is primarily intended to bring the simplest enjoyment out of their listeners. I suppose you could call them a guilty pleasure if they gain popularity stateside, though bands from Sweden rarely do hit the national mainstream these days for some undeserved reason. I suppose it is an odd alternative though, as I believe the appeal that American audiences will find in The Sacred Sailors is comparable to that of conversing with some young busty blond woman working at Hooters. The level of intellectuality is low, it does not require much thought to enjoy, and superficial tendencies reign supreme over honest motives.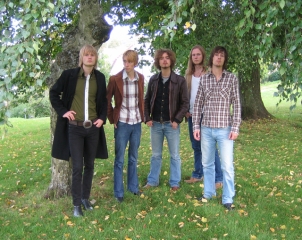 The vocals of Manne Olander are certainly suitable for the band's gritty rock 'n' roll style no matter which way you look at it. He has the appropriate amount of snarl and twang to carry the group's bodacious tendencies through repetitive guitar riffs, bustling rhythm sections, and hooks that are built purely through melodic transition. The standard for most songs from The Sacred Sailors is typical verse-chorus format, followed by an enjoyable guitar solo before shifting back toward the introductory format. Sure, it is predictable but songs like "Ice Cold Water" provide for natural fun nonetheless. Olander's vocals are not for everyone and some may consider his Axl Rose-like shouts to become annoying tendencies at times, but fans of Guns N' Roses or any glam-revival bands should find enjoyment in Golden Dawn through its associated vision. The complaints that all the tracks on Golden Dawn sound the same will be evident as reviews begin to follow through, as some tracks like "Greed" or "Vagrant Winter" contain melodies and lyrics that are laughably over-used. With all of my gripes, I have to give a nod to guitarists Christopher God and Olle Hanson, as their solos are one of the bright spots on an otherwise generic album.
Sure, this is not my particular cup of tea but I know several people who never tire of this flashy rock 'n' roll throwback brand. While I do believe that The Sacred Sailors have the ability to produce catchy songs like "Ice Cold Water" and "All The Way Home" through vocal angst and proficient guitar work, they simply need to look for a more diverse sound in their upcoming albums. I would not be posting this if I did not believe in their potential and I can only imagine how difficult it must be for them to live up to influences that are not even remotely native. Either way, they an evident example that influence is universal and country-oriented musical clichés are not always precise. Though The Sacred Sailors remain an indefinite work in progress, I honestly would not be surprised if they reign the charts in a few years or so if they discover that originality plays a large role in musical success, even if your primary objective is to mimic your past influences. I have heard what this band is capable of. The question is simply whether or not they hold enough effort to turn it around to become one of the first acts out of Sweden to truly achieve success using Western tendencies.
——————————————————————————————
The Sacred Sailors – Ice Cold Water
[audio:https://obscuresound.com/mp3/sacreds-ice.mp3]
——————————————————————————————
The Sacred Sailors – All The Way Home

[audio:https://obscuresound.com/mp3/sacreds-all.mp3]
——————————————————————————————
The Sacred Sailors – Certain Kind

[audio:https://obscuresound.com/mp3/sacreds-cer.mp3]
——————————————————————————————