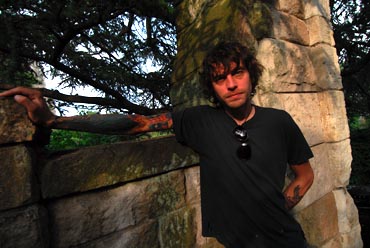 John Bustine fits the bill of a stereotypical folk artist. With a constant five o' clock shadow and a head of hair that looks like it was combed by a rake, Bustine looks simply natural with an acoustic guitar in his hands. And, of course, like any quality folk songwriter, Bustine certainly has his share of stories to tell. He has dabbled in every thinkable occupation throughout his travels of the United States, working as anything from a bookseller and a breakfast cook to a pastry chef and a trophy engraver. Despite his constant travels, his homegrown roots are traced back to New England. After his educational needs ceased, he traveled wherever the road took him. Bustine first made his way to San Francisco, living the life of, as he puts it, a "welfare king".
After spending a bit of time in Salt Lake City, Bustine made his way back to New England (where he worked those odd occupations involving pastries and trophies). Perhaps feeling a bit patriotic, he then decided to head down to the nation's capital of Washington D.C. Tired of working mid-wage in tireless jobs, he took up his childhood craft of songwriting. D.C. must have finally served as the perfect environment for Bustine and his tenderly executed blend of folk, country, and indie-rock. Alongside the recently featured Let's French, Bustine is yet another up-and-coming act in the political heart of the United States. He reminds me of a perfect blend of Ryan Adams and Rocky Votolato, both skilled country-folk songwriters who offer prosperous quality in the prime categories of instrumentation, lyricism, and genuine emotion.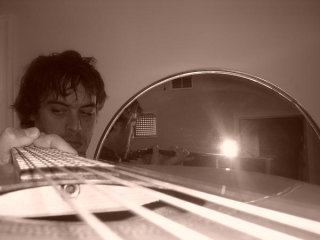 Like most songwriters focused on the aspects of folk and country, Bustine's instrument of choice appears to be the acoustic guitar, with a variety of others supplementing an original melody cemented by the acoustics. On his debut album, Waltzes & Pleas, this sentiment is echoed immediately in the opening track, "This Guitar Says I'm Drunk". The song is a lyrical portrayal of humane regret and Bustine sings it with passion and thorough establishment. "If there was time to walk backwards in my mind," Bustine sings over a bare acoustic guitar. "If I could find that first wrong turn I made." When the actual electric instruments and percussion becomes involved, Bustine's rough, bar-room vocals in turn relay the proper intensity and both volume and emotion is increased. The majority of songs on Waltzes & Pleas act in a similar format. Laced with melancholic thoughts of regret, lost love, and pleas of forgiveness, this album is entirely genuine. Bustine sounds authentic and harmonious through his emotionally wounded lyrics and memorable songcraft.
If the brilliant melody contained in "Miss Amputee West Culver County" does not tug at your heart in the slightest degree, I would recommend seeing a cardiologist. My personal favorite on Waltzes & Pleas, this notable track sees John Bustine at his absolute finest in all aspects of quality songwriting. Interweaving a simple but effective guitar-based melody over the warm embrace of faint keys, it acts as Bustine's personal desire to forget a one-sided love. The chorus is touched by a duet between Bustine and Helena Arlock, adding a variety of guitar tracks as each new chorus approaches "The world is your oyster but it's one better off left alone," is one of the many romantically heart-wrenching lines from the exceptional "Miss Amputee West Culver County", detailing beauty in numerous shapes and sizes. While this is one of the many romantically involved tracks, Bustine has incorporated a slight religious overtone to a handful of tracks on Waltzes & Pleas. Perhaps that is why he calls the album a collection of "drinking songs for children". Well, considering the volatile lyrical content of the hidden track, "Tough Fucking Shit", I think it is easy to establish that the target audience is not for kids, sober or not.
For the first few moments of "Jesus, Jesus Not Again", I could have sworn that Bustine had somehow gotten Neko Case to supply some vocals for the track. After glancing at the liner notes while noticing that the voice was slightly higher than Neko's usual tone, I recognized that it was merely a different singer who resembled the respectable singer-songwriter through both country-tinged delivery and lyrical emotional baggage. Going simply by the name of Rose, this elusive vocalist carries the track in a duet with Bustine, with the instrumentation showing shades of Springsteen when Bustine's harmonica kicks in over the electric renditions and consistent percussive patterns. Though some songs like "Can You Hear Me, O Lord?" and "Lo! The Great Brown North" remain too acoustically bare for my own personal tastes, the majority of songs displayed on Waltzes & Pleas are emotionally nourishing. Bustine's mature delivery is rare for a new artist, marking his potential as something to keep an eye out for. Waltzes & Pleas is set for a September 18th release.
——————————————————————————————
John Bustine – Miss Amputee West Culver County
[audio:https://obscuresound.com/mp3/jbustine-mis.mp3]
——————————————————————————————
John Bustine – Jesus, Jesus Not Again

[audio:https://obscuresound.com/mp3/jbustine-jes.mp3]
——————————————————————————————
John Bustine – This Guitar Says I'm Drunk

[audio:https://obscuresound.com/mp3/jbustine-thi.mp3]
——————————————————————————————