Posted
June 16, 2007 by Mike Mineo
in Features
Picastro, Owen Pallett, Jamie Stewart, and their Whore Luck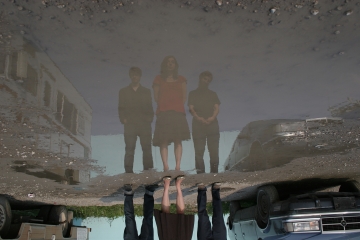 Some bands just have to work harder than others to achieve success. It is a common fact that is based on luck, drive, and, most importantly, how important individuality is to the members at hand. When Picastro released their debut in 2001, they could have easily latched onto what was hot at the time. Within the same several months that new art-rock acts like The Strokes, The Libertines, and The French Kicks were unveiling themselves as the first true indie fixtures of the decade, it seemed to be an accessible time to be a new artist. Post-punk idolizers knocking around excitably simplistic riffs to create concisely catchy songs were the norm at the time and it was surprising to see a new band who dared to actually explore an entirely new sound. Picastro emerged with Red Your Blues in 2001, an album that abandoned all materialistic desires for radio play, instead focusing on the artistic intent to relay heartwrenching emotions of melancholy and regret through intricately layered instrumentation primarily consisting of strings, guitars, and percussion. The emotions are brought out by frontwoman Liz Hysen, a gifted songwriter who sings and plays guitar on the majority of Picastro tracks. She is the definition of an individual who does not let obstacles stand in the way of their dreams. Hysen is genetically deaf, a trait that is simply the most unpropitious trait for an up-and-coming musician. Regardless, Hysen does not want sympathy nor special treatment. She is proving that anyone with drive, regardless of most circumstances, can accomplish what they desire with the right mentality. (UPDATE: As it turns out, Hysen is not deaf. Just a media mix-up (her family genetically is, not her). I apologize for the error. Regardless, her efforts are very impressive.)
During their eight years or so in existence, the Toronto-based Picastro has had a revolving door of members circulating around the central fixture of Liz Hysen. Currently, the lineup consists of guitarist/vocalist Hysen, cellist Nick Storring, and drummer Brandon Valdivia. The three are the main participants in the group's third album, the bleakly titled Whore Luck. Those are certainly not the only three lending a hand though, as Picastro has somehow enlisted the aid of two figures who are known throughout several indie circles as the epitome of honest talent. Perhaps it was the downcast scenery that drew them in. Even though Hysen finds it "shocking", people have told told her that Picastro's music is often "too depressing." Oh well. Their loss. For fans of Picastro, it may come as no surprise that string whiz-kid Owen Pallett collaborated with Storring to write and play all of the string sections on the album. Pallett was a former member of the band, making Final Fantasy (his solo project), Arcade Fire, and Picastro his main sources of steady work, even if that is the tip of the iceberg in regard to his list of musical credits. Pallett could be considered the Van Dyke Parks of this decade, being the most in-demand artist specializing in strings throughout most independent music groups. The other collaborator is a bit of a surprise.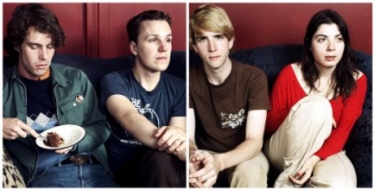 Xiu Xiu's Jamie Stewart breezes through the haunting cover of The Fall's "Older Lover" with natural ease, seemingly used to the atmosphere of sullen emptiness and loneliness, all dealt under a perversely creative cause. Vocals barely above a whisper, the dual vocalists work in a joint effort under a brooding piano and experimental percussive elements, revealing topics of Stewart's usual lyrical substance in regard to fetishes, teenage sex, and pedophilia. Somehow, he makes such disturbing elements seem intellectually sagacious, serving as more of a satire than anything and most likely just how Mark E. Smith intended it. Stewart's vocals are merely a backdrop but his musical influence is noticeably profound and evident. The ominous atmosphere relived through "Older Lover" is extremely similar to the vein of Xiu Xiu's fantastic style, weaving initial minimalism through expanded layers that in turn bring a sense of chaotic urgency to tracks that, despite the eerily unconventional nature, come off as works of expression that echo a blatant distaste for contemporary society and the selfish ideals of the common individual. If "Wig Master" had more of a musical flow and "Yellow Raspberry" was less vocally up-front, "Older Lover" could had served as a distant cousin.
Like their previous two albums, Picastro's third effort is one of the most melancholic releases of the year. This is the type of music that makes Grizzly Bear seem somewhat optimistic. The strings, supplied by Storring and Pallett, are usually a main cause for this in partnership with Hysen's chilling vocals. "All Erase" is the definitive example of an effective Picastro track, incorporating Hysen's piercing cry of a voice over strings that boom and bustle hectically with ardent emotion. The strings utilized in tracks like the unnerving "Albonis" and the oddball experimental "Towtruck" has caused me to wonder if there is any genre that Pallett cannot tackle (UPDATE: The strings on "Towtruck" were arranged and played by Liz Hysen, later remixed by Dwayne Sodahberk. Hysen also did the string work on "Albonis" alongside Nick Storring). From the pleasant string-oriented pop songs of his solo project to the ambitiously familial epics of Arcade Fire, Pallett's masterful approach of lingering melancholy on Whore Luck is outstanding through his usual assortment of strings and theoretical grasp. It almost seems to make tracks like the more predictable "Friend of Mine" and "In The Weeds" come off as radio-friendly pop songs. Still, they remain ambitiously consistent, focusing on themes that cause people to lower their heads in shame. Then again, I suppose that someone who can cover Mariah Carey effectively using self-created loops can do just about anything. It is nice to see that Picastro is just as stylistically touching as they were in their first time albums. Their third consistent release in a row is a feat that is rarely accomplished nowadays, making the cause for admiration certainly justified. Whore Luck will be released on September 11th.
——————————————————————————————
Picastro – Older Lover (with Jamie Stewart) (The Fall cover)

[audio:https://obscuresound.com/mp3/picast-old.mp3]
——————————————————————————————
[audio:https://obscuresound.com/mp3/picast-all.mp3]
——————————————————————————————
[audio:https://obscuresound.com/mp3/picast-fri.mp3]
——————————————————————————————
Mike Mineo
I'm the founder/editor of Obscure Sound, which was formed in 2006. Previously, I wrote for PopMatters and Stylus Magazine. Send your music to
[email protected]
.