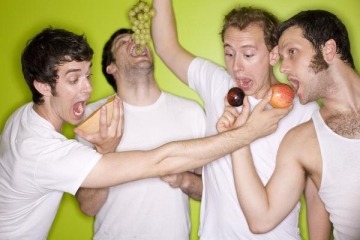 First of all, I will reluctantly admit that the above photo is not from the newest "Fruit of the Loom" commercial. As enjoyable as it must be to advertise t-shirts and underwear while eating fruit on television, the four men above are not actors. They are, albeit quite expressive, proficient musicians. Though they shoot some of the most unconventional promo pictures that I have ever come across, those men pictured are all members of Brooklyn's own The XYZ Affair. Also, I bet you would have never guessed by looking at them that they got their band's name from a high school history lesson because, as we all know, the actual "XYZ Affair" occurred in 1797 when France got a bit peeved over some evidence that showed America siding with Britain over France. Thanks Wikipedia! It is not surprising after all, as the members of The XYZ Affair all were knowledgeable enough to attend the prestigious NYU. NYU also served as the origination point for the band, as multi-instrumentalist Alex Feder, keyboardist/guitarist Russ Maschmeyer, bassist Chris Bonner, and drummer Sam Rockwell all met at the university sometime around 2000. The fellow Brooklynites hit it off quickly, writing songs at a rapid rate as their campus began to take notice. After releasing a few EPs, The XYZ Affair began to build a steady fan base around NYC with their catchy and accessible form of modern power-pop, eventually landing gigs at respectable NYC venues like the Mercury Lounge. They are currently touring the East Coast and are set to play a show with Dappled Cities on August 17th before they head down to Georgia for two gigs.
Though The XYZ Affair remains unsigned, that did not stop them from self-releasing their debut album, A Few More Published Studies. After several listens, it is safe to say that it should only be a short matter of time before a label picks them up. Delivering infectiously voluminous choruses over heavy power-pop, their music will draw immediate comparisons to Weezer, Ozma, and other geek-rock heroes of the 90s. Distinguishing their sound as "arena rock by music school kids", The XYZ Affair proudly pronounces their passion for arena rock and power-pop in each and every song on A Few More Published Studies. Much like the majority of Weezer albums, A Few More Published Studies does not reach even forty minutes in length, stretching across only ten songs. The XYZ Affair makes the best of the time spent though, as each song provides a newly individualized pop hook that allows for imperatively distinctive qualities, a trait that many artists foolishly overlook. Speaking of hooks, there are quite a bit of them on A Few More Published Studies. Unforced and whimsically refreshing, tracks like "Little Fool" and "Ideals" burst with raw power, presenting commodious groups of varying guitar riffs over reflective melodies echoed by illustrious vocals and vibrant keys. Given its factors of cohesiveness, "Little Fool" should be the blatant choice for the album's debuting single. Apart from its devastatingly infectious chorus, the added synth lines prove to be highly effective in relaying and enhancing an already stellar melody. The backing vocals are another impressive, subtly harmonizing in high-pitched croons of glee as The XYZ Affair takes a cue from one of their biggest influences in the Beach Boys. "The best thing that a girl can do," Feder sings during the soaring chorus, "is be a beautiful little fool."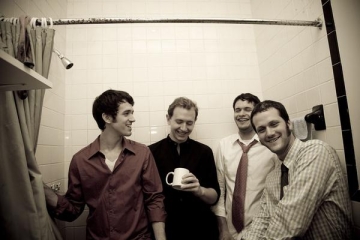 While hook-orienteds structural components prove to be a necessity in the production of successful power-pop songs, The XYZ Affair manages to make the common occasion fervent and exciting. The structural tendency of every song tends to be in the form of the conventionally repetitive verse-chorus-verse-chorus, though it is a rare occasion to expect less from a band of The XYZ Affair's stylistic nature. They hardly raise the bar in terms of innovation, but to many listeners it does and should not even matter. Most of the content on A Few More Published Studies is just catchy as hell regardless. If I were not aware beforehand, I would have most certainly mistook "Ideals" for an Ozma song. Serving up the typical makings of an epic 90s arena-rock/power-pop ballad, Feder supplements the latter part of the explosive chorus with a guitar solo that serves as a form of instant gratification. A similar formula is applied in the similarly excitable "Until They Go Wrong", this time using the picking patterns of an electric guitar to signify the beginnings of the outro before the evident mini-solo takes over conclusively. The only song on A Few More Published Studies that chooses to hold back on hooks and solos is the acoustic "The Oceana Roll". Lush and restful, the lack of a rhythm section is a change of pace on the album but it also proves to be an enjoyable break from The XYZ Affair's typical attempts. With the last lyric being "for you I'll dance the only dance I know", it is ironic that Rockwell, the drummer whose instrumentation is absent from "The Oceana Roll", is the one who could probably relate most to the line. He initially was a ballet major in college. Hey, the dude must have good rhythm.
One of my favorite tracks on A Few More Published Studies, "Academics" is a very observant stab at contemporary society. "We need more academics, the world needs academics now," Feder muses, later raising the question of whether or not academic pressure is an attributing factor to the degree of social isolation one feels during their school years. The verse contained in the first fifteen seconds oddly sounds like some Xiu Xiu snippet, with Feder sounding eerily like Jamie Stewart over a minimal incorporation of percussion and synth. Expectedly, when the chorus arrives, "Academics" evolves into the form that The XYZ Affair are known for – that is, lovable power-pop that is frequently uplifted by a substantial chorus and an even bigger guitar solo. The lyrics throughout the album are also entertaining, often focused on romantic flustering. Whether it be squeaking "I'm scared of every girl I see" on "Academics" or "My name is Michael, all the chicks hate my guts" on "All My Friends", the four Brooklynites never create a dull moment, either lyrically or melodically, on A Few More Published Studies. With a plethora of creative hooks to provide for more than enough durability, several songs on The XYZ Affair's debut make a lasting impression.
——————————————————————————————-
——————————————————————————————-
——————————————————————————————-
——————————————————————————————-