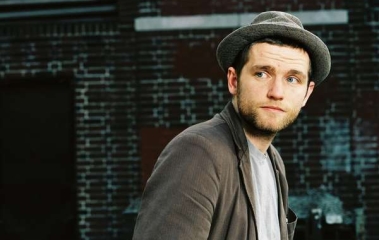 We all hear that "sensitive singer/songwriter" babble all the time. Often employed as a propaganda tactic by corporate minds who hold a fraudulent regard for the actual music, it is becoming rare to find an artist who actually sounds genuine; one that does not reach for pop stardom or a financial cushion, but rather strives for a composition in music that sounds as if it came from the heart. Sappy and melodramatic it may occasionally be, it is not an excruciatingly arduous task to differentiate the artificial cash machines from the artists who actually give a damn about the symbolic nature of their released material. David Ford has the voice of a destined pop star. Based on the power of his vocal intensity alone, he could have easily found a home in the hearts of adolescents who regard the Top 40 as the only source for "quality" music. However, the factor that clashes with this avaricious ideology is simple: David Ford is a uniquely talented songwriter in his own right. Would he have had the chance to write music in his own preferred style if he signed with a company like Walt Disney Records? Of course not. I doubt Disney would favor lines in songs like "Requiem", where Ford sings nearly aggressively, "Let us be kissed on the cheek, let us be fucked from behind." It's almost funny how the beautifully accompanied orchestral arrangements makes such a lyric seem almost endearing. With his overwhelming amount of talent in mind, such a bold career decision to branch off and stick with his own preferred style comes off as nothing but admirable.
Ford's musical beginnings are traced back to Easyworld, a UK-based indie-rock trio from Eastbourne that released two albums, eight singles, and an EP from 1997 until they disbanded in 2004. Ford was the instrumental core of the band, lending his powerful vocals and illustrious piano skills in addition to some admirable guitar work. The band did fairly well during their time together, signing to Jive Records in 2002 and releasing five singles that cracked the UK Top 50. Nearly immediately after Easyworld's disbandment, Ford began playing several lo-fi solo gigs to warm applause. His debut album, I Sincerely Apologise for All the Trouble I've Caused, was released a few months later in September of 2005 by Independiente and spawned the hit single, "State of the Union". Being both a display of Ford's multi-instrumental dexterity (he played all 12 instruments in the song) and his lyrical ambitiousness, the political-oriented single drew worthy attention from the British press. While opening for the likes of Elvis Costello, Richard Ashcroft, and KT Tunstall, his debut album was released Stateside in May 2006 under Columbia Records. Though the USA was not as quick to jump on it, Ford's fan base continued to grow substantially.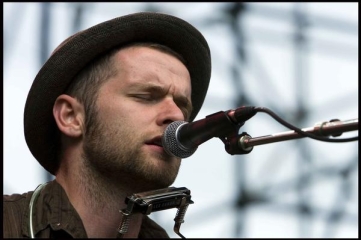 David Ford's newest and second album, Songs for the Road, was distributed in quite a modern fashion. Initially released as an internet exclusive download in August of this year, a hard copy will once again by distributed by Independiente come this October. Led by a single in the charmingly titled "Go to Hell", Ford has an odd knack for making the most gruesome statements come out as something beautiful. "I can hear you say, 'the day I fall down at your feet, go to hell,'" he sings dramatically over a plethora of strings before the rhythm section kicks in, half-mockingly stating, "I thank you for your understanding, I won't be long." This factor of bittersweet romanticism can be largely accredited to the sweeping instrumentation, an aspect that is consistent throughout all nine songs on Songs for the Road. While Ford does not encompass the stereotypical husky, deeply layered voice that is expected among most standards of orchestral pop, his whimsical yelps of pure, highly emphasized emotion is beneficial in regard to his own unique style. Perhaps I was caught a bit off-guard. After all, it is not everyday that I find an artist like Ford; one that has the whole package. Poetically inspiring lyrics, elegant arrangements, and impulsively fervent vocals… such an eclectic mixture makes Songs for the Road an album hard to forget.
As "Go to Hell" displays with its initially minimal string accompaniment, Ford seems content on building upon several layers of instrumentation. When the second verse is revealed after the first chorus, several newly introduced strings incorporate themselves over a freshly spurred section of percussion. Such moments, where shades of minimalism are instantaneously forced upon by larger arrangements, prove to be highly awarding from a structural standpoint. The absolutely stunning "St. Peter" utilizes this form just as exceptionally, patiently waiting until the final moments of the song to reveal an elusively hectic form of instrumentation that raises with intensity in full cooperation with Ford's soaringly shifting vocals. The song is also an impressive lyrical piece, detailing Ford's poetic nature as he confidently strides through brilliant progressions of guitars, harmonicas, and piano. Detailing the fear, reluctance, and avid zealousness of religious intricacy and fanaticism, Ford's reflection on the subject is intriguing. "I throw rocks at the devil with my faith wearing thin," he sings of his own self-doubt, "But I won't scream down St. Peter when he don't let me in." It almost seems like a plea to St. Peter, the supposed keeper of heaven's gates, to show some sympathy for guiltless skeptics who doubt religion's validity, if it indeed turns out to be true at the end of the line. Both powerful and highly original, it is my favorite song on Songs for the Road.
I am also quite enamored by the lighter "Nobody Tells Me What to Do", an immediately enjoyable pop song that reaps from a ravishingly infectious chorus. Though it lacks the usual lyrical and instrumental depth that the rest of Songs of the Road displays, it proves to be a nice break on an album that is scattered with outstanding songs of intricately crafted, poetically defiant ballads. "Nobody Tells Me What to Do" would be an glaringly obvious choice for a second single though, knowing Ford's ambitious nature, it will probably end up being in the vein of the exceptional "St. Peter". Whether it ends up being a simplistically enjoyable piano-led pop song or a deeply elaborate take on religious confidence, David Ford's Songs of the Road will leave a lasting mark of memorability for those who give it a listen. Certainly one of the most uniquely rewarding listening experiences of the year.
——————————————————————————————-
David Ford – Nobody Tells Me What to Do

[audio:https://obscuresound.com/info/dford-nob.mp3]
——————————————————————————————-
——————————————————————————————-
——————————————————————————————-