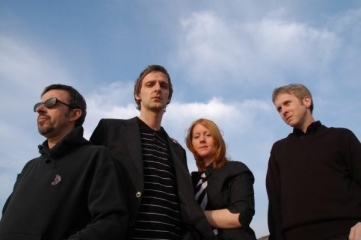 Sometimes the oddest of mixtures can bring a band together. For The Afternoons, it was a mutual love for the prolific David Bowie and the spicy Indian dish, curry. Hey, whatever works. Since their formation in 1999, lead vocalist/guitarist Richard Griffiths, guitarist Jason Huxley, bassist Sarah Rapi, keyboardist Paul Rapi, and drummer Pete Morgan have been crafting a favorable blend of vintage Brit-pop and 90s alternative with a touch of throwback British invasion. Based out of Cardiff, this Welsh five-piece have been flying under the radar since 2001 with the release of their commendable first album, The Days We Found in the Sun. With expertly crafted melodies providing for one of the many catchy aspects of The Afternoons' numerous releases, it has remained surprising to me that the UK air play garnered by The Afternoons is limited at best. However, with their new best-of compilation, Baby, You Know the Deal, things are starting to look up for the patient five members of The Afternoons. Released in Spain a few weeks ago, it is a precursor to their fourth full-length album, Sweet Action, due to be released this fall. In hopes of drawing some well-deserved attention from the critics who brushed them off as just another Brit-pop imitation, in Baby, You Know the Deal they have collected the best tracks from their previous two albums, My Lost City and Rocket Summer, in addition to their latest single, "FM (Bys Ar Dy Ddeial)/Neidia Mewn i'r Dwr". The agreeable result is one of the catchiest releases of the year, compilation or otherwise. From the bouncy orchestral pop of the self-titled "Baby, You Know the Deal" to the glimmering nod to classic Brit-pop in the spectacular "Let's Fall Apart", this is the summation of a band whose underrated nature yearns for overdue national recognition. In addition to their dazzling homage to jangle-pop, The Afternoons also show shades of Brian Wilson, The Kinks, and Matthew Sweet in their engaging delivery; a batch of influences that seems to never go wrong.
Personally, this is my first introduction to The Afternoons. Like many of you, I had never even heard of The Afternoons before last week. Prior to listening to them, I expected just another British band capitalizing on the gritty art-rock explosion. After all, it is becoming rare these days to find a band that does not allow their sound to be molded by domestic commercialism. Another version of the Arctic Monkeys or Bloc Party on our hands? Refreshingly, that was not the case. Surprisingly enough, The Afternoons instead reminded me of one of the most popular acts ever to come from Cardiff: Super Furry Animals. Though they lack the psychedelic features and unique vocal deliveries for a precisely reflective comparison, The Afternoons borrow the same auspiciously favorable aspects of 60s pop. They also occasionally dabble in a bit of Welsh, just like their highly respected native predecessors. Rubbing off infectious guitar riffs over sparkling droplets of keys, The Afternoons relay a very familiar yet satisfyingly memorable sound. One of their best tracks that makes use of this is the irresistible single, "Let's Fall Apart". Off of their third and most recent album, Rocket Summer, it is a nearly flawless incorporation of pop hooks, authentic optimism, and summery power-pop. "Oh, he broke your heat, filled you up with his pain," Griffiths sings powerfully during a sprightly chorus, his voice overpowering the backing guitars and light synths. "Let's fall apart, take it back to the start again."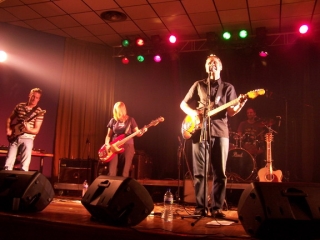 As additionally displayed on "Let's Fall Apart", much of The Afternoons' lyrical content tends to deal with the aftereffect of romantic relationships, tending to the bright side of things. While too bouncy and upbeat in melodic ability to be deemed as "coping music", songs like the excellent "You'll Never Know" stride in deterministic self-confidence and willpower. "I didn't grow a beard to my feet, I didn't lose the will to eat," Griffiths sings over the usual, catchy assortment of keys and guitars. "But you'll never that it didn't hurt so bad." As clear as the message is in "getting over" a past lover, Griffiths and company pull it off very endearingly with a form of lovable power-pop that is hard to rival. Managing to blend the 60s and 90s together with an indistinguishable passion, The Afternoons are also a gleeful example of the impact Teenage Fanclub made on contemporary music. Being one of the sole bands responsible for pulling power-pop out of the "outdated" category in the late 80s and early 90s, Teenage Fanclub inspired a mass following of bands to pick up a guitar and write songs that embodied quality alternative music, wisely opting to ignore heavier rock styles more abundant in the early 90s. Though Teenage Fanclub now may be remembered for being vital contributors to the sculpting of the grunge era, British pop bands like The Boo-Radleys, Supergrass, and now The Afternoons all borrow heavily from one of Glasgow's greatest. Songs like "You'll Never Know", "Let's Fall Apart", and "Never Tell Anybody Anything" reek of Grand Prix-era Teenage Fanclub; a complementary quality that is certainly nothing but enjoyable.
While the soothing baroque-pop of of "Rollerskaters in the Park" is reminiscent of the most lighthearted of Paul McCartney's solo material and "Canada Geese" is an epic, orchestrally focused ballad in a similar vein, The Afternoons' most qualitative demonstration of their talents lie in bustling songs that are reflective of the power-pop outbreak in mid-90s Britain. Baby, You Know the Deal is an extremely enjoyable compilation of a severely underrated act whose recognition will hopefully catch up to them in the coming years. To reach such a goal, this compilation is a step in the right direction. Re-releasing songs in the irresistible nature of "Let's Fall Apart" and "You'll Never Know" should hopefully bring their exceptional sound to a broader audience. Even if the structures and melodies remain to be somewhat predictable over time, there are just some bands whose sheer catchiness overshadows any minor faults or stylistic inconsistencies. Just like Teenage Fanclub's most recent compilation, Four Thousand Seven Hundred and Sixty-Six Seconds, proved to be beneficial in finding them a well-deserved overseas audience, hopefully Baby, You Know the Deal will be as justifiably rewarding for The Afternoons.
——————————————————————————————-
The Afternoons – Let's Fall Apart
[audio:https://obscuresound.com/mp3/afterno-let.mp3]
——————————————————————————————-
The Afternoons – Rocket Summer

[audio:https://obscuresound.com/mp3/afterno-roc.mp3]
——————————————————————————————-
The Afternoons – You'll Never Know
[audio:https://obscuresound.com/mp3/afterno-you.mp3]
——————————————————————————————-