For the tourism offices in Sweden, the past several years must have been a breeze. With such a bustling outlet of quality Swedish musical acts gaining reputable fan bases overseas, international fans have inherited the desire to visit Sweden now more than ever. Though Sweden has been contributing to the universal music world to a significant degree ever since the emergence of ABBA in the early '70s, one of the most substantial impacts has occurred in the past five years. With electronic groups like The Knife, orchestral art-rock collectives like Love is All, and the talented classical guitarist José González representing the previously uncovered diversity of Swedish music, the foolish stereotype that all music from Sweden sounded like ABBA was quickly discarded. Instead of having one band represent an entire country's music scene, Sweden has finally reached the point where the amount of innovative, quality native artists exposed are comparable to the amount found in the US or UK. As fantastic as ABBA was, it is a great thing to see a country's musical representation become broader and less generalized. The rest of the world has picked up on this ideology too. There are now clubs around the world devoted entirely to Swedish music, blogs like swedesplease that exclusively cover Swedish music, and American labels like Twentyseven that focus solely on up-and-coming artists from Sweden. I guess you could say that the new wave of artists from Sweden are building their own little cult followings throughout the rest of Europe and the United States. Even if some of the artists are too sugary and lighthearted for some, much of the attention is well-deserved.
Pelle Carlberg is one of the most conventional of Swedish artists. Like many before him, Carlberg makes abundant use of soaring pop hooks, orchestral instrumentation, and jangly guitars. However, he is also quite diverse in surprising listeners with an occasional all-acoustic song or breathtaking classical piano composition. Like Jens Lekman did a few years ago, Carlberg has been drawing nothing but rave reviews from critics focused on Swedish music. One of the most well-informed sources of Swedish music online, the previously mentioned swedesplease, calls Carlberg's music "quite simply of a higher order than anything else being released". From a writer who knows more than a few things about rivaling Swedish music, that is certainly a complement to take to heart. It would never phase Carlberg though, as he is quite the veteran in regard to a musical career. Now 37 years old with four kids, Carlberg has been active in professional music since the late '80s. Prior to the release of his debut solo album, Everything. Now!, in 2005, Carlberg was known primarily as the frontman for Edson, a chamber-pop six-piece that is currently on a temporary hiatus. After Edson completed three delightful albums in three years, Carlberg searched for a project that allowed him to explore his songwriting skills more freely. After signing to Labrador in Sweden and Twentyseven in the USA, Carlberg launched Everything. Now! to successful reviews. Released barely over a year after Jens Lekman's stateside debut, When I Said I Wanted to Be Your Dog, the applicable American audiences relished Carlberg's proficient use of acoustics, baroque pop, and pure Swedish power-pop. His witty, half-satirical lyrical wordplay was just as similarly enjoyable in Carlberg's distinctive tone of revolving romanticism.
Unfortunately for Pelle Carlberg, while artists like Lekman, The Knife, and González have found a nurturing American fan base, Carlberg remains to be recognized in the group of Swedish international superstars. Even though he is a favorite in his native Sweden, Italy, Germany, Taiwan, and even Indonesia, his luck in the United States has not come as easy. It surprises me too, as Carlberg is as accessible as they come. Perhaps it was the stylistic hesitation of Everything. Now! that turned American listeners off. It seemed that half of the album was assorted with delicately crafted acoustic churners like the exceptional ballad of critical bitterness in "Go to Hell, Miss Rydell" while the other half consisted of full-band accompaniments in the zealous vein of "Bastards Don't Blush". Though I personally enjoyed all of what Carlberg had to offer, I imagine that the majority of listeners likely preferred one half over the other. As comparisons chugged along likening Carlberg's tirelessly witty lyrical style and twee-folk deliveries to the "Swedish version of Belle & Sebastian", Carlberg pushed on relentlessly in writing his follow-up sophomore album, In a Nutshell. Released earlier this March, it represents a more polished attempt as Carlberg's hesitation is now replaced by cohesiveness and doubtless certainty. Correcting upon the few flaws of Everything. Now!, the tracks on In a Nutshell are now bound together by stylistic confidence. Rather than sounding like two separate artists throughout the album, Carlberg has now weaved together his previously successful attempts of full-band and acoustical approaches into one seamlessly satisfying form.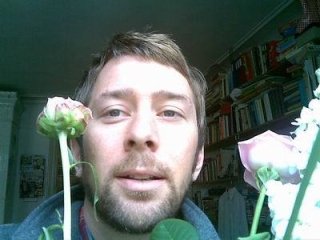 In a Nutshell seems to dwindle down in terms of instrumental accompaniment as it progresses. The peppy opener, "Pamplona", is the most involved track on the album, relaying vivacious displays of strings, keys, hand claps, and other percussive elements. It may also tickle you a bit to know that Carlberg apparently plays nearly all of the instruments on In a Nutshell; quite an accomplishment considering the variety of sounds utilized throughout the album. "I Love You, You Imbecile" is vintage power-pop as Carlberg breezes through a male-female vocal duet, highlighted by a mutually ardent chorus that is distinguished by vocally melodic similarities and weightlessly effervescent keys. While the first two tracks are substantial examples of Carlberg's melodic abilities, his lyrical talent shines through superiorly in the brilliantly humorous "Crying All The Way to the Pawnshop". Lamenting his own career choice to make it as a songwriter, Carlberg has the admirable amount of modesty to mock on his lack of success in America. "If I didn't have bad luck I'd have no luck at all," he signs reflectively over the usual assortment of keys and guitars. "If I couldn't sing, if I couldn't sing, I'd probably make decent money." Sure, he may have made more money working behind a desk for his entire life but where is the fun in that? Carlberg's languished form of self-pity, foretold lyrically on nearly every track on In a Nutshell, is comical due to its lighthearted and playful wit. "If I ever get happy I won't give a fuck," Carlberg sings in the similarly natured "I Just Called to Say I Love You", abruptly transitioning his lyrical perspective from bitterness to romanticism as he repeats the title of the song after each verse.
Even the acoustically-laden folk songs on In a Nutshell are vast improvements upon Carlberg's earlier works. The tale found within the enthralling "Middleclass Kid" proves to be a probable summation of Carlberg's childhood as he looks back on short-lived nostalgia, his sister's irrational fear of divorce, his grandparents' stance of conservatism, and his father's early breakfasts. He revolves such topics around his own youthful desire to create music and "start a band", seeing such points of inspiration as one of life's overlooked qualities. The collaboration between the banjo and strings provide for a very genuine and homely effect. It almost seemed like I knew the Carlson family personally after listening to "Middleclass Kid". Carlson is one of those rare artists who is able to produce quality music both in the forms of lyrical astuteness and melodic competence. He is yet another songwriter overdue for some recognition in the United States.
——————————————————————————————-
Pelle Carlberg – Crying All the Way to the Pawnshop
[audio:https://obscuresound.com/mp3/carlberg-cry.mp3]
——————————————————————————————-
Pelle Carlberg – I Love You, You Imbecile

[audio:https://obscuresound.com/mp3/carlberg-ilo.mp3]
——————————————————————————————-
——————————————————————————————-