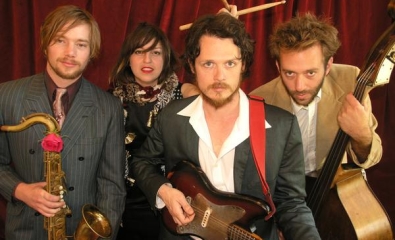 When a band wears that certain "experimental" tag proudly on their sleeves, it would be foolish to expect one consistent critical response. It is ironic that a mixed reception is often considered to be the best case scenario for the majority of these unclassifiable bands, with a style that is considered to be unconventional finding solace in only the ears of open-minded individuals. And as we all know, not all critics (or people) are open-minded. Ever since Old Time Relijun has been parading around since 1995, they have experienced responses that range from the likes of "brilliant" and "enjoyably awe-inspiring" to backlash extremists who compare their music to the scent of horse manure. My personal preference for them does not fall in either category, as I find some of their material to be genuinely enjoyable and some of the material to be entirely forgettable. However, it is the capacity of those worthwhile moments that makes the wacky Oregon-based quartet one of the most innovative acts in an indie music scene that occasionally feels repetitive and drab. Even though Old Time Relijun will never be considered an accessible act due to their individualized appeal, the primary aspect that makes the band memorable is that all four members entirely embrace the sentiment.
Even with the varying range of dramatically one-sided reviews, Old Time Relijun's style has remained fairly consistent throughout their 12-year career. Originally based out of Washington before relocating to Oregon, Old Time Relijun is widely considered to be the brainchild of guitarist/vocalist Arrington De Dionyso. A little-known solo artist for nearly a decade, De Dionyso formed the first remnants of Old Time Relijun in 1995 by enlisting the aid of bassist Aaron Hartman and drummer Bryce Panic. The then-trio recorded their debut album, Songbook, Vol. 1, a year later and released it in 1997 to expectedly mixed reviews. However, I consider it to be a very worthwhile listen that proved to be a gratifying initial exposure to Old Time Relijun's anomalous approach. Barely over a half-hour long, it introduced a unique focus on rash saxophones, swift guitars, and frantic percussion, it managed to be aggressive, quick-witted, and also impressively organized debut. Though Songbook, Vol. 1 was initially released on De Dionyso's minor label, Pine Cone Alley, it was later picked up and distributed by K Records. It marked the first of many releases for Old Time Relijun on K Records, a partnership that continues to this day. Shortly after its release, Panic left the band and relocated to India to study meditation. The band was put on hiatus until the release of their second album, Uterus & Fire, in 1999; it featured Phil Elvrum (of Microphones and Mount Eerie fame) filling in as the drummer and producer of an album that was just as odd as the first. Mainly focused on guitar-based experimentation, Uterus & Fire was a dexterous, free-flowing effort that featured clarinets, harps, and brass in an unpredictably scattered effort. It was certainly as odd as the name implied.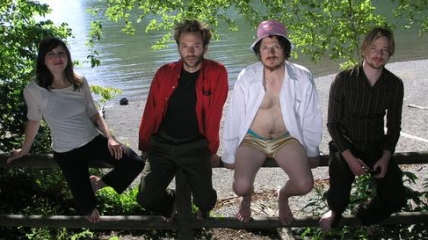 Since 1999's Uterus & Fire, Old Time Relijun have went on to release six more albums (usually one per year) with De Dionyso continuing his service as primary songwriter and vocalist. After Elvrum's departure earlier this decade, Germaine Bacca solidified his role as the drummer and Old Time Relijun was shortly converted to a four-piece upon Ben Hartman's arrival as the lead saxophonist. These four members are also the performers on Old Time Relijun's eighth and newest album, Catharsis in Crisis, set to be released on October 9th. It is likely to appease longtime fans of Old Time Relijun, as Catharsis in Crisis is a continuation of the singularly inimitable style that has won the band and De Dionyso a cult following over the past 12 years. With plenty of experimentally-laden guitars clashing with boisterous brass arrangements, off-beat vocal deliveries, and capricious structures, it is yet another unpredictably bold release from the endlessly ceaseless Old Time Relijun. The short but satisfiable "Daemon Meeting" is an absolute treat. Comparing the dull corporate world to a mindless world of demons (or flesh-eating zombies) selfishly intent on wrecking personal havoc, De Dionyso asks a simple question over a series of abrupt guitar progressions and snarling vocals: "What does it mean to be human?" With sulfuric acid in the water cooler, it is a difficult question to answer.
Other songs like "Dark Matter" and the secluded ambiance of "The Second Day of Creation" are more descriptive on why Old Time Relijun has, on more than one occasion, been classified as a "scary" band. Eluding to themes of subdued post-punk with an even darker sense of entitlement, "Dark Matter" works a singular guitar over strains of reverb and a brooding bass line, accomplishing a chilling effect in all forms. If one were to mix a suave Tarantino film with a zombie hack 'n slasher, this would likely be the perfect song for the soundtrack. Though De Dionyso's vocals remain an important element, the instrumental attempts like "Dark Matter" on Catharsis in Crisis often turn out successfully. Vocally led songs like "Liberation" and "Daemon Meeting" tend to be more hectically interlaced, with "Liberation" mixing in a free-form, raspy saxophone (a band staple) with various other forms of unconventional instrumentation and vocal yelps. If you were never enamored with Old Time Relijun's past releases, I would not recommended bothering with this one. However, if you are like me and found enjoyment in several of their previous albums, Catharsis in Crisis is a uniquely crafted spectacle that is one of Old Time Relijun's best efforts yet.
——————————————————————————————-
Old Time Relijun – Daemon Meeting

[audio:https://obscuresound.com/mp3/relijun-dae.mp3]
——————————————————————————————-
Old Time Relijun – Dark Matter

[audio:https://obscuresound.com/mp3/relijun-dar.mp3]
——————————————————————————————-
——————————————————————————————-