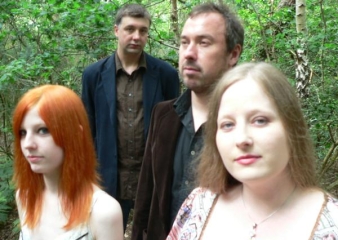 With new surroundings and unfamiliar faces, it is initially a tough task to adapt and live in a new country. So, how do these vast amounts of traveling musicians cope? By making new music, of course. When American-born Anjy Hall relocated to the UK, one of the few things she brought with her was a talent and passion for a type of music that Americans and Britons could both relate to. Raised on an influential blend of folk, country, and americana, Hall's stylistic range echoed those of her respectable predecessors. Upon meeting multi-instrumentalist Chris Gregory shortly after her arrival, Hall wasted no time in making her international journey musically progressive. Hall (a skilled singer, songwriter, and guitarist) and Gregory began writing together in early 2005, exposing their material in several local folk clubs around the vicinity of Stamford in the English East Midlands. Noticing that a two-piece would not be suitable for Hall's continually expanding sound, multi-instrumentalists Al Jordan and Cherish Burk joined the group shortly thereafter. Upon naming their newly acquired four-piece Hoax Funeral, they set to work on an introductory 6-track demo. Playing the lovable DIY card, it was recorded in their home studio and subsequently earned airplay around the world, with Italy, Australia, and Hall's native USA proving to be a receptive fan base.
Hoax Funeral also received quite a bit of applause from BBC2; Radio 2 DJ Stuart Maconie called their material "lovely" and Radio 1 presenter Rob da Bank (British "humour"?) urged labels to "sign them up and win lots of Brit Awards and retire to a house in the country with a pink Rolls Royce." Perhaps to capitalize on such a lengthy compliment, Hoax Funeral formed their own label, Sacred Crow, last year in anticipation for the release of their debut full-length album, Pour Away the Ocean. It was eventually released in August on that particular label, unfortunately reaching a limited audience due to Hoax Funeral's lack of deserved exposure. Still, the band reports that their sales and, despite their marginalized commercial output, Hoax Funeral racked up an impressive showing throughout the sleepless world of music blogs, with most of their promising early demos appearing as an optimistic symbolization of what was to come later for the band. With a respectable overseas fan base enamored with a style that remains both accessible and virtuous, their method to acquire fans has been nothing short of admirable. Without a manager, label, PR team, or agent, it remains very respectable that Hoax Funeral has caught the attention of universal audiences solely through their music, excluding any flashy or melodramatic ad campaigns in favor of quality songwriting. They take distinguishable pride in their independence and it certainly shows in their music, relaying an enjoyable brew revolving around gentle indie-folk with tinges of romanticized country and mellow pop subtly peeking through in each song.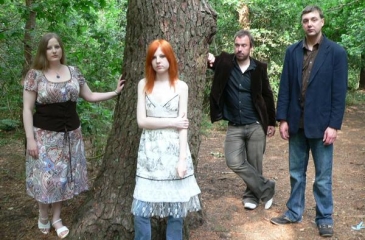 While the band personally admits that instantaneous comparisons to indie-folk acts like Okkervil River and Shearwater, Hoax Funeral's cumulative instrumental dexterity creates a sense of separation for other indie acts that classify themselves in the realm of precisely constructed alternative-folk. The four members play more than a dozen various instruments throughout the duration of Pour Away the Ocean, with each of the members capably talented multi-instrumentalists who play anything from acoustic guitars and banjos to Tibetan bells and octave mandolin. As far as the songwriting on the album goes, the 14 tracks are split nearly evenly between Anjy Hall and Chris Gregory. Gregory wrote 7 tracks and Hall wrote  tracks; the lulling "Where Did You Sleep Tonight" is a traditional song produced in an intentionally lo-fi manner, constant crackling and all. Though Gregory and Jordan supply backing vocals on a variety of tracks, Hall takes center stage with a set of vocals that are seductively engaging, fervently expressive, and individually recognizable. With many contemporary female indie-folk and country artists currently relying solely on their vocal range to relay their emotional prowess, Hall instead leans on her lyrical intellect and ardent confidence. Many of her self-written songs, particularly the powerful "Melting (Into Corners)" and "Amsterdam", are both lyrically astute and melodically capable without sounding even remotely melodramatic. It is a redeeming breath of fresh air in an industry occasionally weighed down by flashy showmanship and pointless displays of arrogance. It helps that the lyrics are often soaked with desperation, with the lyricist (whether it be Hall or Gregory) throwing in occasional metaphorical expressions as an entertaining means of emotionally fixated interpretations.
My favorite song on the album, "Things You Can't Believe", was written by Gregory but unselfishly exposes Hall in her greatest light. With the gentle murmur of a acoustical and slide guitar backed by the slight sighing of an organ, Hall's melodic delivery is delivered absolutely beautifully. Even with repetition serving as the primary technique for cause and effect, the song serves as a focal  point for the topics of regret and disbelief. "You watch the nighttime come and go, spend the morning on the phone and wondered where your life had gone," Hall sings delicately as she opens the song, "It was slipping through your hands and it's never coming back, better get yourself on track." Compared to the other tracks scattered throughout Pour Away the Ocean, the instrumentation in "Things You Can't Believe" is somewhat minimal in expandability and presentation. Still, it is the  Though it keeps in tone with the album's central tone of passionate serenity, Hall and Gregory work wonders . The fact that it competes justifiably with bouncier tracks like "Amsterdam" and the string-pad induced "Sleeping With Your Ghost" remains continuously impressive in its own right. Additionally, the tempo-based diversity is also something complementary to note about Pour Away the Ocean. The bountiful "Heaviness" eventually transcends into acoustical sing-along of sorts, sounding like a church choir toward its successful conclusion. The interesting percussive elements involving tambourines, rain sticks, shakers, and are also redeeming, causing tracks like "Lean-To Shelter" and "All I Ever Thought About Was You" to prove why it is impossible to group Hoax Funeral into the masses of stereotypical "indie-folk" artists. Sure, you could try, but it would just not be accurate. Hoax Funeral are one of the most complexly layered indie-folk bands I have come across all year, creating a highly memorable experience that resounds brilliantly in an album full of illustrious moments.
——————————————————————————————-
Hoax Funeral – Things You Can't Believe
[audio:https://obscuresound.com/mp3/hoaxf-thi.mp3]
——————————————————————————————-
Hoax Funeral – Melting (Into Corners)
[audio:https://obscuresound.com/mp3/hoaxf-mel.mp3]
——————————————————————————————-
——————————————————————————————-