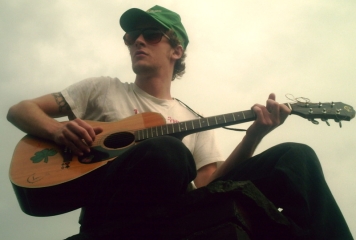 With perhaps one of the oddest band names you are likely to find, Deer Tick is the songwriting project of John McCauley, a talented young singer/songwriter from Providence, Rhode Island. Just barely able to drink at the age of 21, McCauley has been building up hype ever since his teenage years; a time that was surprisingly not too long ago. Previously playing anywhere from local crowded bars and basements to festivals and respectable venues to get the word out on the promising Deer Tick, McCauley has already seen a fair share of the ups and downs in the booming music industry. However, with the release of his debut album, War Elephant, this month, McCauley will inarguably become more accustomed to the brighter and more positive spots in an aspiring musical career. Unless McCauley finds some comfort in small-town bars or has a case of agoraphobia, it is likely that his days of minor gigging are over. So, why all the acclaim? Well, War Elephant represents a dying breed in the struggling singer/songwriter genre. Whereas a majority of artists focus on either an aspect of melodic or lyrical depth, McCauley's style remains entertaining in both perspectives.
While it would be customary to classify John McCauley as an acoustic songwriter, such a tag sounds much too linear for McCauley's widespread style. While his initial arrangements are focused around the sentiment of a fastidiously plucked acoustic guitar, the majority of songs on War Elephant eventually expand into arrangements bursting to the seams with strings, percussion, and various forms of guitar; electric, bass, and acoustic styles are consistent throughout, with various effects and tones making for a diversifying experience. While his instrumental approach remains unique enough to earn him a singular status among other primarily solo songwriters, it is McCauley's powerful vocals that makes him a driving force entirely of his own. With a voice that howls, snarls, and whimpers through each of the 14 tracks on War Elephant, it is difficult to call even one of them a "filler". While vocal comparisons to Isaac Brock, Dan Boeckner, or even Neil Young will do some justice to those impatient few who demand an immediate likeness, all aforementioned comparisons may prove to be a bit of a stretch with consideration to McCauley's one-of-a-kind delivery. In fact, he seems more like a fusion of the selected artists' greatest vocalized moments, with unintentional glimpses of Brock's quivering intensity and Young's symbolically invigorating yelp appearing consistently and fervently.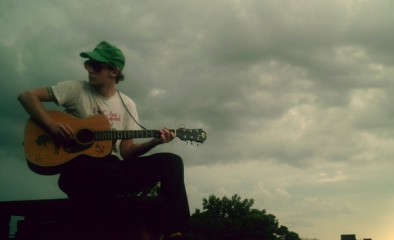 While "Ashamed", the first track on War Elephant, may initially give off the impression of a conventional acoustic-folk song, it serves as the perfect opening track if only for the fact that it epitomizes the stylistic structure of the album. While the first few moments depict McCauley crooning over a sole acoustic guitar, his powerful ability to create a presence using his murmuring vocals and one instrument alone is astonishing. In fact, he could have likely released the entire album in such a linear form; acoustic guitars and vocals, with little else involved. However, when the strings kick in around the 1:30 mark, it is abruptly apparent of McCauley's more ambitious intentions. While the arrangements are hardly grandiose in the form of Van Dyke Parks or Neil Young, their simplistic addition captures a sincere form of emotional prowess that would otherwise be startlingly absent. The equally satisfying "Art Isn't Real (City of Sin)" works in a similar form, building upon an acoustic guitar as shuffles of percussion eventually are uplifted by guitar arpeggios and an additional string section. Though both moments are abrupt, it remains the core of an impressive song that cleverly eludes to comparisons of artistic creations to bleakly romanticized turbulence. "I am the dotted line and you fill me in with whatever you like," he creaks out desperately, admittedly in somber form. As McCauley once pointed out, most of the "songs are too sad to sing one after the other and not tell a few jokes." Credit such a delicate observation to his defying stage presence.
Acoustic dandies aside, those few in doubt of the stylistic ambitiousness on War Elephant are recommended to immediately check out infectious "Long Time" or "These Old Shoes". Though "Long Time" sounds like a lost country classic from the '70s with a chorus so great that it will have many mistaken it for a Neil Young cover, my favorite track happens to be "These Old Shoes". It opens with a twinkling Wurlitzer before being enhanced by a slick classical guitar. Being one of the two songs on War Elephant that McCauley did not write on his own (the other is a cover of Anthony Newley's "What Kind of Fool Am I?"), "These Old Shoes" is a dramatically reworked version of Chris Paddock's strictly acoustic original. Paddock is a collaborator and friend of McCauley also based out of Providence. While the song's verse is fairly predictable, the bridge and chrous are uplifted by a boisterous eruption of strings and rollicking guitar riffs. It is yet another short but satisfying moment, and my only wish is that a few songs on War Elephant went longer. In fact, if McCauley omitted about three mediocre tracks and increased the length of exceptional gems like "These Old Shoes", the album would be nearly faultless. Regardless, War Elephant is a glowing effort from a budding star. With songs like "These Old Shoes" and "Long Time" steering the way to success, it is hard to believe that McCauley is only 21. Enjoyably enough, his experience is audibly presented in the form of someone twice his age.
——————————————————————————————-
——————————————————————————————-
——————————————————————————————-
Deer Tick – Art Isn't Real (City of Sin)
[audio:https://obscuresound.com/mp3/deertick-art.mp3]
——————————————————————————————-